The second approach is a decentralized, bottom-up approach. In this approach, anyone in the company can submit a training need. Employees can directly tell you what they want or need to learn about. Instead of dictating training needs, L&D manages the system, correctly prioritizing needs and organizing their fulfillment.
This approach makes employees an active part of the training conception process. Training needs analysis isn't a one-off activity but an ongoing process that evolves alongside the company and its employees. It's faster, more efficient, and, most importantly, more accurate.
Read more:
Prioritize training needs
You can't tackle every potential training need at once. You'll wear yourself out and quickly deplete your training budget. Instead, prioritize training needs that will help you accomplish the training goals you laid out at the beginning of this process.
To prioritize training needs, we recommend our unique approach to skills gap analysis, where you use Boston Consulting Group's Growth-Share Matrix to categorize training needs based on their cost and organizational impact.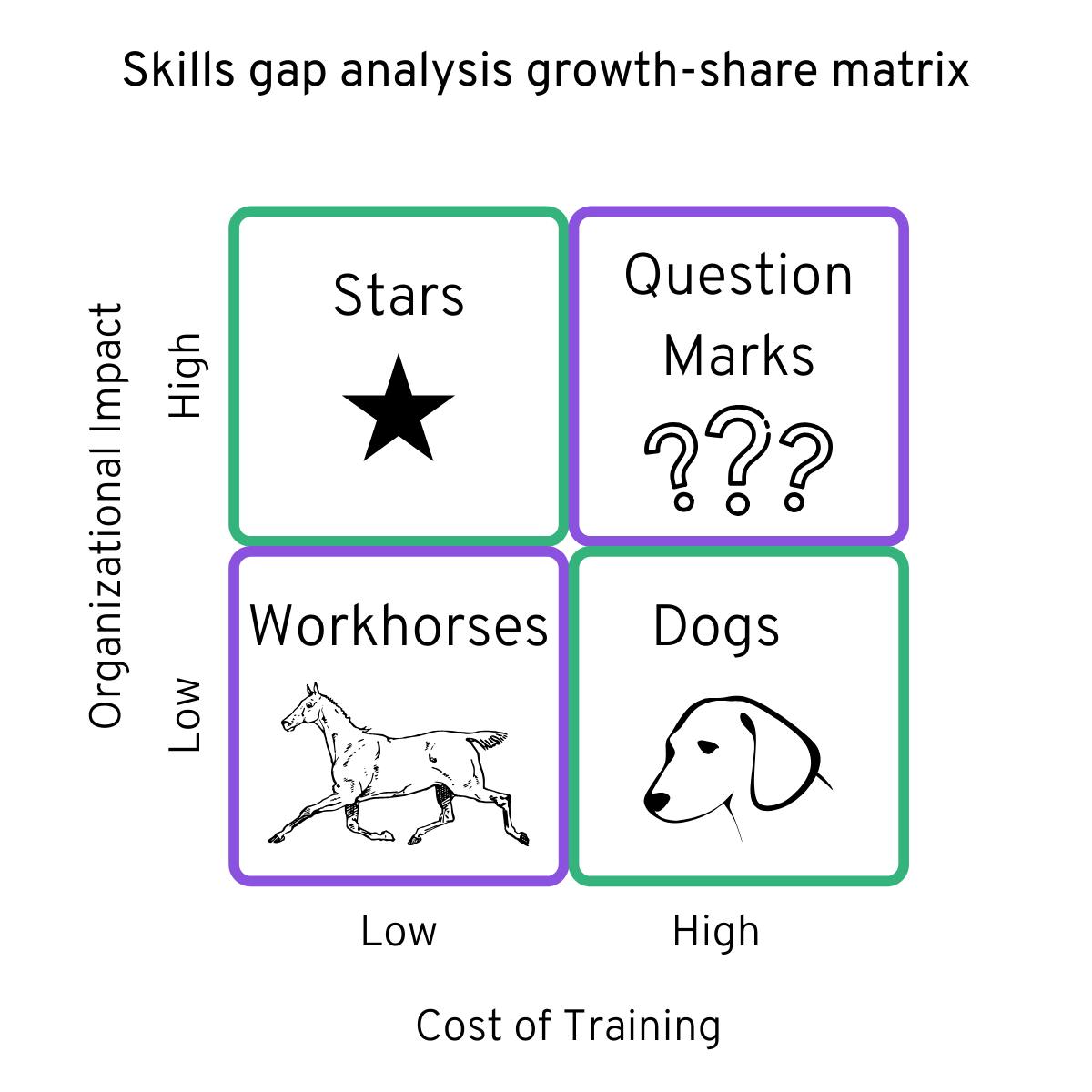 This will give you a roadmap for which training to tackle first. Prioritize "stars" — needs with the lowest cost but the highest impact. Deprioritize training that costs a lot of money and doesn't help you reach your organizational goals.

Read more:
Choose the right employee training method
As you're considering how to best train your team, identifying the best training method can be overwhelming. Review these five popular employee training methods to see what's right for you.
1. In-person training
In-person training refers to any method that relies on employees to be physically present in the office. Activities include classroom-based training, seminars and workshops, hands-on training, and requiring employees to watch videos or read manuals at their desks.
Typically in-person training programs are more expensive and logistically challenging to organize. They require businesses to spend money on in-person trainers, physical training materials, and sometimes travel expenses and venue costs. They can be a scheduling nightmare as you need everyone to be available at the same time and in the same place. If an employee is absent on training day, you'll need to rerun the entire training or risk them falling behind. When Covid-19 shut down offices across the world, many companies were left scrambling for e-learning solutions.
2. Online training
Over the past decade, more and more companies are gravitating from in-person to online training. This shift is because traditional in-person methods have severe limitations compared to modern online training methods, which make it easier to learn anywhere, at any time.
Online employee training, sometimes called e-learning, takes place entirely over the internet. Online training includes activities like online courses, simulations, webinars, mobile learning, and collaborative learning experiences.
Online training is much more elastic than in-person training. Employees can learn at their own pace, at their computers, whenever it is convenient for them. Instead of learning as a special occasion, it becomes an integral part of daily life and company culture. Training can be done from anywhere, which is more convenient for remote companies or companies that become temporarily remote due to world events.
Not only is online training less expensive and more convenient, but employees also like it better. A survey by Vyond found that 51% of employees prefer self-guided online training.
3. Blended learning
Blended learning, sometimes called hybrid learning, combines online training methods with in-person training. For non-remote companies, blended learning can be a bridge between legacy programs and 100% online learning.
A blended learning program can help L&D departments scale up their training efforts without spending vast amounts of money on in-person training. For example, you can supplement a seminar with an online webinar or follow-up an in-person training session with virtual practice. With teams working from home and remotely, companies are increasingly seeing the benefit of complementing face-to-face training with online learning.
4. Microlearning
Many employee training programs have low course completion rates because the courses are too long. It's hard for employees to commit an hour or more out of their busy day to training. The solution is microlearning.
Microlearning courses are small learning experiences that take 10 or 20 minutes to complete, rather than hours. They cover smaller, more digestible, chunks of material than a typical e-learning course. Microlearning is easier to produce than longer courses and easier for employees to work in their daily life. Studies show that microlearning leads to high knowledge retention than traditional e-learning.
5. Peer training
Peer training happens when employees work together to learn with, and from, one another. Peer learning, or collaborative learning, is a more active, engaging style of learning than passive solo learning.

There are many different ways to incorporate peer training into your programs. At 360Learning, we encourage a culture of peer learning through collaborative learning, prioritizing training based on employees' requests, and by making everyone at the company a subject matter expert in one topic or another. Company-wide peer-learning helps us share institutional knowledge and rapidly spread ideas.
Read more: