2. Teach remote planning and management skills
Remote offices offer employees more autonomy but make it difficult for managers to track projects and employee performance. Train managers to track employee productivity remotely without micromanaging their behavior.

Encourage managers to take a low-authority, high-accountability approach to people management. When you're working remotely, the "chain of command" or decision-making needs to be straightforward so that things can move forward smoothly without having to call constant meetings. A culture of transparency, constant iteration, and performance tracking ensure that everyone stays on track and that problems quickly bubble to the service.
Train managers thoroughly on any remote management tools you institute, including Zoom, Slack, Trello, and even Google Calendars. Managers need to thoroughly understand each new tool's best practices to guide their teams in proper use.
Teach managers to evaluate employees differently. First-time managers in office spaces often equivocate physical presence with performance goals. Without that visible market to lean on, managers need to establish new metrics for evaluation beyond measuring butts in seats. Arm managers with tools for producing more effective performance reviews based on employee work results and their ability to meet their OKRs instead of opinions on their attendance and office behavior. We recommend building clear guidelines and process for performance reviews and make sure all managers are trained to follow the same. Here's an example of our performance review guidelines included in our onboarding program: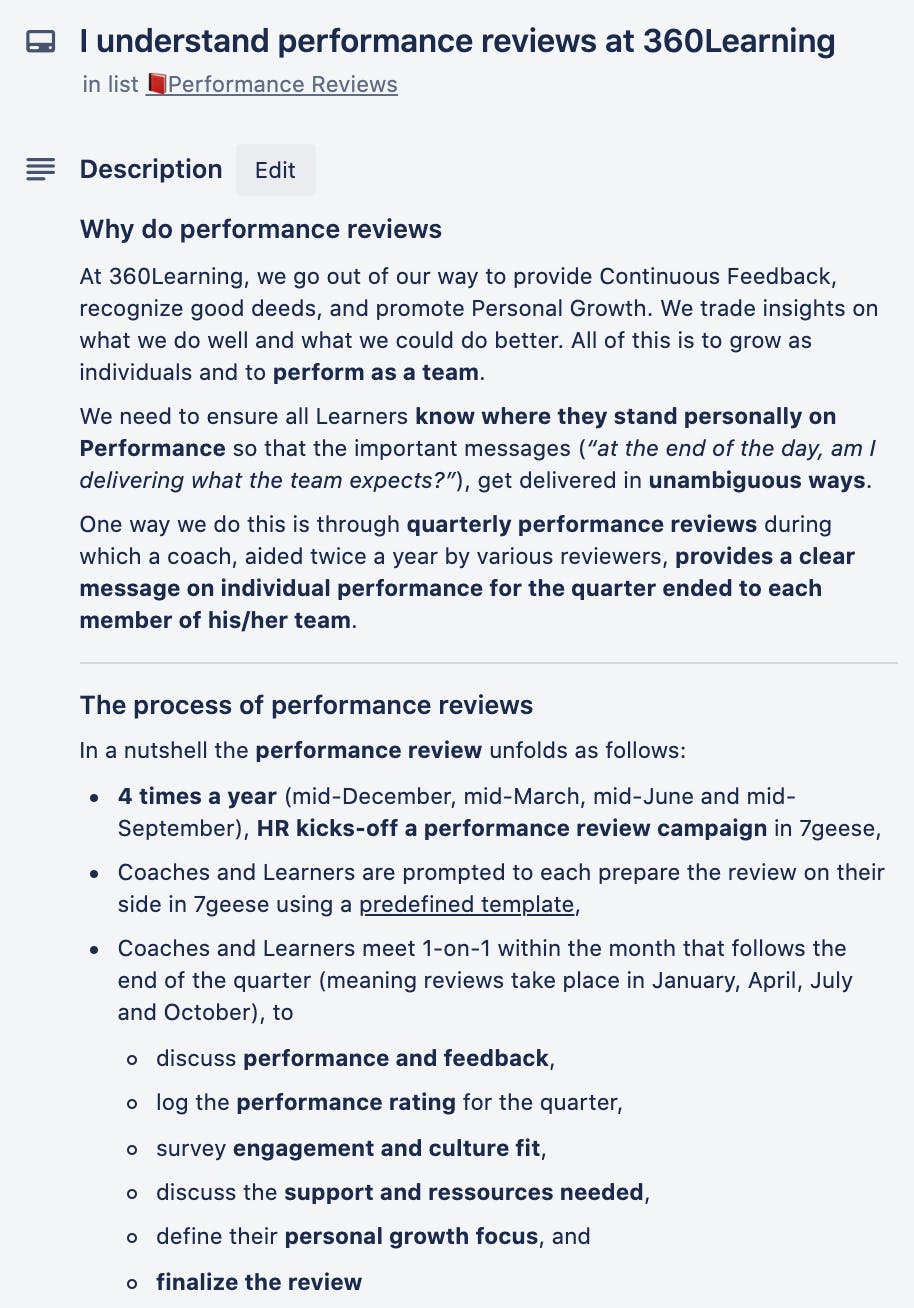 Measure your management training effectiveness with bottom-up reviews. A great way to know if your manager training is working is to ask for feedback from your team. At 360Learning, managers are required to initiate a feedback request to all direct reports on 7geese. Responders will be anonymous and feedback responses will be visible to the manager's manager, as well as our Human Resources and L&D teams. This allows us to identify the gaps in management and where extra manager training may be required. Here's an example of our feedback template on 7geese (click to enlarge):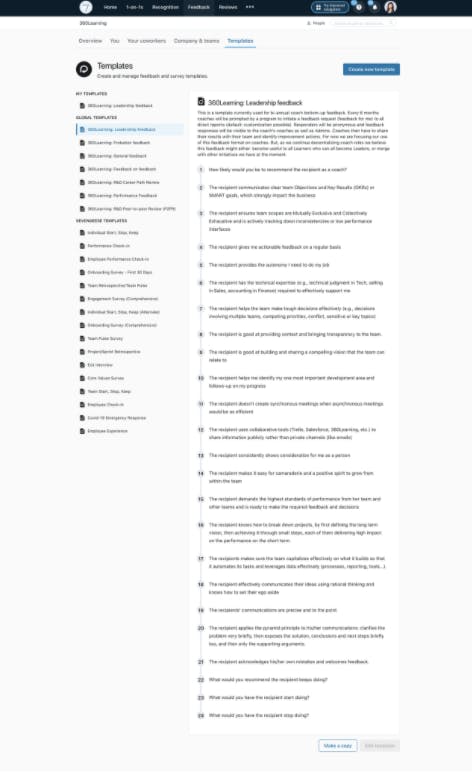 3. Prioritize remote employee well-being
In these stressful times, it's more important than ever for managers to stay attuned to their employees' needs. But spotting an employee in crisis from afar can be difficult. Show managers how to identify and manage employee overload, both in themselves and for their direct reports.

Alter how you gauge employee well-being. At 360Learning, we use a weekly Peakon survey to gauge employee well-being. The VP of Human Resources replies personally to all messages. If the score falls too low, we talk about it at all-hands or follow up with employees one-on-one.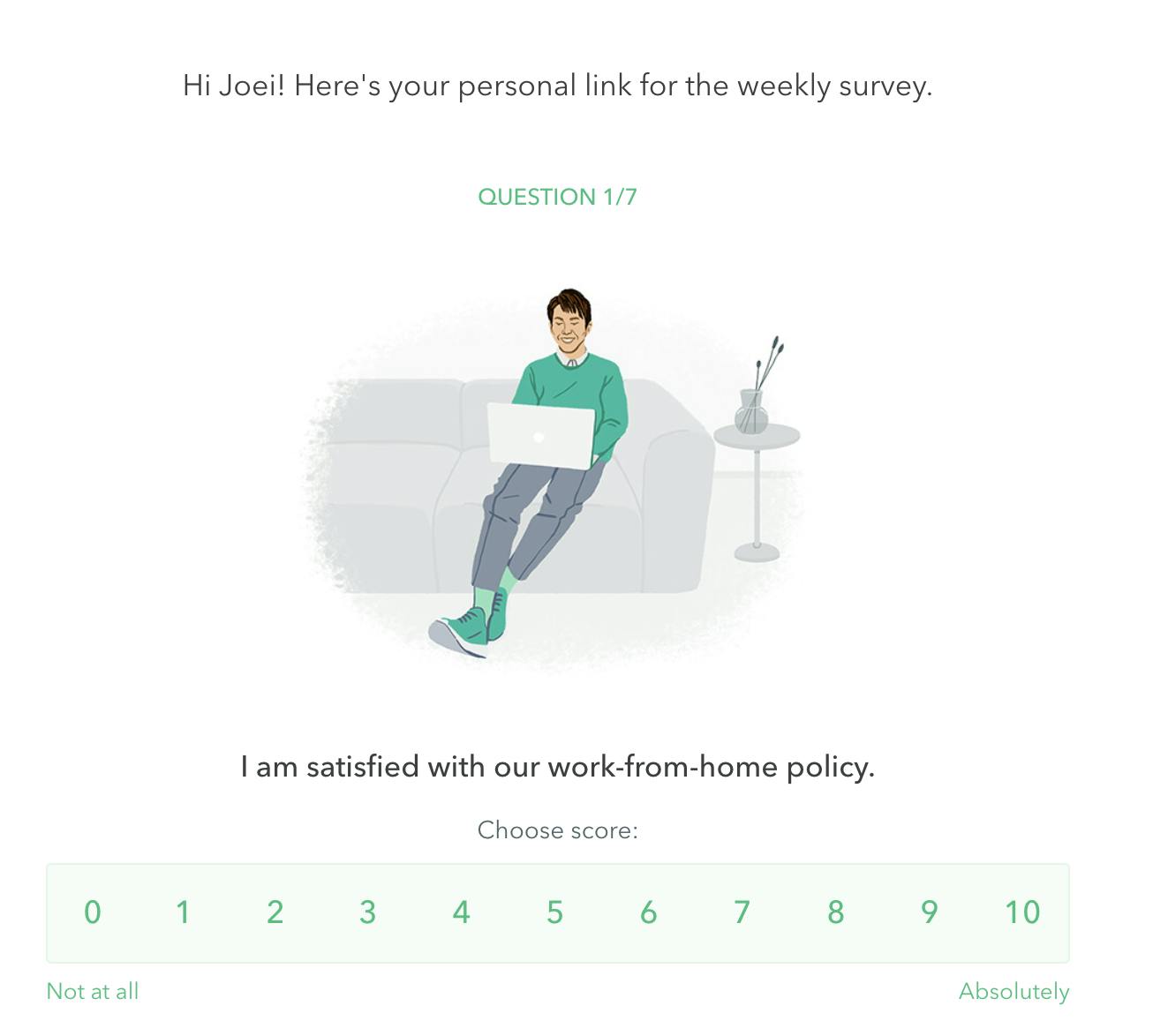 Use trainings and simulations to help managers learn to spot employee burnout over Zoom. For example, this Vyond video template helps learners use non-verbal cues to understand employees' mental health and direct them to appropriate resources, like requesting time off. Role-playing can help managers better understand when an employee is overwhelmed and help them respond appropriately.
Effective manager training prepares your company for the unknown
Your company may not choose to stay remote once our current crisis passes. Everyone might return to the office, or you might select a hybrid model where some people are in-office, and others are remote. No matter what the setup looks like, you'll still need strong managers to guide employees through the changes ahead.

Bad management can have repercussions throughout the company that lead to low productivity, disengaged employees, and churn. Give managers the skills they need to manage effectively, and you will have a more productive, happier team company-wide.

And if you'd like to learn more about how our Collaborative Learning platform can make your manager training 10x more effective, book a demo.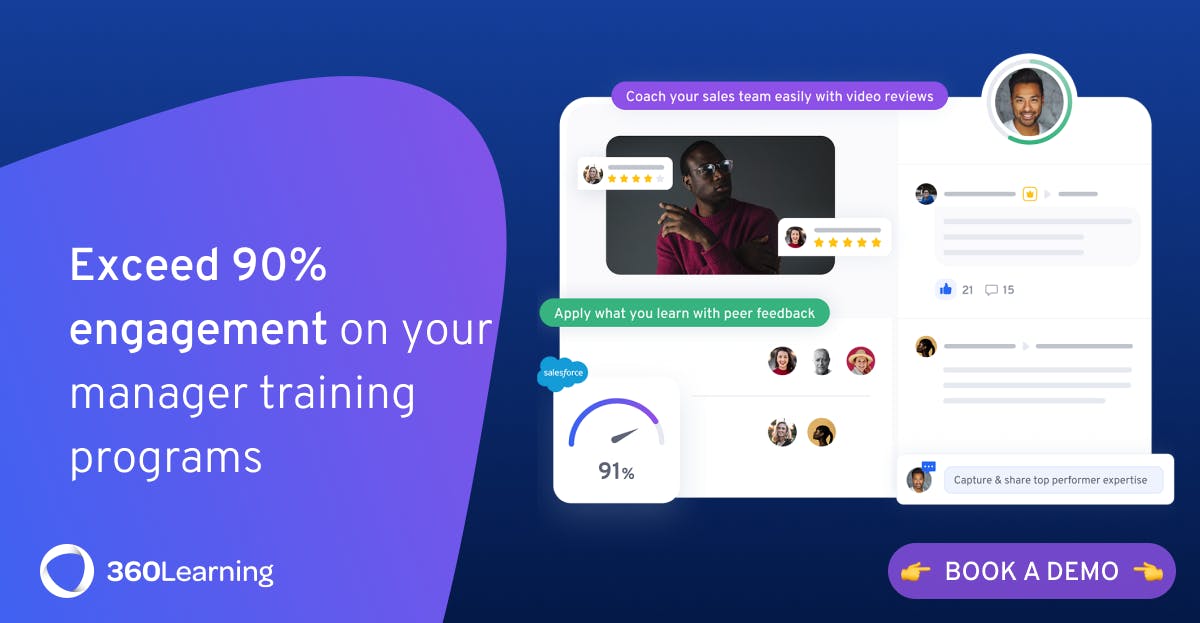 How are you training your managers to manage your teams through uncertain times? Share with us in the comments below 👇