So far I've shared a lot of theories. Let's look at something more concrete.
Since the beginning of the crisis, I've got a lot of questions from the team about how our business might be affected. Whether people will get fired. When we can restart the hiring of the many positions we wanted to fill.
So at our last all-hands meeting, I decided to share the specifics of our cash-flow runway calculations with everyone.
Instead of telling my team "no, you can't restart the hiring process of your 15 opened positions" or "you need to reach your quarter sale target or you're fired," I gave a breakdown on how the math works. 
I explained that we have €15.3millon of cash now, and we burn €1million per month. This means, today, we have 15 months of runway. 
If we book €5million ARR, and hire 15 people, adding €1.5m / year in costs, we'll have €15.3 + €5million - €12million - €1.5m of runway. 
In 12 months,
we'll have burnt €12m - 5m€ + 1.5m€ = 8.5m€
we'll have €15.3m - €8.5m = €6.8m in cash
we'll be burning (€12m - 5m€ + 1.5m€)/12 = 700k€ per month
we'll have 9 months of runway (21 months from today)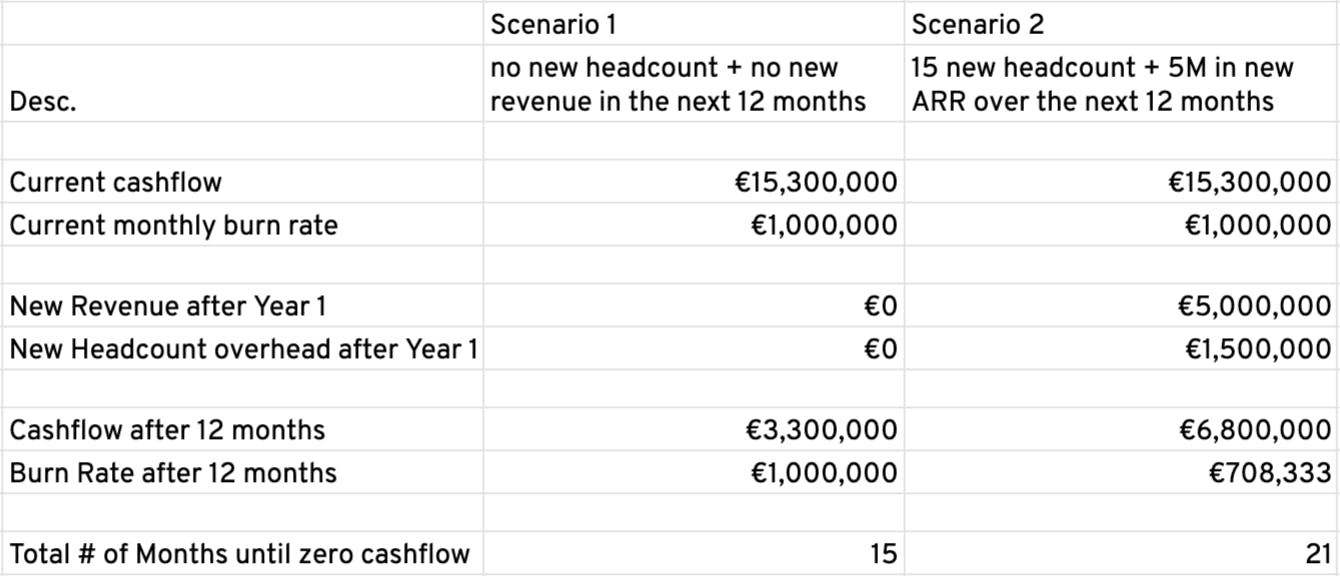 Basically, I showed them our real numbers and explained how the board makes calculations and projections based on these numbers. 
This shows how their individual performance - closing a deal or not, hiring a new person or not, getting a client to pay on time or not - affects the financial health of the company and the big picture. 
I wanted to make sure they had the information they needed to understand the situation.
So that when we cut budgets and freeze hiring or raise sales targets, they understand why. 
By being transparent, I hope to create an environment where everyone feels committed to our common goals, and where each individual knows how crucial they are in creating a positive response to the current challenges.