One key strength of this approach? Empowering functional teams to be in charge of their own learning processes and priorities.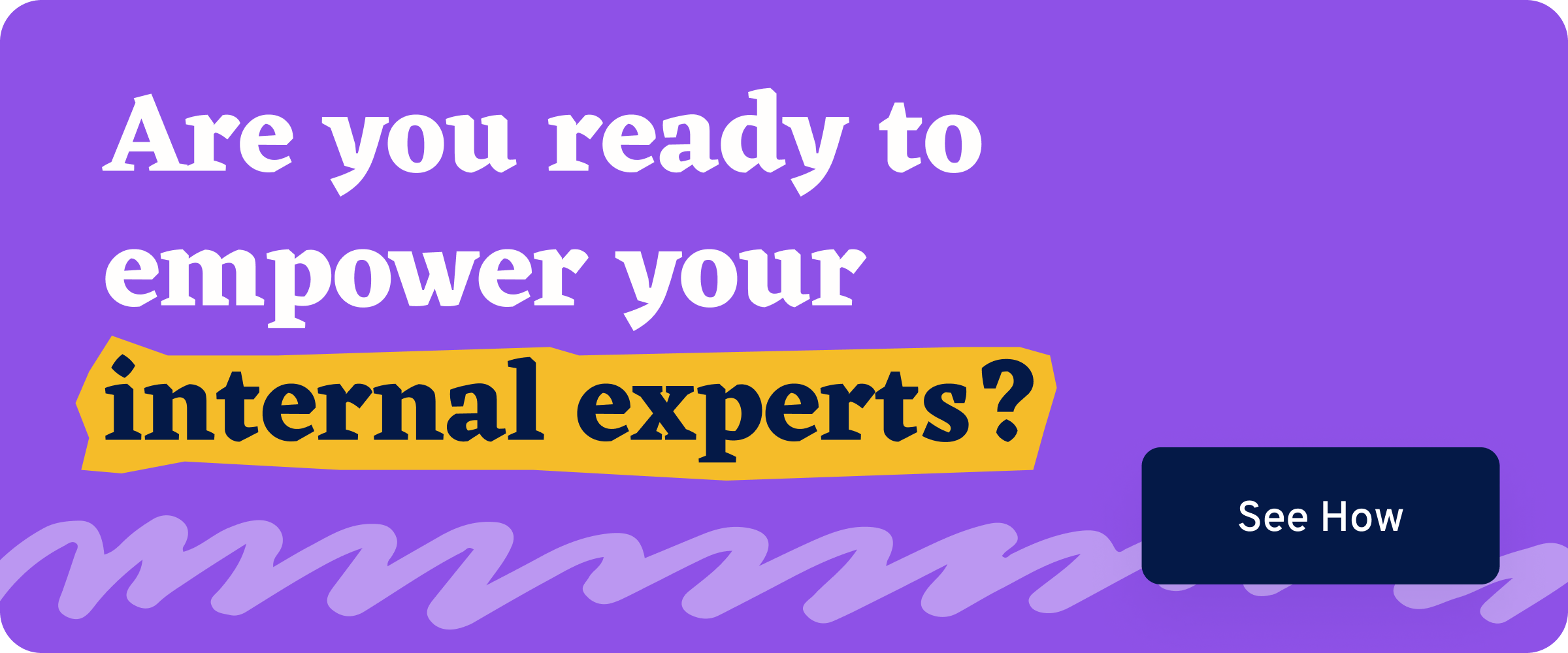 In L&D, some learning should always be centralized, such as introductions to company culture, legal requirements, and other core systems.
Specialized learning needs, however, should be organized at the team level, and course design should be a collaborative exercise.
"Each of the functional units, like finance, engineering, sales, operations, compliance - they all have their own L&D needs," says Lauren. "We advise them and give them the tools and resources they need, but we don't have a solely centralized approach."
In this context, the L&D team takes on more of an advisory role, instead of setting the agenda for the whole team. "In each functional team, the subject matter expert determines the team's learning needs. We come in as an advisor, but they're closer to their business. They know what needs to happen now, and what the long-term goals should be."
"We have influence and give them the structure, but they're the ones who actually do it," says Lauren. "We're talking about program managers, project managers, essentially anybody who has a bird's eye view of what's going on and what they need."
Alongside this kind of collaborative learning content, a hybrid L&D approach also allows for teams to oversee their own function-specific learning metrics. 
Related: The Right Way to do a Training Needs Analysis
Great L&D is all about offering tailored learning content, but it's also about tracking learner development with the right metrics. With a hybrid learning approach like Flexport's, each team can develop metrics to suit their specific functions.
"We provide an LMS to our teams, and we advise them on how to build learning paths," says Lauren. "We give them the analytics and dashboards they need, but they tell us what the specific metrics are. For engineering, this could be product release cycles. For sales, this could be time to meet quota. These function-specific metrics make all the difference."
Of course, this doesn't mean metrics are unique to every team. According to Lauren, sometimes it's more efficient to share metrics and learning material.
"This is where the hybrid approach makes so much sense. You can avoid the pitfalls of full decentralization, where you have duplicated efforts and overlaps, without the downsides of centralization, where things move much too slowly."
"In our L&D team, we're able to see trends across the business, and across regions. This helps us get to one solution instead of four. In big companies, you can find the same learning content on an LMS, but developed by different regions. We don't want this to happen. We want everything to be nice and clean and organized in our LMS."
In fast-growing companies, L&D leaders need to strike a balance between centralized and decentralized learning, and need to demonstrate the impact of training through tailored performance metrics.
"We want to move quickly, but be structured at the beginning," says Lauren. "This avoids overlap, and avoids a confusing learning experience. This is an educational process, to say 'let's go slow now, to go fast in the future'." 
"We're a new global L&D team, and we're setting expectations around the foundations - governance, guidelines, standards and best practices. The goal is to offer an L&D toolkit and guidelines, and to help them build what they need to get their courses out quickly."
Another useful strategy for L&D teams? Make sure you have regular touchpoints with leaders across the business.