A major shortcoming of the Kirkpatrick Model is that it stops just short of providing a true training ROI cost-benefit analysis. You can show that the training produced measurable results, but how does that stack up against the costs of running the program? To fix that, we can look to the Phillips Model, which builds on Kirkpatrick's framework with a fifth level: ROI.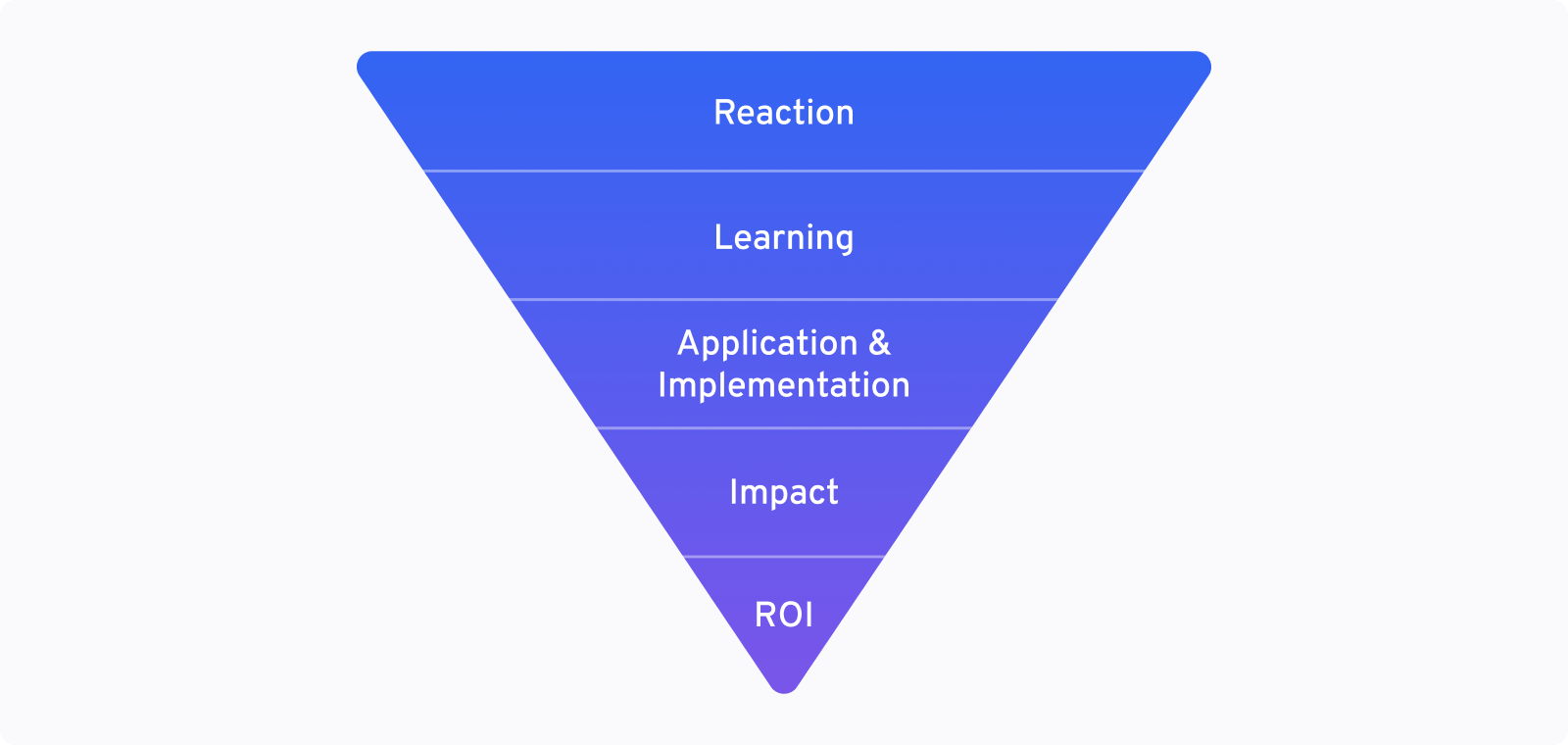 The five levels of the Phillips Model are based on Kirkpatrick's Model, with a few tweaks meant to create more data, and context around that data, to ultimately help determine ROI.
Level 1: Reaction — Like the Kirkpatrick Model, you gauge your employees' reactions to their training experience.
Level 2: Learning — Like the Kirkpatrick Model, you assess whether employees' retained the knowledge they received during training.
Level 3: Application and Implementation — Instead of just identifying a change in behavior, the Philips Model accounts for factors outside of training that might help or hinder progress.

For example, maybe employees started using the new sales techniques, but the organization pivoted from phone sales to in-person sales. Level 3 in the Kirkpatrick Model would just say the learning was not implemented, but the Phillips Model gives you space to explain why.
Level 4: Impact — Impact is a more holistic measure than the Results level of the Kirkpatrick Model because it takes into account both the positive and the negative business impacts of training. Here you'll assemble all the net benefits caused by training, as well as all the costs associated with it.
Level 5: ROI — Finally, how does impact translate financially? In this step, you'll do a cost-benefit analysis to determine the ultimate value of the training program. You'll compile all of the financial impacts and all of the potential training costs to discover its true financial benefit.
To calculate training ROI, you would collect the data for levels 1-4, creating your chain of evidence, just like in the Kirkpatrick Model. The only major difference is that instead of calculating one number for Level 4, you would attempt to capture impact figures for a variety of metrics and would convert them into a monetary value.

So, for our sales training example from the first section, let's say we were able to connect our training program with a 10% increase in average order value across the company, translating to an $80,000 increase in sales over the next year.
How much did it cost to run the training? Let's run the numbers:
Resource Development Costs — How much it costs to create and implement the course, including the price of an LMS. In this case, let's say we spent $10,000 on developing our course.
Time Spent — The time employees spend completing training. In this case, we trained 100 employees, who each make $25 an hour, and that training took three hours. Total: $7,500
Implementation Costs — Other costs to run the course—for example, technical support, equipment, or space rental. However, our course was run online, and we didn't need to hire additional tech support, so our implementation costs were $0.
So, in this scenario, our total cost of training was $17,500, and our total benefit was $80,000.
From there, we can plug the numbers into the equation we discussed at the beginning of the article:

So, our ROI is 357%. A pretty impressive number that shows we got a healthy return on the money we spent.
Remember that when it comes to calculating ROI, timing is everything. Don't wait until the program is completed to start calculations, or you may find that your ROI is smaller than expected or nonexistent. 
Instead, do the math at intervals throughout the training process, so you can adjust training or implementation to make sure you're getting the maximum value.