In the current business climate, where every dollar spent needs to be justified, proving ROI on your internal training programs is more important than ever. It's not enough to show that your program is helping employees learn new skills; you need to prove that it's having a positive effect on the company's bottom line.

But how do you put a dollar amount on a program whose effects seem largely unquantifiable? The struggle is real: this LinkedIn survey found that demonstrating ROI is a major challenge for talent development teams.
We want to help. We're going to walk you through three of the most widely-used frameworks for evaluating the impact of your training programs. Using one or a combination of all three of these models will help you prove the value of your programs to the people who hold the purse strings.
1. The Kirkpatrick Model of training evaluation
The Kirkpatrick Model is one of the most commonly used methods for evaluating the effectiveness of training programs. You can use it to connect numerical indicators of ROI, like sales numbers or retention rates, directly back to the skills learned during training.

It's not enough to simply tell your superiors that sales increased after training; you need to prove that the increase in sales was the result of your training. With the Kirkpatrick Model, you can create a chain of evidence—a path that shows exactly how the training you instituted led to an increase in sales volume.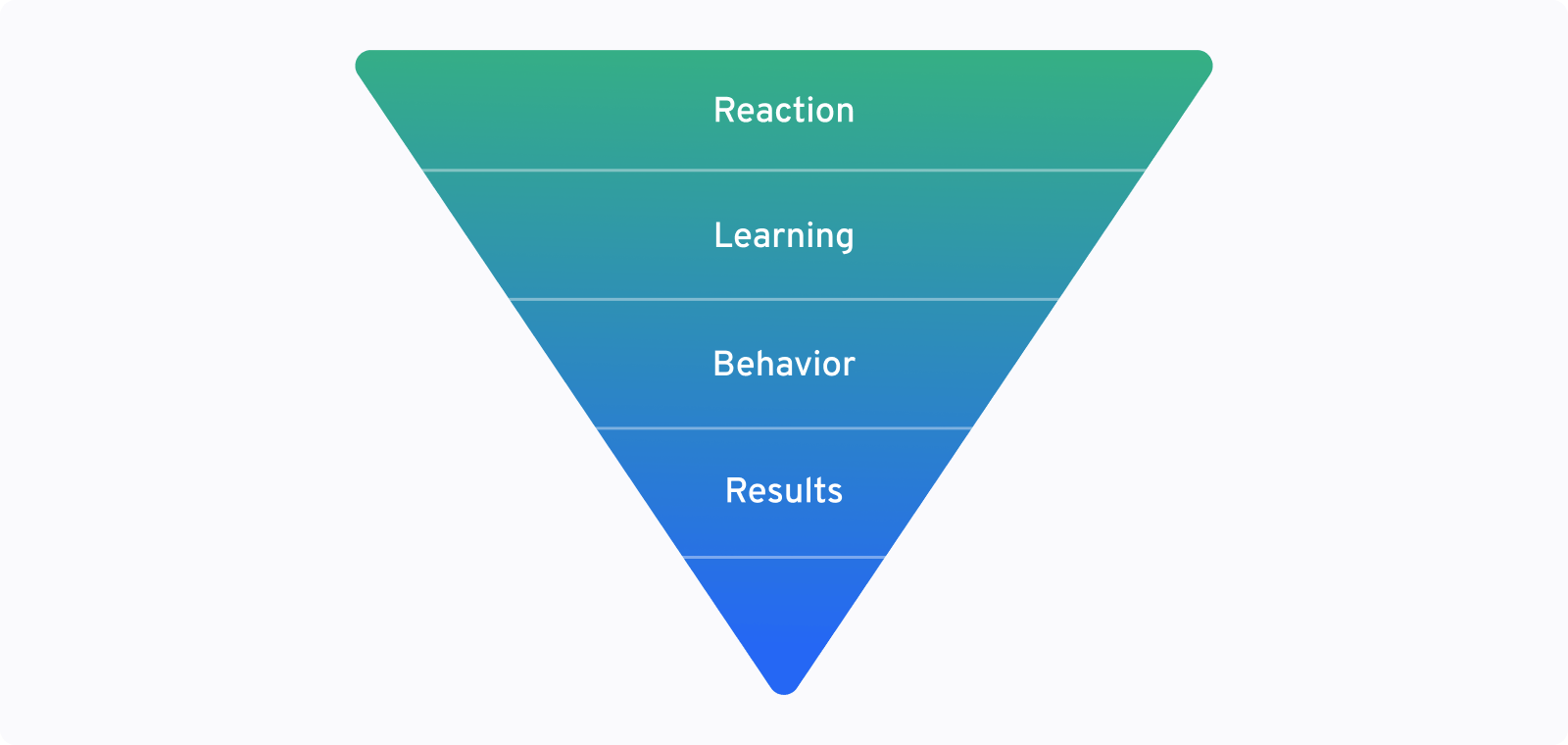 The model uses four steps, or levels of analysis, to trace how learning leads to actionable results. Compile data at each of these points:
Level 1: Reaction —Immediately after training, gauge employee's reactions. Survey the employees after training to gauge their immediate reactions: How did they feel about training? Did they find the material useful? Was it presented in a clear and helpful way?
Level 2: Learning — Assess how much employees retained from the training course. Test them on their knowledge, or have them complete demonstrations or assignments that you can evaluate.
Level 3: Behavior — Learning on its own is nice, but we want to know whether employees are applying that knowledge to their work. Are they using their new skills on the job? Find out using spot inspections, manager evaluations, or even self-assessments.
Level 4: Results — Finally, on the most macro level, what did this change in behavior result in? How did it help the company? This is where we pinpoint the most tangible effects of the training. Look at factors like increased sales numbers, changes in employee retention, or elevated production levels.
Before you begin training, use the Kirkpatrick Model to map out the result you hope to see from your training program. Start at Level 4, then work backward to identify the steps that would be required to get there.
Let's say we want to prove the ROI of a sales training program designed to help call center employees increase average order value (i.e., upsell customers). Before the course launches, we sit down and map out our model for evaluating the program:
Level 4: For us, success would look like an increase in average order size per call. This is our results metric.
Level 3: What behavior would have to happen to lead to that result? We would have to prove that salespeople were putting their training into use on their calls. We decide to use call recording and analysis software to measure whether employees are using key phrases and techniques they learned in training.
Level 2: To measure what employees learned during training, we decide to give them a test at the end of training. That way, we can prove they picked up these new techniques from the training and not somewhere else.
Level 1: Finally, we want to gauge employee's personal reactions to the training to see whether they felt it was a good use of their time.

A collaborative learning platform like 360Learning encourages employees to give instant feedback, making it easy to gauge their response. If you don't have those capabilities, a survey would also suffice, but make sure to poll participants immediately after course completion.
Now you're ready to move forward with your training program, collecting the relevant data as you go. Later, when you discover that since the training cart sizes have increased by an average of 10%, you can use the data you've collected to clearly show that the sales training was directly responsible.