Of course, having a dedicated tool makes it easier. My personal favorite is the Learning Need functionality in 360Learning. I can declare a learning need - this is any topic that I want to learn more about. My colleagues can give it upvotes and someone can volunteer to make that course a reality.
Here is a perfect example of the learning needs in action. Objection handling is vital to hitting quota - and we make it known!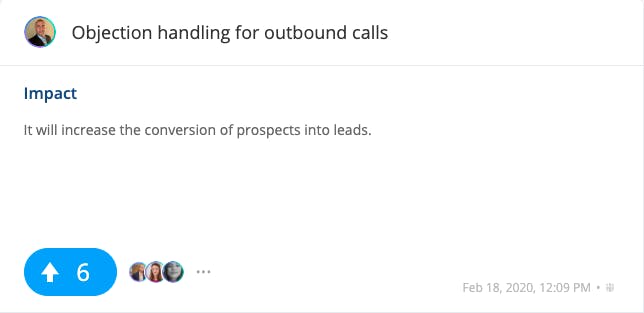 The next thing we know… Carl has raised his hand and shared his knowledge in a course.

Related: The Right Way to do a Training Needs Analysis
You have matched your team's pain points and, in turn, some incredible courses are being created. Training is no longer being looked at as a support function, but a driver of growth.
What else can you do to keep this train running?
As humans, we love interaction, collaboration, and sharing ideas. Salespeople are no exception, in fact, most people go into sales because they love human interactions.
Across the board, people learn more efficiently when human interaction and collaboration is involved. Research from Learning Solutions Magazine shows that 75% of workplace knowledge transfer comes from social activity. 
Obviously, this sounds perfect. Just take a step back and let everyone learn from each other. How do you actually make that happen? 
I am receiving and giving feedback constantly. It is one of the pillars that 360Learning stands on as a tool and as an organization.
Here are some examples of what that looks like on our platform: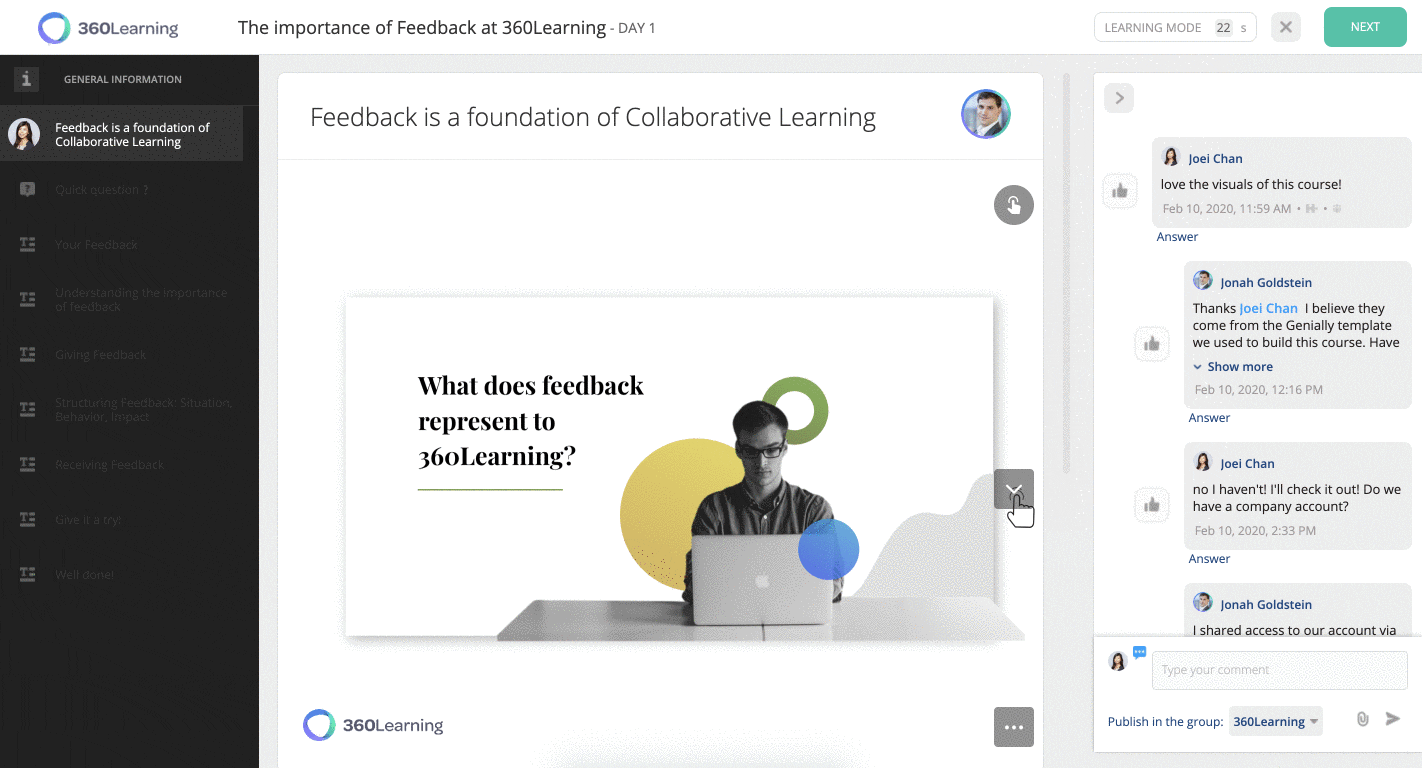 Of course, you don't need a tool like 360Learning to build a dialogue through feedback (It definitely helps though 😉) Here are two ways kickstart peer-to-peer learning:
Q&A Sessions: Remember in school when they broke you into smaller groups to discuss a topic? I always really enjoyed and benefited from that. We do it all the time. 

Q&A session? Really? Is that really an effective way to engage people in training? You may ask.

The answer is, yes! If you do it right. In our case, a small group sitting down with a product manager to discuss their latest product release. We can use that information today to hop on the phones and build our pipeline. A Q&A session does a lot of work to contribute to a culture of knowledge sharing. 

Roleplays: The best role play sessions I've ever had were with my peers. Our team assembled in a conference room once a week for 30 minutes. A scenario was proposed (i.e. cold call opening) and we would bounce around the room for 10 minutes practicing with each other and then move on to the next scene. We all would become better players and coaches through this process. Gathering in a conference room is not always an option. Thankfully the 21st century has afforded us countless ways to bring this online.