"We want the logistics to run really smoothly, and to communicate clearly to new hires about what to expect when they start."
A shared learning platform lets your new hires build their capabilities and get to know the business in detail - even from afar.

Here's a sense of what our pre-boarding logistics look like in practice at 360Learning, including the key tasks to be completed: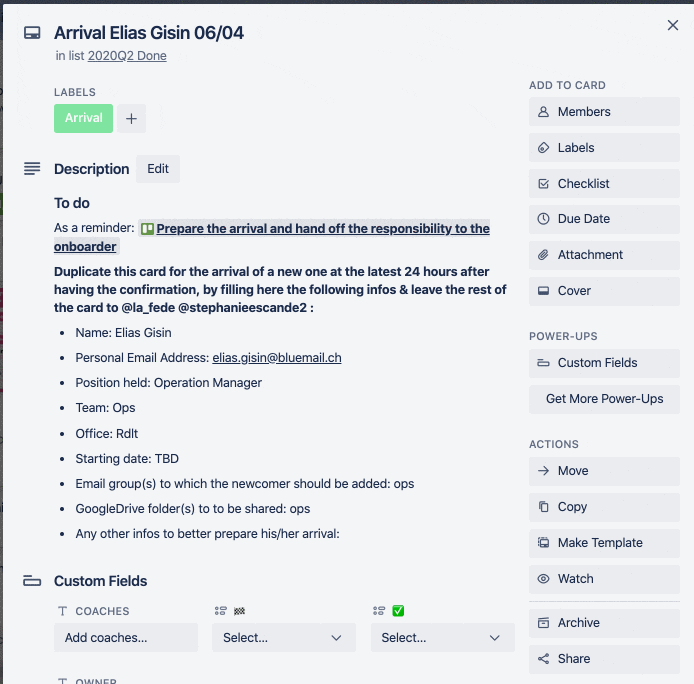 Our pre-boarding modules also include detailed guidance and information on key aspects of company culture, like our communication preferences.

We have a deliberate way of communicating which helps to set the tone for the entire company. For example, we're huge believers in asynchronous work and aren't big on emails or any other 1:1 form of communication.

This communication culture can seem strange for new arrivals, so it's important to explain this nice and early in pre-boarding, and in clear and simple terms: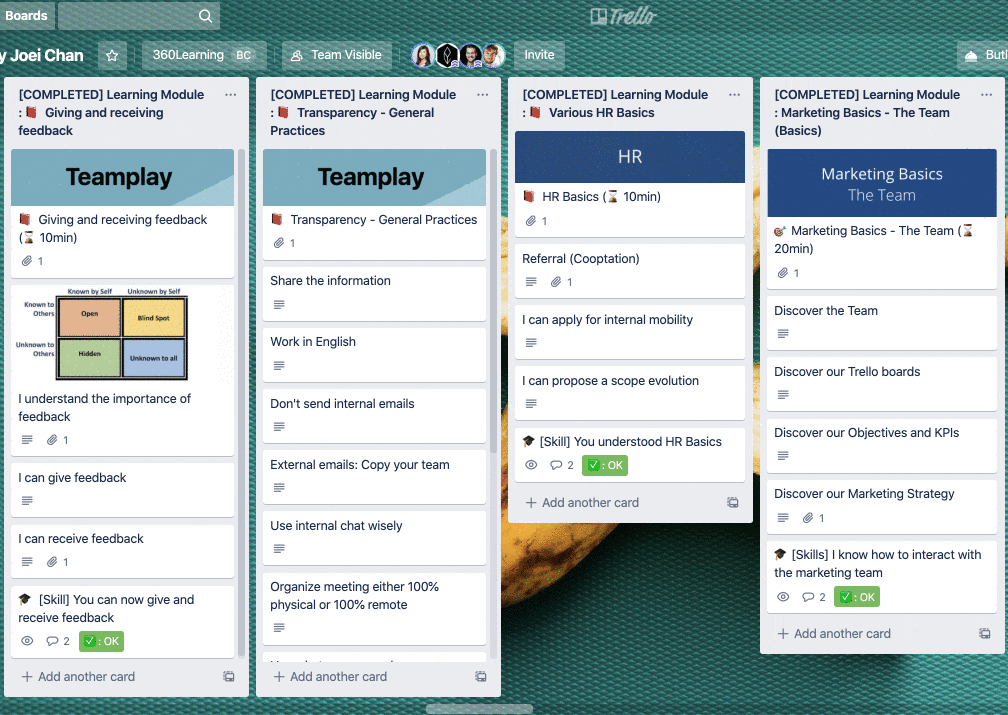 Related: Why Top-Down Management Doesn't Work
Step #2: Make your onboarding process collaborative
After great pre-boarding, the second most important step in remote onboarding is collaboration.
As Jonah explains, we think of collaboration as a two-part process at 360Learning. "First, there's collaboration in creating onboarding content, then there's collaboration during the onboarding process. These are both equally important."
Part 1: Collaborating to create great onboarding content
Onboarding is the process of introducing your new hires to everything they need to know to do their jobs.
And everything they need to know can be a lot. And here I'm speaking for the HR or L&D teams. It's impossible for them to know everything every new hire needs to know.
And this brings us to the first part of onboarding collaboration: empowering your subject matter experts to share their knowledge, no matter which team they're from.
With a learning platform, anyone in your business can design and author learning modules. Even better, they can seek input and feedback from others as they go.

Decentralizing onboarding content creation makes everybody's lives easier. Less pressure for the HR or L&D teams, more invested interest from the rest of the company in the onboarding process, more interactions for the new hire with all departments - everybody wins.
Related: Centralized vs. Decentralized - Which is the Right L&D Approach for Your Business?
Part 2: Collaboration during the onboarding process
On top of content creation, collaborative learning should also happen during the onboarding process.
At 360Learning, we make use of the collaborative features on our learning platform to encourage interactions and collaboration.
This includes our discussion forum, where new hires can ask questions anytime, and offer instant reactions to each module, as they are taking each course. Most of the time, questions asked in forums are answered immediately by the course author or fellow colleagues.
With these interactions and responses, every one of your courses and modules becomes a living document and is a collection of all the expertise, questions, and learning experiences of your previous learners.

This helps new hires understand the courses better, and create a sense of community. This is especially valuable in a remote onboarding or learning process, which could feel lonely.

This also helps the course author improve and iterate on the courses, continuously improving the quality of the course content. Another great way to encourage collaboration is to host virtual team building activities.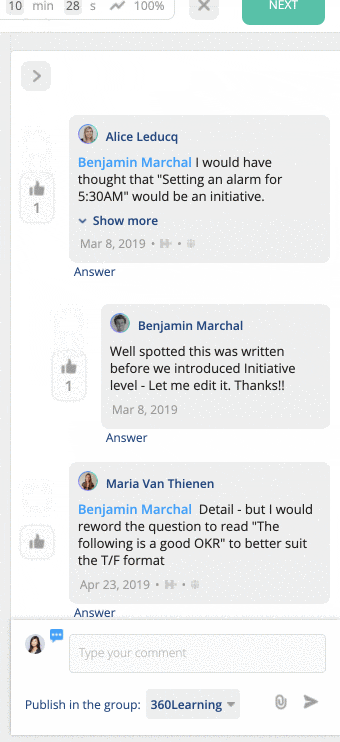 Related: How We Use Peer Learning to Keep Our Company's Competitive Edge
Step #3: Tailor the onboarding experience for each hire
Every great onboarding process is collaborative, engaging, and tailored to the needs and expectations of each hire that were made clear in their application, cover letter and interview process. This goes for remote onboarding, too.

While there are common elements in the onboarding experience for every new hire, to really prepare them for their new job, you need to offer customized learning paths that provide information and support for each role and their learning needs and speed.

"The best thing to show a new learner you care, especially when working remotely, is to give them time to absorb information, and to stay flexible," says Raphaël. "Not everyone's situation is the same, and your onboarding process needs to reflect that."