Due to technological advances and an unexpected global crisis, many companies have transformed into digital-first workplaces. Fortunately, innovations in digital tools make it possible to cultivate a great onboarding experience for your remote employees.

As a general rule, you can employ the same strategies and roadmaps for virtual onboarding that you use for in-person offices. However, remote onboarding might require some additional tools and tactics. Use these tips to ensure remote onboarding achieves all the same benefits as the in-person alternative.

Even in a digital environment, collaboration is key. Without face-to-face contact, new hires need extra support to learn from, work alongside, and bond with co-workers.

Virtual meeting software like Zoom and Google Hangouts are great for distributed teams, but you can have too much of a good thing. We wholeheartedly recommend an asynchronous-first model to foster collaboration without all the Zoom fatigue and wasted time. For less formal meetings, try a tool like Around that lets you play games and host campfire discussions.

Asynchronous communication and productivity tools like Trello and Asana and a learning platform like 360Learning can help you bring new hires into the huddle without demanding hours of unnecessary virtual meetings.

Starting a new job behind a computer screen can make you feel invisible. You never meet your colleagues face-to-face, have spontaneous check-ins in the hall, or get a reassuring wave from your manager when you arrive at the office. As a result, new remote employees can feel out of the loop, unsure of how to spend their time, and afraid to ask for clarification.

Go the extra mile to personalize your outreach and provide as much clarity as possible. At 360Learning, for example, we use Trello to give each new hire specific course recommendations, goals, and checkpoints. This helps new hires stay on track and provides that extra sense of security that they're not missing something.

Here's a quick, personalized nudge you might see during remote onboarding: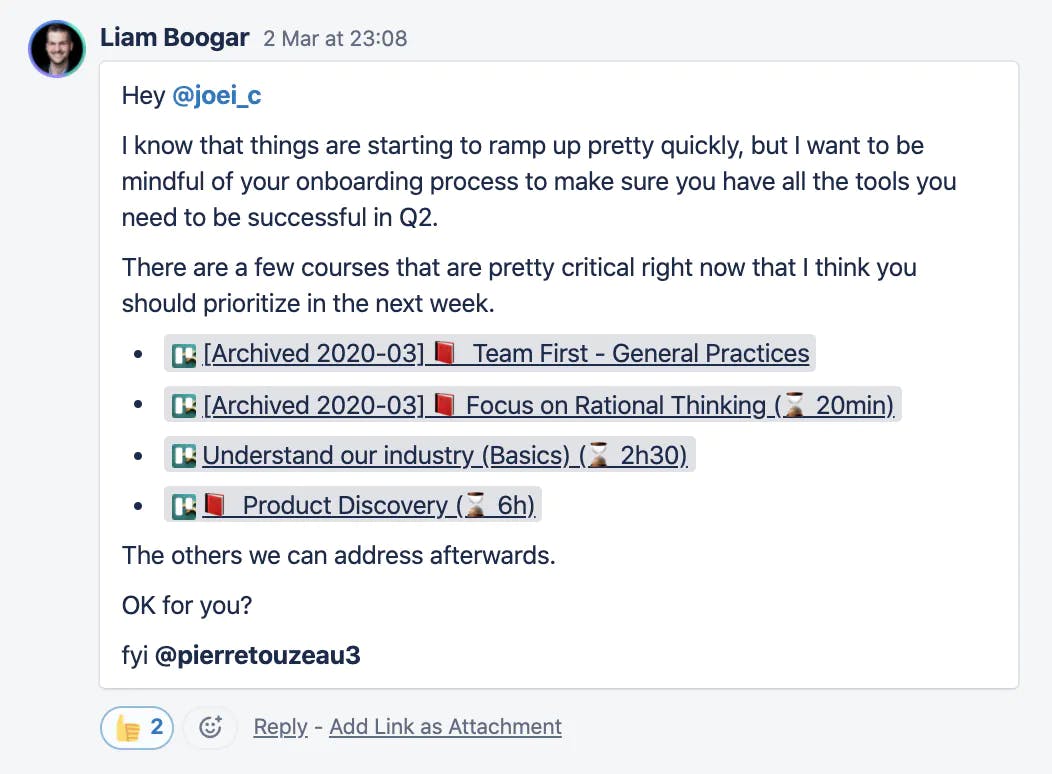 Another way to help new hires stay on track—a particular challenge if you're not sitting in the same office—is to give employees a roadmap for success.

At 360Learning, we ask employees to set quarterly OKRs, and we also include knowledge and satisfaction checks in our onboarding courses. We want to make sure each training session has a clear payoff and that the new hire walks away with a solid understanding of why they just spent time taking the course.

Employees can earn badges and high scores and track their progress over the course of onboarding.