7. Collect feedback from new hires
Feedback from new employees at the end of their first month or first 90 days helps you refine your onboarding process for future hires.

Send onboarding surveys to new hires after their first 30, 45, or 90 days to gauge their experience. New hire onboarding surveys should cover questions about manager availability, first-day and first-week experiences, HR preparedness, and the relevance of onboarding materials. Here are some example questions to include:

Do you have a clear understanding of how to be successful in your role?
How often do you communicate with your manager?
Do you have a clear understanding of company policies?
Were you given sufficient training to use work-related tools?
You could use multiple choice or a Yes/No format for the answers, and in certain cases, ask employees to rate their experience on a scale of 1-10.

Along with close-ended questions, consider adding open-ended questions to your new hire onboarding survey, such as:

"If you could change one thing about our onboarding process, what would it be?"
"What suggestions do you have to improve our onboarding process?"
Open-ended questions let you collect suggestions and ideas for improvement from new hires.

In a learning platform like 360Learning, you can also encourage reactions from employees on training courses directly: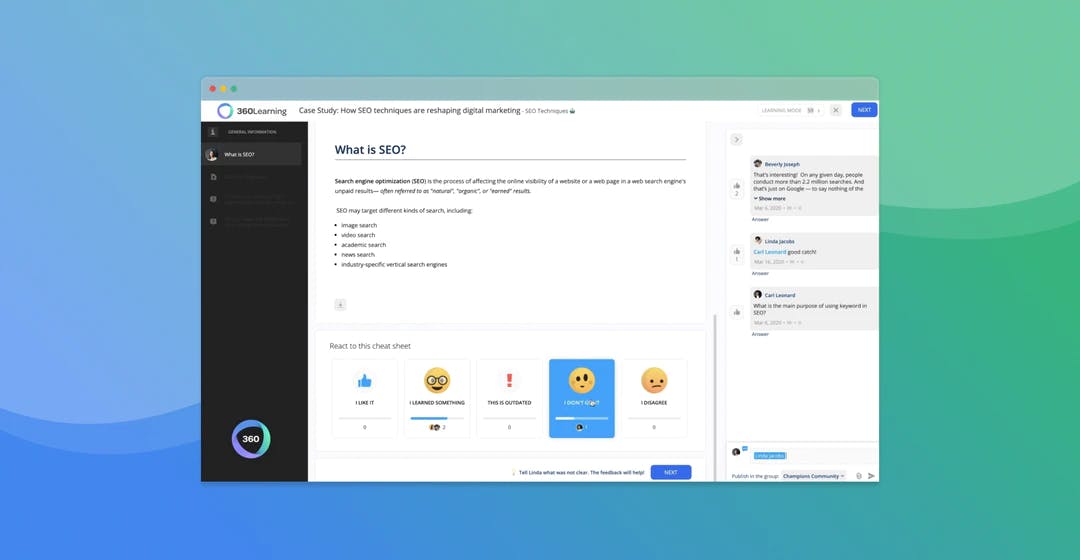 Learners can also leave suggestions if they find a course outdated or unhelpful — another way to continually identify areas to improve your company's onboarding experience.