Collaborative Learning is a training methodology where people share their expertise, teaching and learning from one another at the same time, and leveraging each person's skills and ideas. This makes learning social and interactive, driving better learning outcomes.
Convexity culture is our way to bring Collaborative Learning to life for every single 360Learner. Here's how we use flexible working, transparent performance management, rolling feedback, and a transparent compensation model to achieve true collaboration.
At 360Learning, we're a remote-first organization. We want everyone to be free to choose where and when they want to work, providing they deliver the right impact and contribute to our shared success. This flexibility is a cornerstone of our Convexity culture.
This has made a huge difference for us during the COVID-19 pandemic. Our systems were already in place for us to work, learn, and thrive wherever we happened to be in the world. Our resilient team culture also helped everyone to stay safe and connected.
Of course, not every company can embrace our radically flexible work culture. Doing so takes the right attitude from leadership, and a transparent system of performance management. 
True collaboration is all about transparency. This is the flip side of Your Life, Your Way: if we're going to embrace the freedom of flexible working, we also need to be open about how well we're executing our responsibilities, and where we can improve.
This is why we embrace the OKR (Objectives and Key Results) model. As a new hire, you'll set your OKRs with your onboarder during your first month. We make our performance in meeting these quarterly OKRs publicly available, contributing to an environment of accountability. 
Our performance ratings and achievements on incentive-based bonuses are also displayed publicly. These are finalized every quarter following our coach and peer feedback process, and serve as a traffic light system to clearly identify where people need to lift their performance. Eligibility for these incentives kicks in during the first full calendar month for new hires.
We also use a transparent system of levels reflecting the expected impact of each individual, based on their skills and experience. These levels affect your salary range and equity grants. We offer the opportunity to level-up by increasing their impact in their current role. Level-up windows open every June and December, including default reviews for new starters.
Lastly, our internal mobility system makes it easy for people to apply to any open role. This way, people have the chance to demonstrate their capabilities in new areas and build familiarity with the wider aspects of our business.
This high degree of transparency and accountability definitely isn't for everyone, but it's a key aspect of our culture. When companies are scaling quickly, a culture of transparent performance helps us to know exactly how we're all contributing to our growth. 
Learn more here: Here's the OKR Process We Created to Elevate Team Performance (+ a Free OKR Template)
Alongside our transparent performance management, we use rolling feedback to create a culture of continuous learning and improvement.  
In practice, this ongoing feedback is built into every aspect of our working environment. We use 7Geese to recognize contributions to Convexity culture, and Peakon to run pulse surveys identifying any issues that might be holding us back.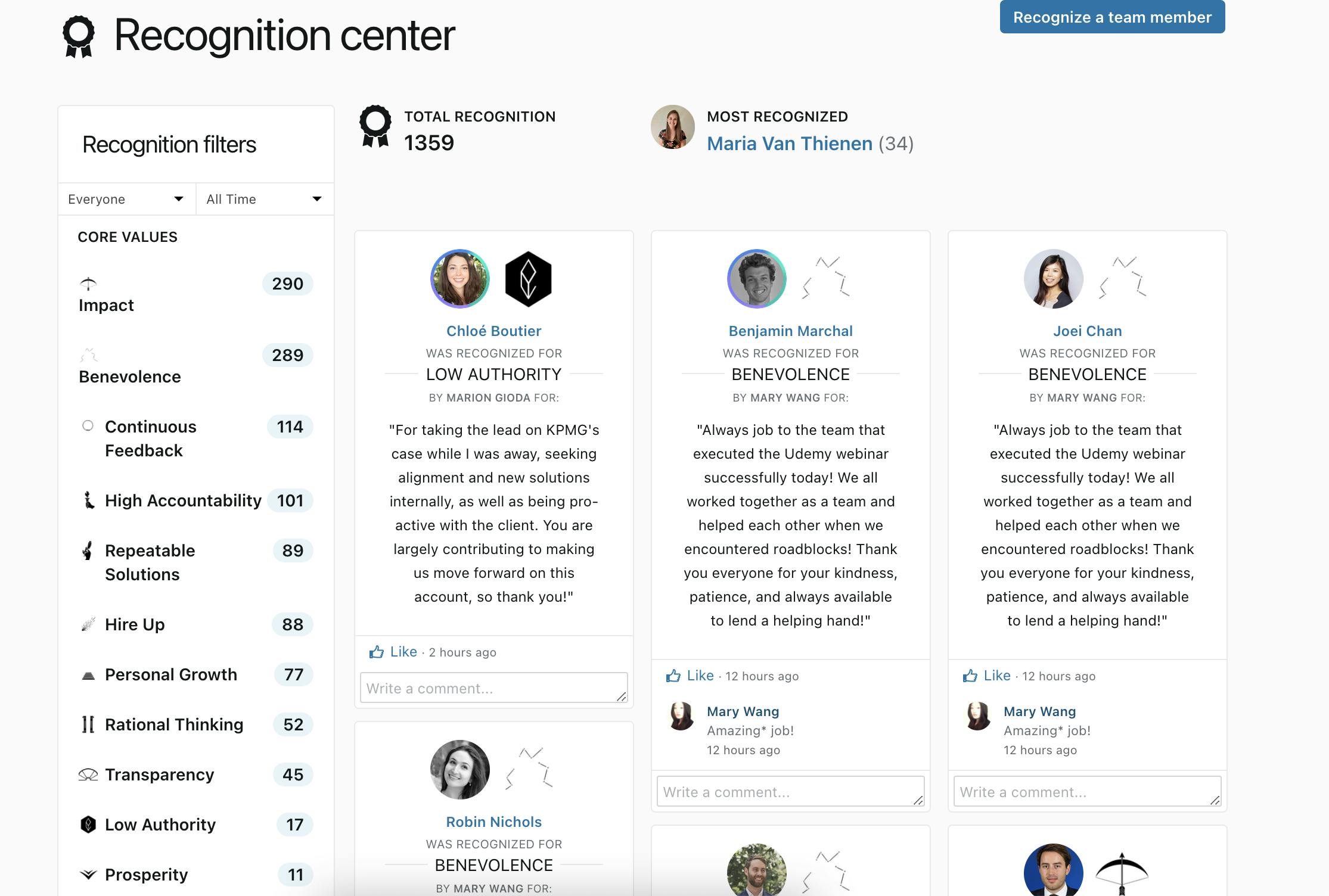 On top of that, we've built social responses and reactions into every step of our learning platform to harness peer interactions.
This culture of continuous learning is crucial to the way people learn today. It's no longer enough to just run yearly employee development sessions and cross your fingers that everything will work out. Instead, people need peer feedback at every step of their journey.
Learn more here: How We Use Peer Learning to Keep Our Company's Competitive Edge
At 360Learning, we expect people to make a meaningful contribution to our growth. In return, we pay well above the industry average, and we also review all salaries every year in January for those who have been with us for at least three months during the previous year. 
Our salary ranges are all internally transparent, and so is the compensation model we use to calculate individual salaries. This way, people can calculate their own compensation review ahead of time. Our compensation reviews are based on individual performance, plus our company-wide salary increase budget.
With our Employee Stock Ownership Plan (ESOP), all 360Learners receive their initial incentive stock options grant within six months of joining. We run two grant windows each year in January and July, with employees being eligible for performance-based refresher grants every year. These grants vest over four years, are based on employee levels, and are calculated based on our Transparent Equity Grid.