While the first week is all about familiarization, we dedicate the rest of the first month to mastering the fundamentals new hires need to handle their core role responsibilities. The goal is to give new hires a better understanding of their role in the organization to add the most overall value.
New team members complete a series of role-specific training courses. Subject-matter experts created each course within their department. Using internal SMEs helps us take advantage of the institutional knowledge and inner wisdom that already exists in our company.
Training varies based on the department. For example, sales onboarding involves courses on product familiarity and compelling sales pitches. New team members engage in digital role-play and spend time shadowing experienced reps. The onboarding process for developers includes courses on the platform's technical aspects, key features, and UX. They round out their training by working with a buddy to run through the platform and train on live projects.
During the first month, new hires start making decisions that will impact their first 90 days and beyond.
First, they take a course on "Discovering OKRs." They work with their coach to set their own goals and OKRs. Coaches help them break down larger goals into smaller quarterly objectives and key results.
For example, my onboarding goal was to launch this very blog. My quarterly objective was to prepare the launch, and one key result was creating and managing an editorial plan.
Throughout this first month, team members continue to have weekly check-ins with their onboarder. The onboarder makes sure the new hire is sticking to their scheduled onboarding training courses (you can see in Week 2 of Onboarding Joei where I fell behind, and my onboarder firmly encouraged me to get back on track.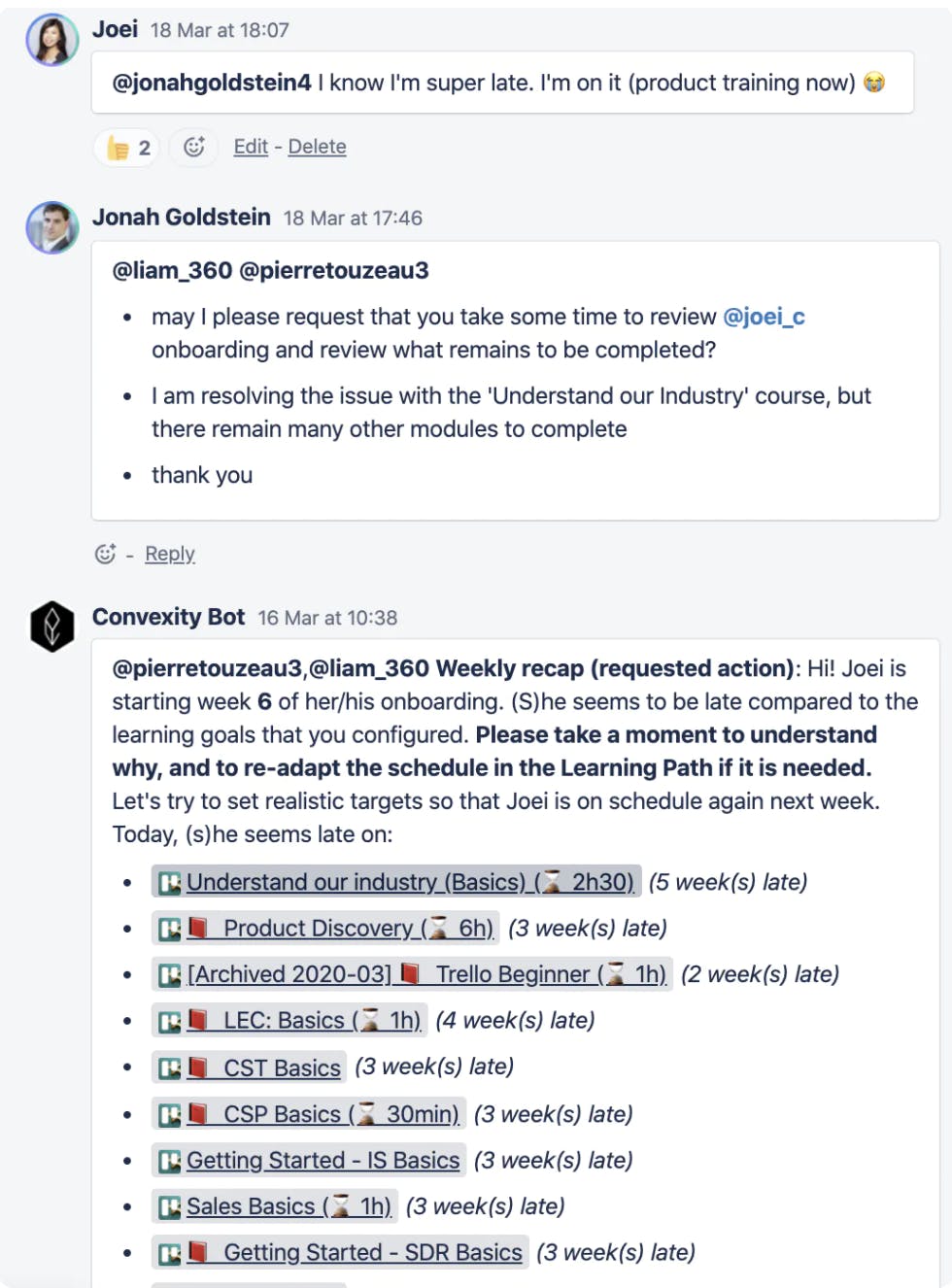 Weekly onboarder check-ins
Role-specific courses
Set personal goals and OKRs