The Great Resignation (UK)
Remote Work Is a Hit in the UK, but it Comes at the Cost of Company Culture
As part of our ongoing series examining the Great Resignation, we've surveyed 784 Brits to find out more about their relationship with work, get to the bottom of the causes of employee quit rates, and understand what it means for L&D teams. Read our third article on remote, in-person, and hybrid work environments below or start from the beginning here.
One of the small silver linings of the pandemic for many workers was that it opened up new possibilities around the idea of home working. Employees that previously never would have entertained the idea of working from home suddenly had to make it work, and many found themselves enjoying it. 
Now, nearly half of UK professionals want some form of home working to continue permanently —reporting time and cost savings, increased flexibility, and the ability to spend more time with their families as the top benefits.
From an organisational perspective, companies saw productivity increases during the pandemic. Now, as they look to a post-pandemic future, many are implementing a hybrid model—with two in five employers planning to embrace hybrid working by 2023.
But adopting a remote or hybrid working approach doesn't come without its challenges. Many companies and employees face issues such as communication breakdowns, lack of opportunities to collaborate, and decreased company culture.
In light of this, UK businesses need to provide clear policies on the future of work. Below, we'll delve deeper into how the respondents of our survey felt about remote and hybrid working, and how L&D teams can help their organisations empower a culture of collaboration and continuous learning amongst a distributed workforce.
For some people, working from home has become a top priority. Of the 349 respondents who quit their job, 11% did so because they wanted to continue working remotely, but their employer wouldn't let them. This suggests that some people are willing to walk away from their posts if employers take away remote working options, something which is bound to have an impact on organisations' ability to retain talent in the future.
COVID-19 was cited as a major concern amongst those who quit because their employer wouldn't continue to let them work remotely—with 58% of respondents stating 'it feels safer' when asked 'why do you want to work remotely.' In joint second-place, respondents liked the convenience and work/life balance of working from home.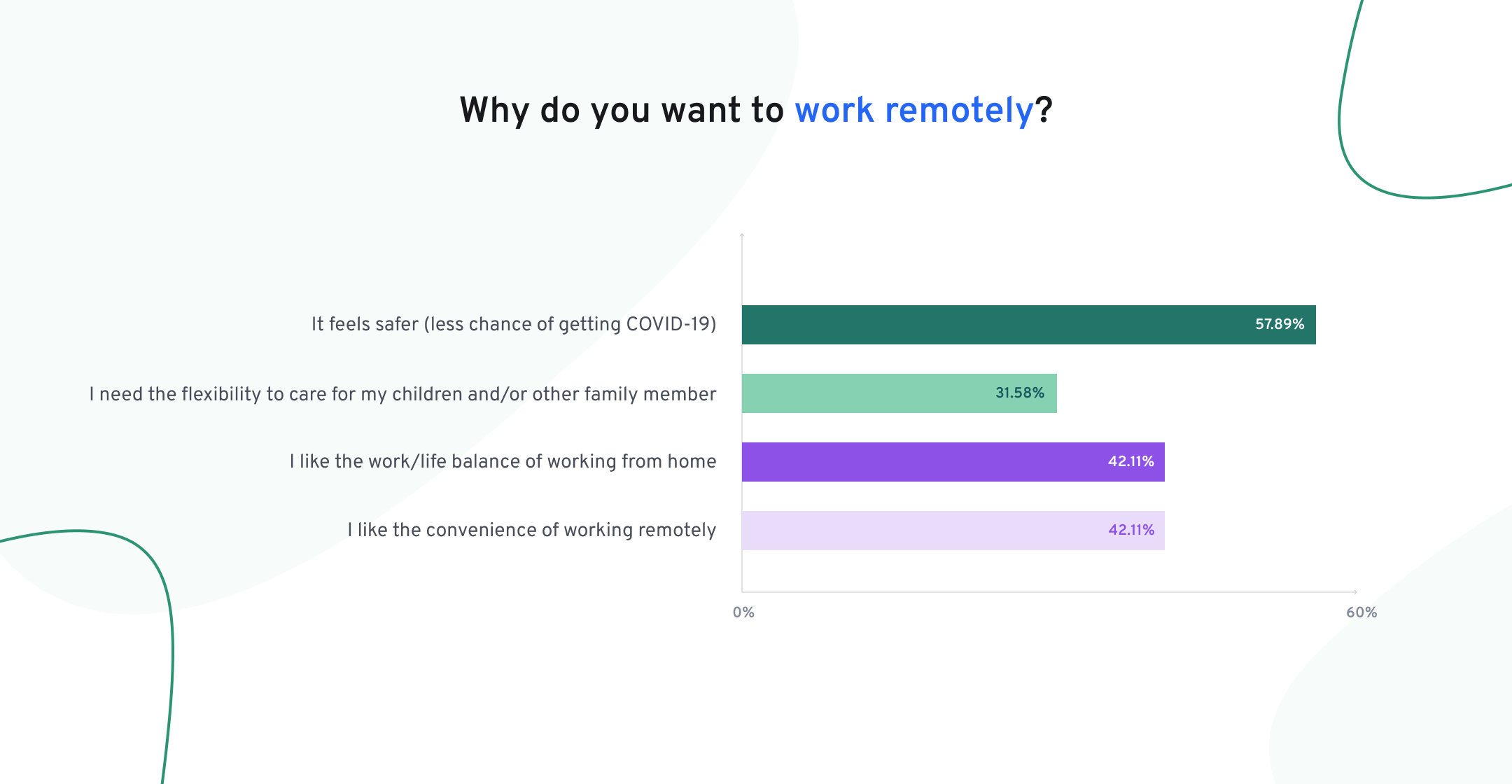 This implies that safety concerns remain a top priority for employees, but is also particularly worrying as it indicates that some employers are not addressing or supporting these concerns, forcing employees to walk away from their jobs indefinitely. 
Next up: how do respondents who are currently employed feel about their work environment?
Of those respondents currently employed and working remotely, a significant percentage (78%) want to keep it that way, whether that be fully or hybrid.
78% of respondents like working remotely and don't want to fo back to working in-person.
When it comes to the benefits of working remotely, respondents cite a range of factors. 81% like the flexibility and work/life balance, 52% say they have more time to spend with family, and 50% report being more productive at home. We also asked our respondents if it was difficult for them to manage their work and family responsibilities; for those who were finding that challenging, 'more flexible working hours' was reported as the most helpful factor.
So, what does this mean for employee engagement?
Respondents said they felt more engaged with their employer after starting to work remotely, perhaps due to the increased focus on managers and leaders checking in on employees as they adapted to the changing work environment. 
Similarly, respondents also felt their workplace training improved since they started working remotely.
This suggests that despite L&D teams reporting moving training from in-person to online as the single biggest challenge they faced since the COVID-19 pandemic began, it appears their efforts have paid off, with 48% saying workplace training was 'better'.
While online training improved as a consequence of moving to remote working, other aspects of in-person work took a hit. Read on the find out what these factors are and how L&D teams can help.
While remote working was a positive factor for many people, some respondents were not entirely happy with a remote model. Of the 22% of respondents who miss the office, 84% said they miss the absence of in-person company culture, 65% said they miss feeling part of a team, and 52% believe face-to-face communication is better. Crucially, 32% also said they have access to more professional development opportunities when working in-person.
84% of respondents say they miss the absence of in-person company culture.
This indicates that UK organisations still have some way to go in defining work from home policies that don't have a detrimental effect on the culture of communication, collaboration, and training. 
Luckily, these are key areas L&D teams can influence and contribute to.
For most employees, remote or hybrid working is a top priority. Whether that's due to safety concerns, the need for flexibility and work/life balance, or to spend more time with family, remote working is a critical component of peoples' working lives. But our survey findings indicate that there are challenges that need to be addressed before organisations reach the best solution. 
Employees miss the absence of company culture and the social aspect of in-person work. What's even more concerning is that some workers feel they are missing out on professional development opportunities by staying at home. L&D teams can help overcome these issues by focusing on four main areas:
Share your company culture from day one. Expose key aspects of your culture when onboarding new hires remotely. This will be critical in nurturing a positive company culture for distributed employees and ensuring all new hires feel like they're part of the team. See how we at 360Learning incorporate our Convexity Culture in our onboarding process.
Take a blended learning approach that comprises not just in-person and remote training, but also synchronous and asynchronous methods to ensure an inclusive environment. Learn more about 360Learning's approach to blended learning.
Highlight any discrepancies between career development opportunities for in-person vs remote or hybrid employees and monitor this on an ongoing basis. This will help you identify any gaps in career pathways or performance reviews.
Incorporate Collaborative Learning into all your online training courses. Choose a learning platform that enables employees to learn from each other through a peer-led approach and that includes social features such as discussion forums and reactions so employees can feel socially engaged when training.
Looking for more insights on how to create effective learning environments for your employees? Check out our free ebook: The Right Way to do Blended learning for actionable tips and resources.