The Great Resignation (UK)
British Baby Boomers Are Quitting Their Jobs—But It's Not Permanent
As part of our ongoing series examining the Great Resignation, we've surveyed 784 Brits to find out more about their relationship with work. This week we're analysing baby boomers—one of the main demographics driving the Great Resignation. Read on to find out more about how people aged 54 and over feel about their work lives.
The Great Resignation has led many economists, statisticians and psychologists to dig deep around who exactly is driving this movement. Now, evidence suggests baby boomers—those born roughly between 1946 and 1964— are largely responsible. 
In this new development dubbed 'The Great Retirement', some experts argue the Great Resignation is less about white-collar millennials quitting and more about the older generation living their best lives without the demanding work schedules.
The latest ONS Labour market statistics have shown that there are now 180,000 fewer people aged 50+ in work than before the pandemic. In September 2021, 362,000 were unemployed and 3.5 million people aged 50-64 were economically inactive—meaning they had chosen not to seek work.
Our survey results reinforced this trend of baby boomers becoming economically inactive. In fact, those aged over 54 were nearly twice as likely to quit their jobs as people aged 25-44. Of the 144 respondents aged over 54 we polled, 56% had quit their jobs in the last 9 months (or were thinking about quitting) vs only 29% (96 respondents) in the younger age group.
When asked how those aged over 54 would support themselves financially, 63% cited savings.
Are baby boomers really retiring? Have the effects of the pandemic forced them out? Or has this trend, much like the wider Great Resignation, come about because people are taking stock of their lives.
While these figures and those of the latest ONS report indicate that baby boomers are indeed leaving the workforce, the question remains—is this generation abandoning work forever? In the pre-pandemic workforce, nearly 1 in every 3 workers in the UK was over 50 years old—and those numbers were only set to increase, largely due to longer life expectancies and a rise in the cost of living. 
The fact that people had been working longer until the labour market was disrupted by COVID-19 is cause for further examination. Are baby boomers really retiring? Have the effects of the pandemic forced them out? Or has this trend, much like the wider Great Resignation, come about because people are taking stock of their lives and reassessing what's important before jumping into their next professional venture?
So what are the main causes of people aged over 54 quitting their jobs?
When asked the main reason for quitting (or thinking about quitting), 29% of respondents over 54 said they realised their job wasn't in line with what really matters to them/they didn't feel fulfilled at work. The second reason (18%) was burnout—the term used to describe long hours, poor work-life balance and being overworked.
Interestingly, of those that had quit their job because they didn't find it fulfilling when asked what they wanted to do instead, 39% said they wanted to start their own business, 30% said they wanted to work as a freelancer, and 35% said they wanted to change industry or sector. 
A considerable percentage (65%) of this same group, said they somewhat feel they have the necessary skills and experience to start a new job that's more fulfilling to them. This strongly suggests that for many boomers, retirement is definitely not on the cards.
In fact, we asked all respondents over 54 years of age (both those who quit their jobs and those who were still employed) how strongly they agreed with the statement "My job is a big part of my self-identity" to which the median score was 62/100. The median score for all remaining ages of people polled (18-54 years old) was 58/100.
This again reinforces the argument that baby boomers are still very much active in the UK workforce but are not happy in their most recent position. Why might this be?
Of the survey respondents aged over 54 who had quit their jobs, 39% said they had asked their employer about internal mobility but no options were available, suggesting they didn't want to leave but lack of professional development opportunities forced them to.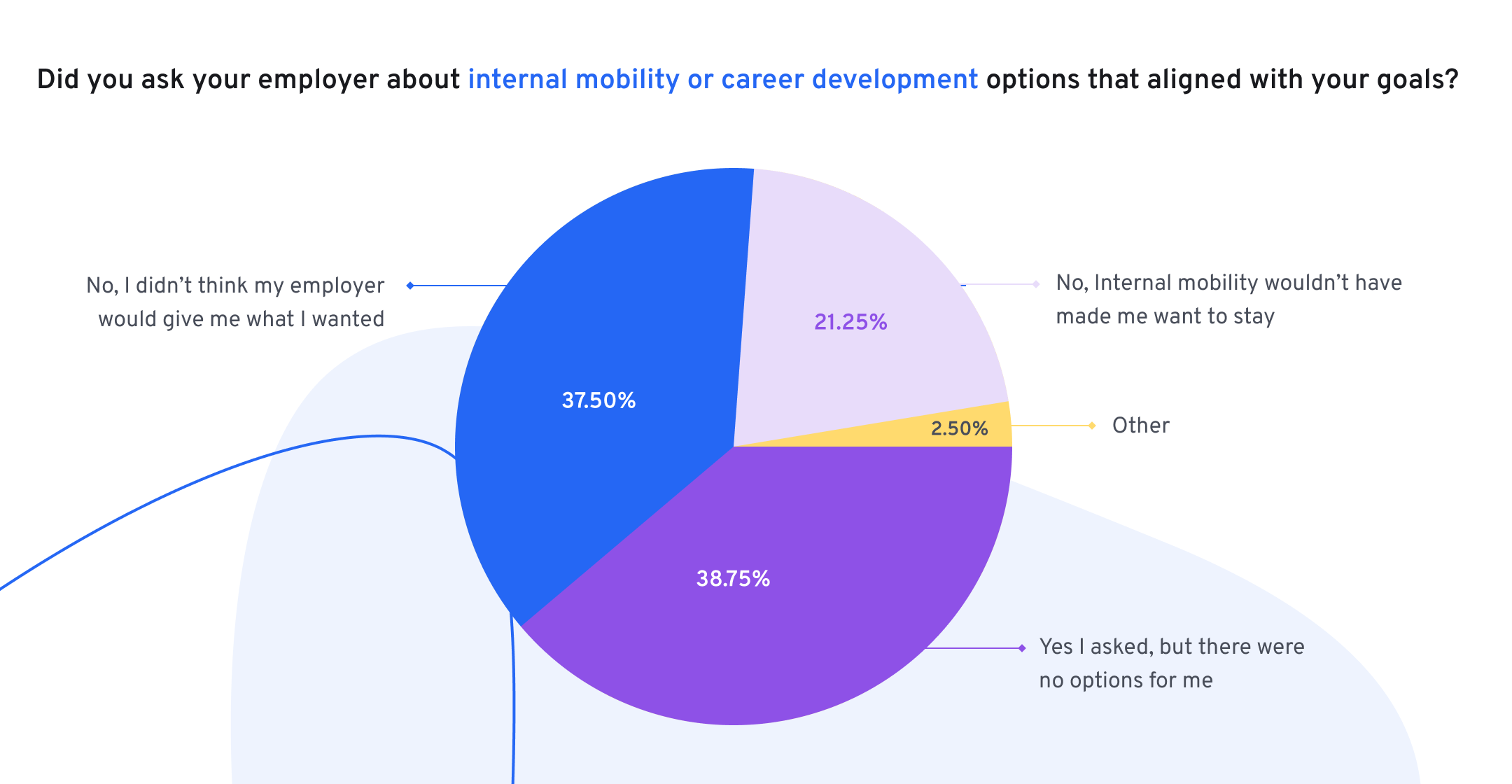 Burnout was the second most cited reason for people aged over 54 quitting their jobs (18%), according to our survey and for the small minority of people that were in a management position (36%), 60% did not feel they received adequate manager training and support, while 40% felt additional training and support could have helped manage workplace stress better. 
On the other end of the spectrum was boreout. Equally as toxic as burnout, boreout is the feeling of being bored at work to the point that employees feel their job is pointless and tasks devoid of value. This seemed to be an issue for some of our respondents too, with as many as 62% of respondents who didn't feel fulfilled at work, suffering from boreout. The same number of respondents said they didn't feel their work was valued.
So, what do these figures show about the relationship baby boomers have with work? In a nutshell, this generation still sees their job as a major part of their self-identity—they're not ready to throw in the towel just yet. But like many employees, the pandemic has made them reevaluate their priorities, confront the fact they're not happy at work and, now they're searching for something better.
It would be a mistake for employers to assume their older workers are simply retiring instead of trying to retain them. The labour shortages created by both the pandemic and Brexit are already risky for the economy, and will create further skills gaps if older workers do not remain in the workplace. So, what can learning and development teams do to hold on to baby boomers?
One of the most effective ways of keeping baby boomers engaged is by tuning into their professional development and asking them to declare their own learning needs.  Here are six initiatives L&D teams can harness to ensure boomers are happy and motivated in the workplace.