The Great Resignation (UK)
Leaders and Managers Aren't Getting the Training They Need
As part of our ongoing series examining the Great Resignation, we surveyed 784 Brits to find out more about their relationship with work. In the last chapter of the series, we're looking at how leaders and managers feel about their jobs, the training they received, and what L&D teams can do to improve.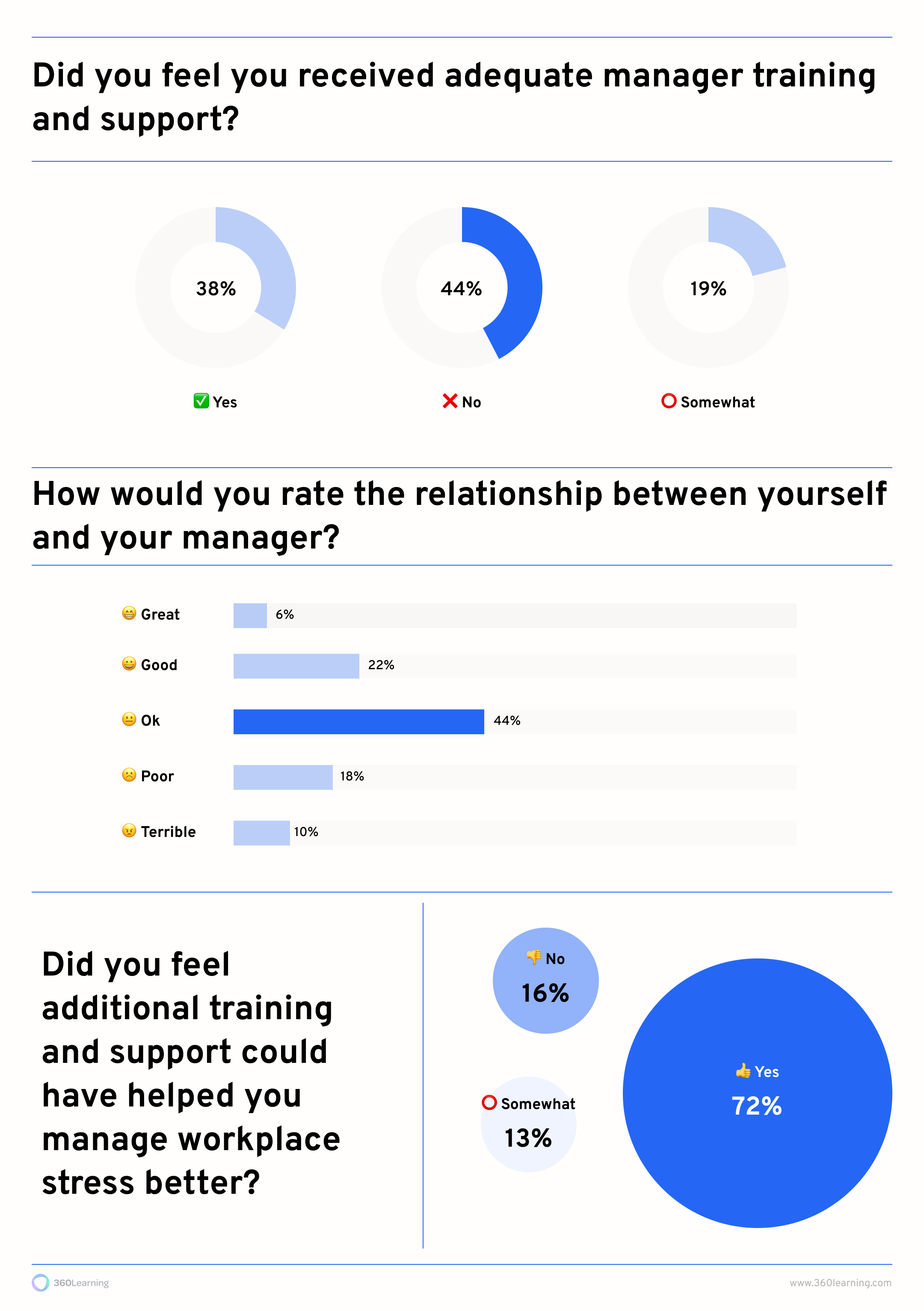 Employees look to their managers for guidance, support, and growth. But when managers don't have the tools to actively provide this support and leadership, it leads to disengaged and dissatisfied teams, resulting in steep costs for the organisation. Plus, when managers themselves feel inadequate and unable to coach their teams, they get disillusioned and burned out—which costs UK employers up to $45 billion a year.

Our recent survey affirms this. More than half of the managers who quit their jobs due to burnout said they received no training or, at best, inadequate training. It seems counterintuitive to not train the people who manage people on a daily basis. Yet, that's the unfortunate reality our findings showed—and the lack of support and excessive stress caused has led managers and leaders to quit.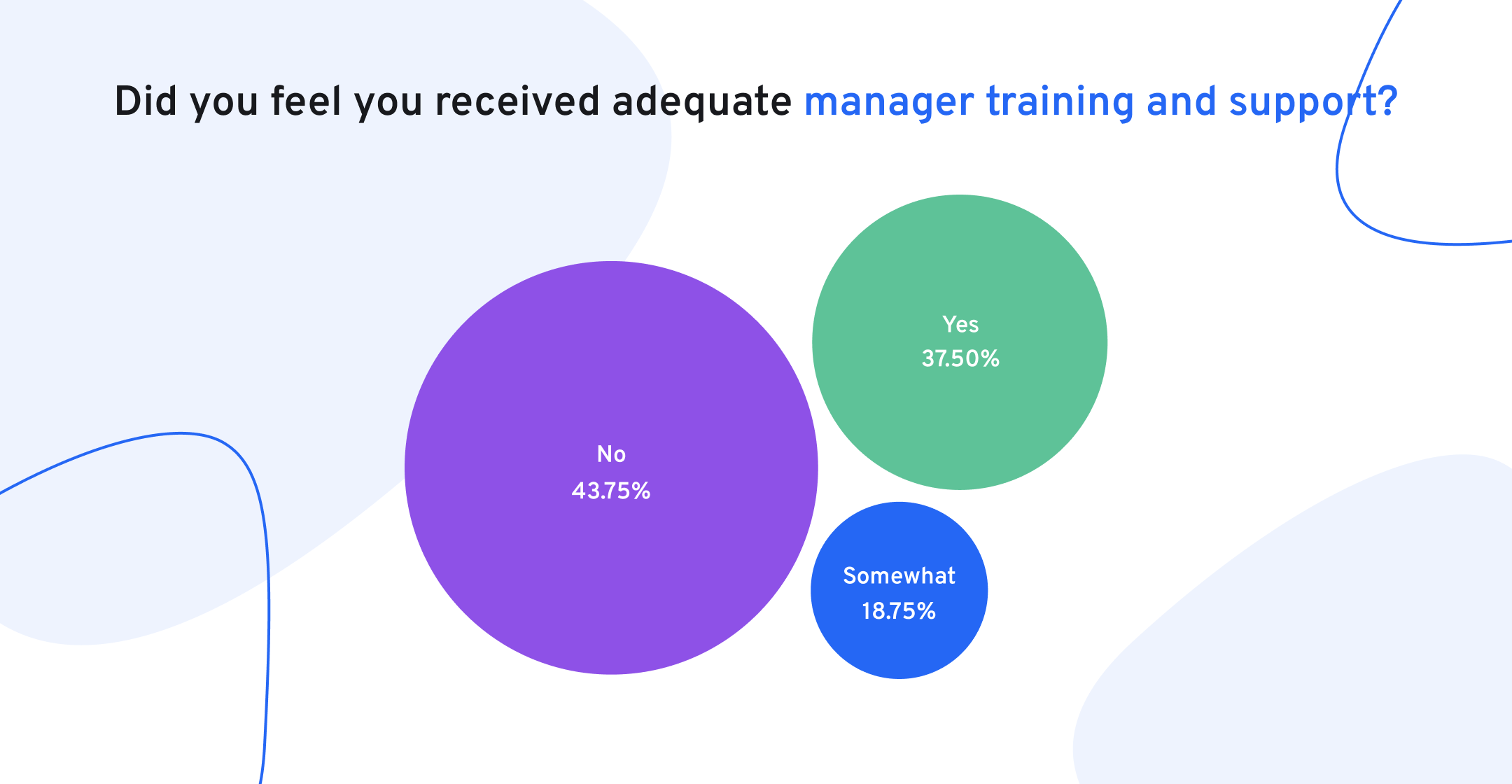 So, what does this mean for L&D teams? In this article, we highlight the impact of inadequate training on employees and organisations alike and provide helpful tips on how to ensure relevant and continual manager coaching and leadership training to equip managers to support their teams, reduce employee burnout and stress, and help your workforce thrive.
When managers aren't trained well, they don't feel confident in their ability to lead others and handle tough situations. This lack of confidence impacts how they interact with team members. For instance, a manager who hasn't been trained on encouraging teams with rewards and recognition may not take full advantage of these opportunities when they come up. A lack of recognition is the primary reason employees quit.
Similarly, a manager who didn't receive soft skills training on how to approach a conversation about poor performance may flounder when faced with a situation that calls for a combination of interpersonal skills, leadership, and problem-solving.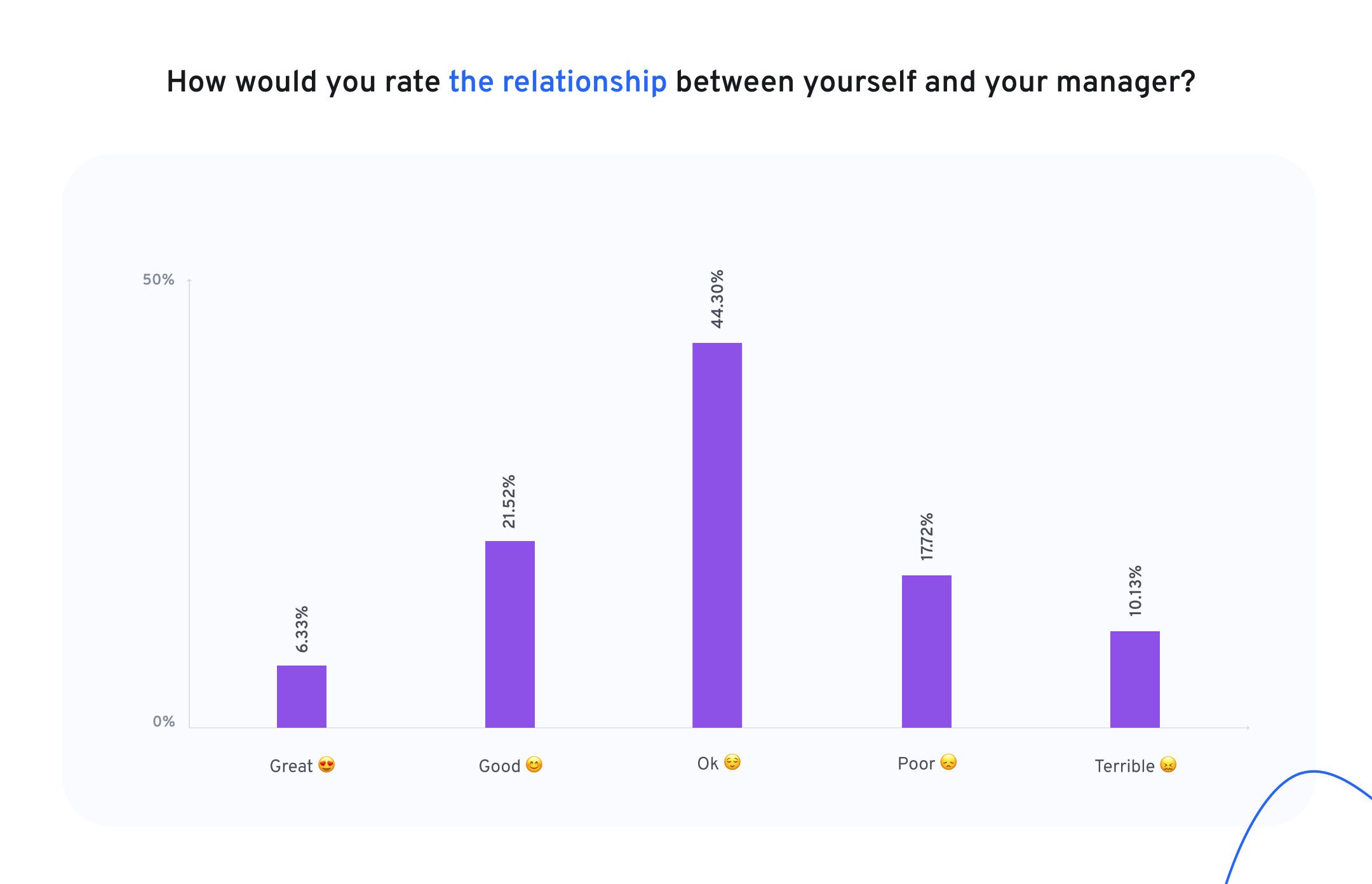 According to our survey, only a quarter of respondents experienced a good or great relationship with their managers, with the remaining 75% saying their relationship was average at best. Ultimately, this shows that a lack of management training can create a stressful environment for everyone.

Given that only 10% of employees are natural leaders, managers left to fend for themselves and operate on mere instinct are bound to get stressed out. Unsurprisingly, in our survey, a clear majority—almost 72%—of managers said that additional training and support could have helped them manage workplace stress better.

Only a quarter of respondents experienced a good or great relationship with their managers, with the remaining 75% saying their relationship was average at best.
The effects trickle down to team members who don't feel comfortable approaching their manager with problems or new ideas, negatively impacting overall morale and cohesion within teams.

A lack of training for managers has a direct impact not only on employees' stress levels but overall business performance too. Read on to find out how inadequate training leads to poor business outcomes.

Training programmes that don't result in organisational change are a waste of time, resources, and opportunity. In one McKinsey survey, three-quarters of the respondents said they don't see improvement in business performance after training. That's a terrible return on investment (ROI) on training programmes. Plus, the same survey revealed most companies don't even track whether their training programmes are leading to better business outcomes.

Another survey of 2,098 UK workers revealed that half of these workers have quit their jobs because of a poor relationship with their manager. Several workers reported seeking mental health support, having nightmares, and asking to switch teams because of a bad boss. Toxic workplaces lead to low engagement, low productivity, and high turnover, all of which combined affect an organisation's revenue.

Clearly, it pays to train your managers well.

Training can have a significant impact in helping develop leadership capabilities and reducing employee burnout. Here are five ways L&D teams can provide essential support for managers and leaders.

Burnout is especially relevant for those in managerial positions, both because of the stress managing people brings, and because they can spot burnout in their teams.

Set up a solid manager training programme with a focus on identifying and preventing burnout before it happens. With an increase in burnout rates since many employees started working remotely, it's critical that management training programmes should focus on creating psychologically safe environments for remote, hybrid, and in-person teams. You can check out our complete manager's burnout prevention guide, here, or take our quiz to assess your burnout score.

Traditional management training is often conducted in a workshop format or through generic lectures on people management, problem-solving, and communication. But the modern workforce, especially in a post-pandemic remote climate, warrants more than the basics because social isolation has made it harder to build connections.

The best training courses are the ones your managers want. Assess manager and employees' learning needs with a bottom-up training needs analysis. This means asking managers to request and upvote courses so that it's easy to identify which training needs to be prioritised. Your managers have different areas of expertise, and enlisting them to use their subject matter expertise to author courses is a great way to use institutional knowledge.

Provide your managers with opportunities to give feedback on training through reactions and comments. Based on the feedback, course authors can update or iterate training material. This helps you keep your content fresh and relevant.

Your managers are responsible for the professional development of their employees and helping them advance their careers. Managers may not have all the answers, but if you train them to find personalised career pathways for team members, your workforce remains engaged and will be motivated to stick around. Training them to match a mentor with a mentee within the organisation is a way to demonstrate leadership and support.

Disney Media & Entertainment Distribution (DMED) uses a four-step approach to create a mutually beneficial mentoring program where they:

Match mentors and mentees from different stations to facilitate an exchange of fresh perspectives.
Provide defined discussion topics for a part of the interaction so that learning remains centred.
Create peer-to-peer learning opportunities, like inviting speakers to share knowledge.
Encourage mentees to shadow mentors during important non-confidential meetings.
Evaluate your current management and leadership training process and content to see if they are still aligned with the objectives and direction of the business, so you get a better return on investment on your training. For example, if your business objective is to improve compliance, your training needs to enable managers to motivate employees to complete the relevant courses.

Our survey findings make it clear that leaders and managers are not getting the training they need, causing them to experience extreme stress. In some cases, people would rather quit their jobs than stay in a role where they feel unsupported. Amidst the Great Resignation, it's up to L&D leaders, together with HR teams and senior management to equip leaders and managers with the right skills, tools, and resources to help effectively manage their teams, deal with their own workplace stress better, and thrive in the organisation.
Learn more about how to identify learning needs by conducting a bottom-up needs analysis with our free training needs analysis template.