The Great Resignation (UK)
Women Are Shouldering the Burnout Burden
As part of our ongoing series examining the Great Resignation, we've surveyed 784 Brits to find out more about their relationship with work, get to the bottom of the causes of employee quit rates, and understand what it means for L&D teams. Read our third article below or start from the beginning here.
This week, we're turning our attention to burnout, one of the main causes of people quitting their jobs. We'll explore who's most at risk, and look at the part L&D teams should play in providing adequate support to prevent employees from resigning due to work-related stress.
The COVID-19 pandemic has caused the lines between work and home life to become increasingly blurred. As a result, employees say they're working longer hours–and some report they're struggling to manage their job and family responsibilities. Even before the pandemic, the World Health Organisation (WHO) was calling burnout the occupational phenomenon, suggesting COVID-19 has only exacerbated the issue further.
In a survey conducted by Mental Health UK, 1 in 5 workers feels they are unable to manage pressure and stress levels. Furthermore, three-quarters of UK employees experienced burnout in 2020, up from a global average of 71% the previous year.
As the surge of workers feeling the symptoms of burnout continues, it's clear work-related stress has become one of the main drivers of the Great Resignation—and our own survey confirms this.
1 in 5 workers feels they are unable to manage pressure and stress levels.
Of the 349 employees we surveyed who said they had recently quit or were thinking about quitting their jobs, 23% cited "burnout/my job was too stressful" as the top reason for leaving. So, who's really feeling the burn?
Gender plays a significant role when it comes to employees experiencing burnout. One report finds that nearly 1 in 4 working women in the UK are unable to manage pressure and stress at work, with only 44% confident that their employer has a plan in place to prevent burnout. Our survey affirms this. Of the respondents who quit their jobs due to burnout, 25% were women compared to 21% who were men.
Only 44% of women are confident that their employer has a plan in place to prevent burnout.
This may seem like a small difference, but considering the record numbers of people quitting their jobs right now, this points to many thousands more women in the UK experiencing a harmful level of workplace burnout.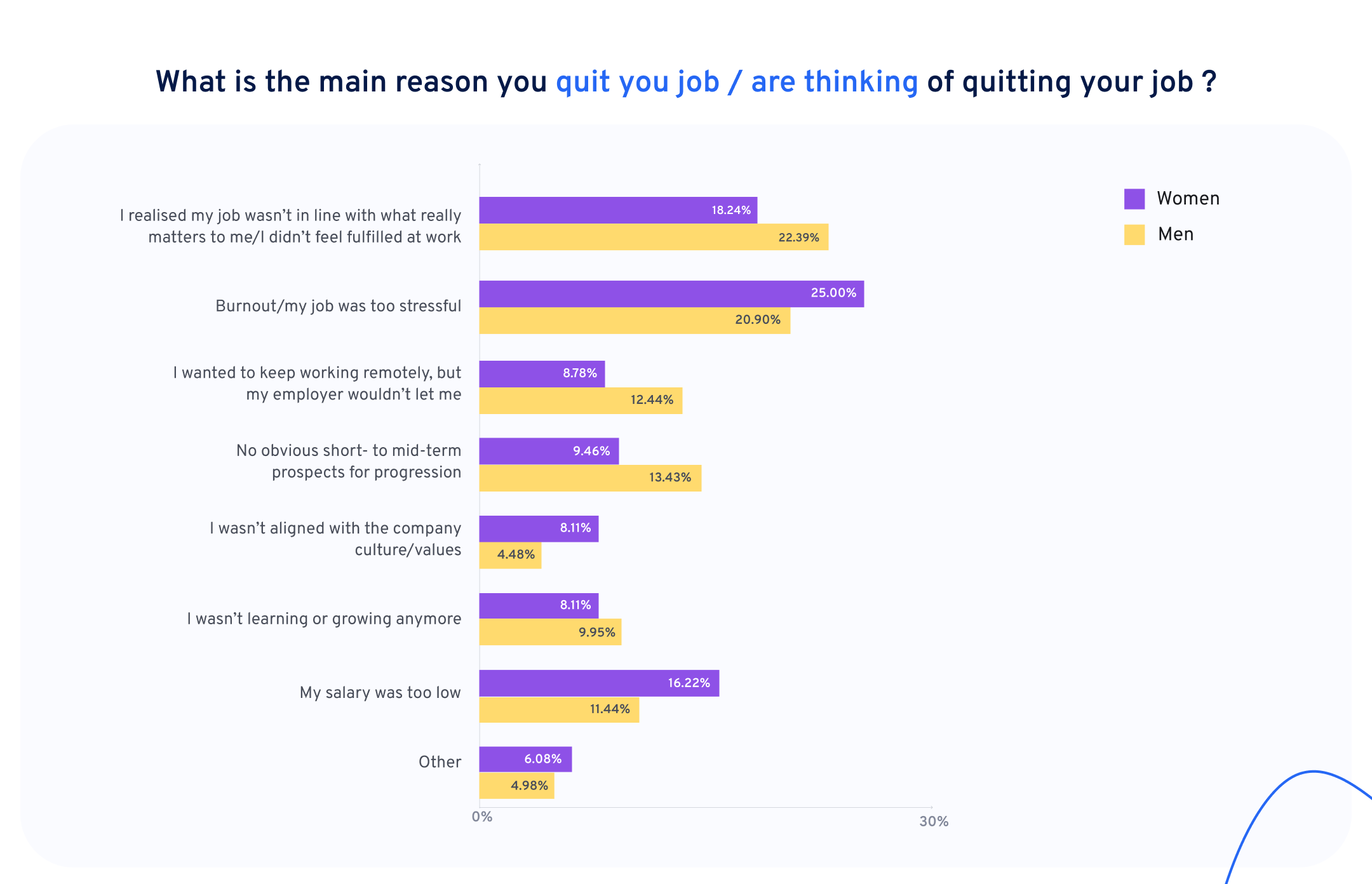 Of the 32% of women who quit from burnout and held leadership/managerial positions, 75% said they didn't feel their employer provided adequate manager training and support and the same percentage of people (75%) felt additional support could have helped them manage workplace stress better. 
Considering that UK business frequently claim to want greater gender diversity in leadership positions, this symbolises that in reality, once women take on a leadership role, they're left unsupported and don't have the tools and resources they need to succeed.
It appears that support from employers is not only an issue for women who have quit their jobs, but for women who are still currently employed, too. Of the 416 women we surveyed, 50% said they found it difficult to manage their job and family responsibilities.
75% of women in leadership positions who quit from burnout said they didn't feel their employer provided adequate manager training and support
These stats suggest that many women in the workplace are not getting the help they need—and for some, the lack of support is causing them to quit. So, what does the future hold for women who have resigned?
Burnout was just one of the reasons why women are leaving their jobs—unfulfilment (18%), low salaries (16%) and no obvious prospects for progression (9%) were some of the other reasons cited. So, what do women want to do instead of the job they quit? 
Our survey found that just over half of women (56%) want to change their role.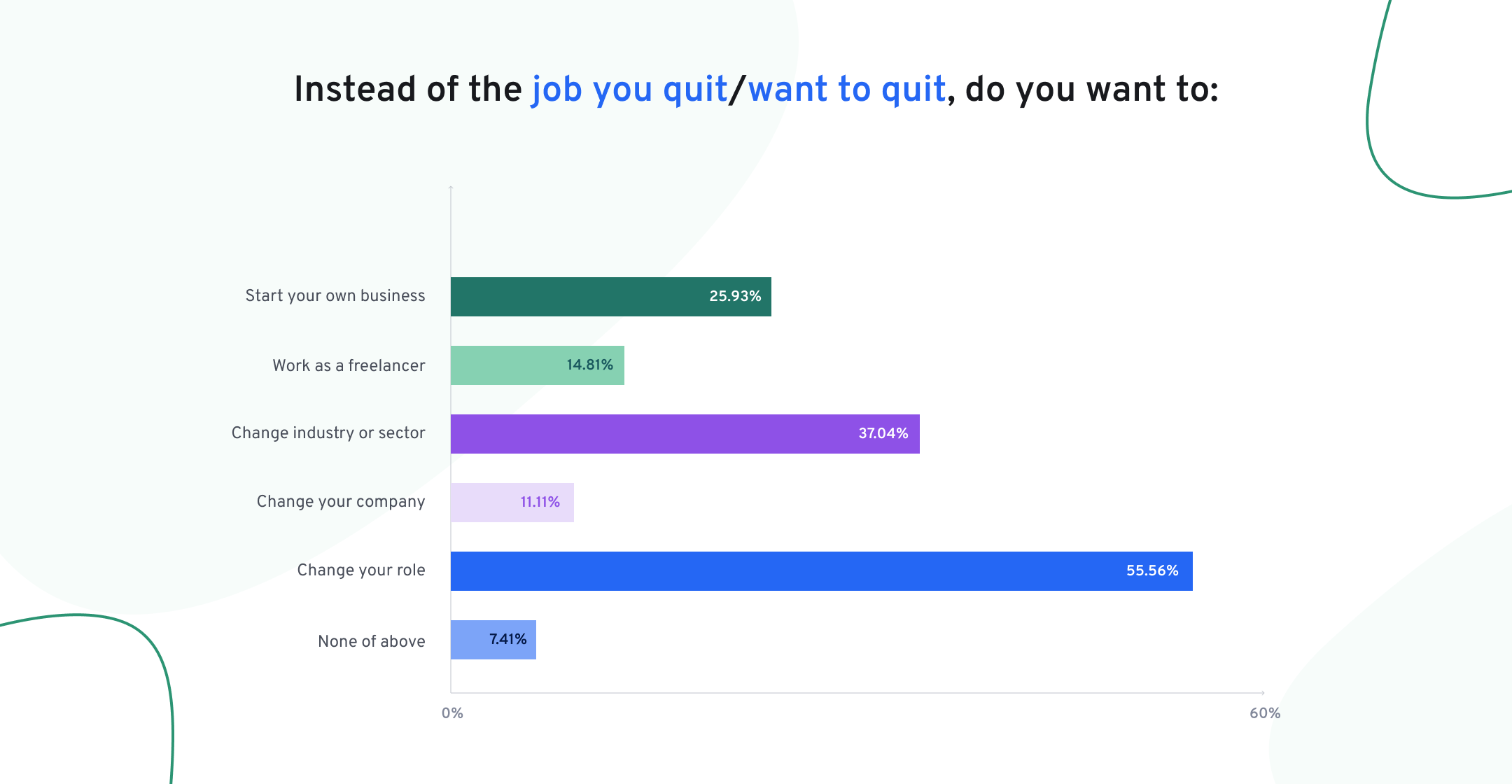 This implies that women don't want to leave the organisations they work for–they simply want to transition to a different and more fulfilling role. This is a huge opportunity for L&D teams to provide internal mobility and career development opportunities to retain women. 
Unfortunately, this hasn't been an option up until now—neither for the women nor the men polled. 36% of female respondents reported having asked about internal mobility options but none were available. A further 35% didn't bother asking because they didn't think their employer would give them what they wanted. Only, 27% said internal mobility wouldn't have made them want to stay. For men, the results were 40%, 34% and 23% respectively.
A lack of career development appears to be a major issue for both women who have quit their jobs and those still currently employed. Of those still employed who said they were very unfulfilled at work or who gave a neutral answer, 45% stated there was no room for career development at their company. In contrast, the top answer for men was "my work isn't valued."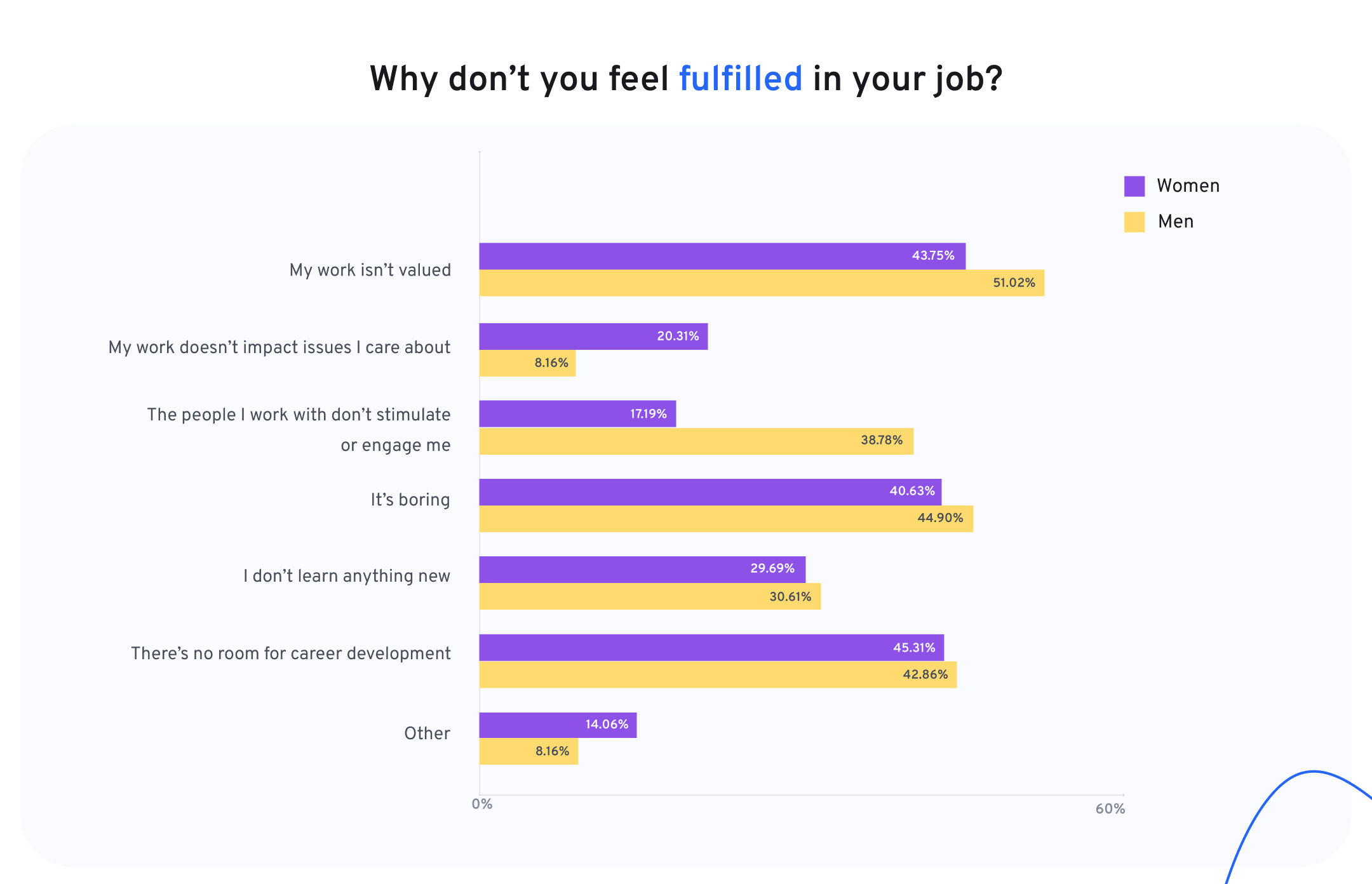 This suggests that for women, career development is a highly valued and a key criterion for feeling fulfilled at work. So, what can L&D teams do to recognise these issues and support women in the workplace?
Our findings show that burnout and a lack of career development opportunities for women are  a major concern for UK employees. But L&D teams, together with HR leaders, can help by providing support in dealing with burnout and focusing on growth opportunities. Here are some key initiatives organisations can implement to support women in the workplace.