The Great Resignation (UK)
Disillusioned Employees Are Quitting in Droves—and It's Not Because of Low Wages
As part of our ongoing series examining the Great Resignation, we've surveyed 784 Brits to find out more about their relationship with work. This week we're looking at employee fulfilment and what it means for L&D teams. Read on to find out more about why employees aren't satisfied at work, what type of fulfilment people crave, and how L&D teams can contribute to employees feeling more happy, engaged and motivated.
There's a deep connection between what people do for a living and the happiness it brings to their lives—and it's not just about the wages, as the Great Resignation uncovered.
Even before the pandemic, 9 out of 10 people were willing to earn less money in exchange for more meaningful work. Our survey suggests the Great Resignation brought that yearning for fulfilment into sharper focus. In the UK, the most telling truth is perhaps the fact that work remains a huge part of employees' identity and sense of fulfilment.
Of the 784 people surveyed, 45% either quit their jobs within the last nine months, or are thinking about quitting. While burnout came up as a top reason for these resignations, a lack of fulfilment was a close second.
This suggests that employees simply don't want to do jobs they don't enjoy anymore. This should act as a wake-up call to employers who need to improve employee satisfaction and demonstrate that they are willing to invest in areas such as onboarding, personalised career development, and peer learning opportunities to retain talent.
Work is a large part of an employee's identity
Despite the fact that people are quitting their jobs, work does still remain important. Work consumes enough of a person's time and energy that they want to feel those hours and efforts were spent on meaningful tasks. In a McKinsey survey, 70% of employees reported that their "sense of purpose is largely defined by work." In our survey too, more than one-third of respondents "strongly agreed" that work plays a significant role in defining their identity.
Unfortunately, most jobs fail to satisfy this need for fulfilment. Only 25% of the respondents in our survey said they love their job and feel passionate about their work. More than half feel okay about their jobs but find more happiness away from work.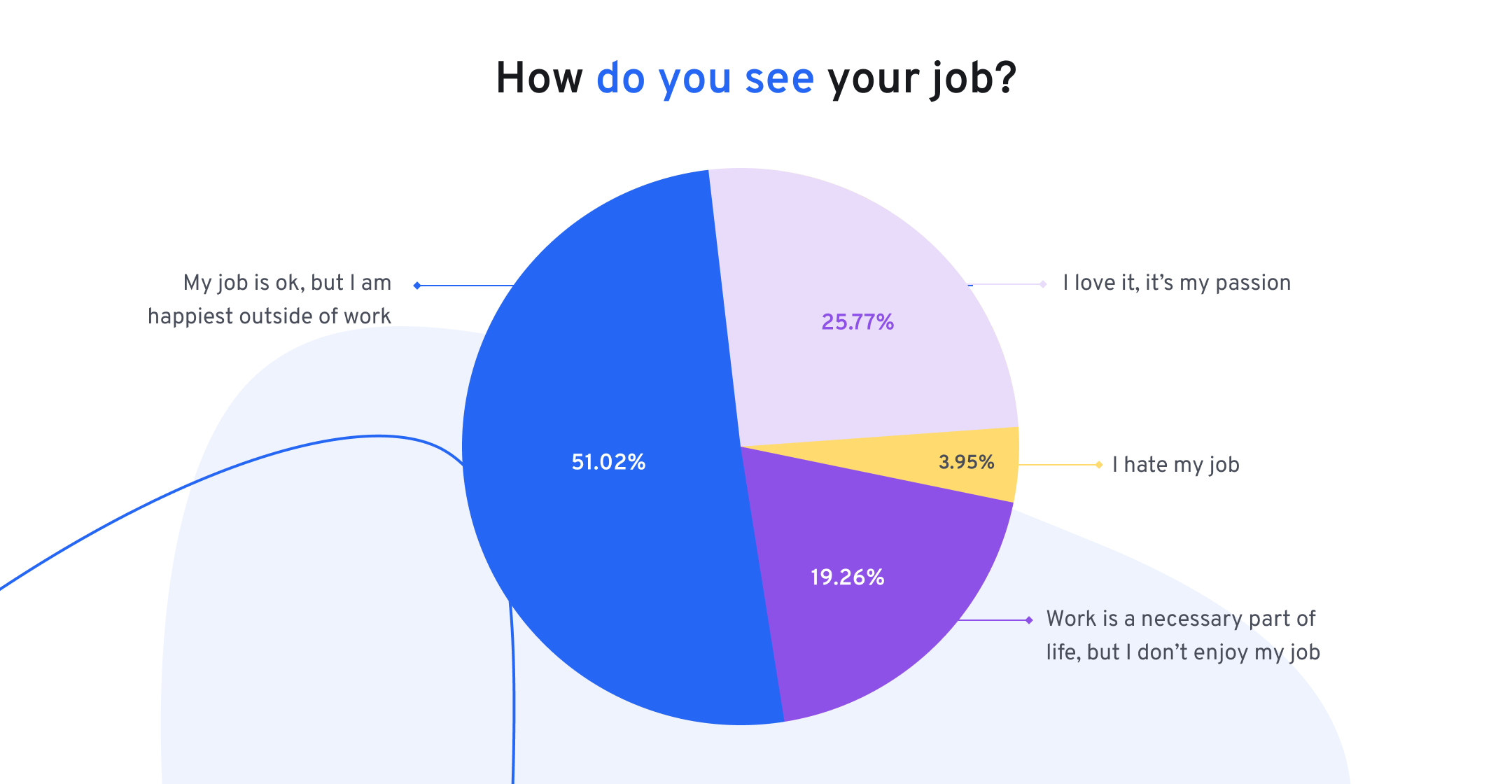 When employees don't associate happiness or fulfilment with work, it becomes a chore—something they have to do, regardless of any enjoyment they get from it. An employee's sense of fulfilment has a deep impact on engagement, learning outcomes, employee retention, and ultimately, organisational growth.

The challenge for L&D teams everywhere is to help employees pursue opportunities that matter to them. But there isn't a single well-defined training solution because job satisfaction and fulfilment are unique to each individual. The key is to understand what employees want and let them take the lead in defining their own individual growth paths.

Employees want to upskill with self-directed learning
When employees seek out and complete the learning they want, they are bound to be more engaged and even excited to apply their new skills. It gives employees a deep sense of ownership and fulfilment to learn something new and use it to grow in their jobs.

Employees want upskilling and reskilling opportunities on the job and through online learning. In fact, more than half of our survey respondents prefer to learn at their own pace and time through self-directed learning.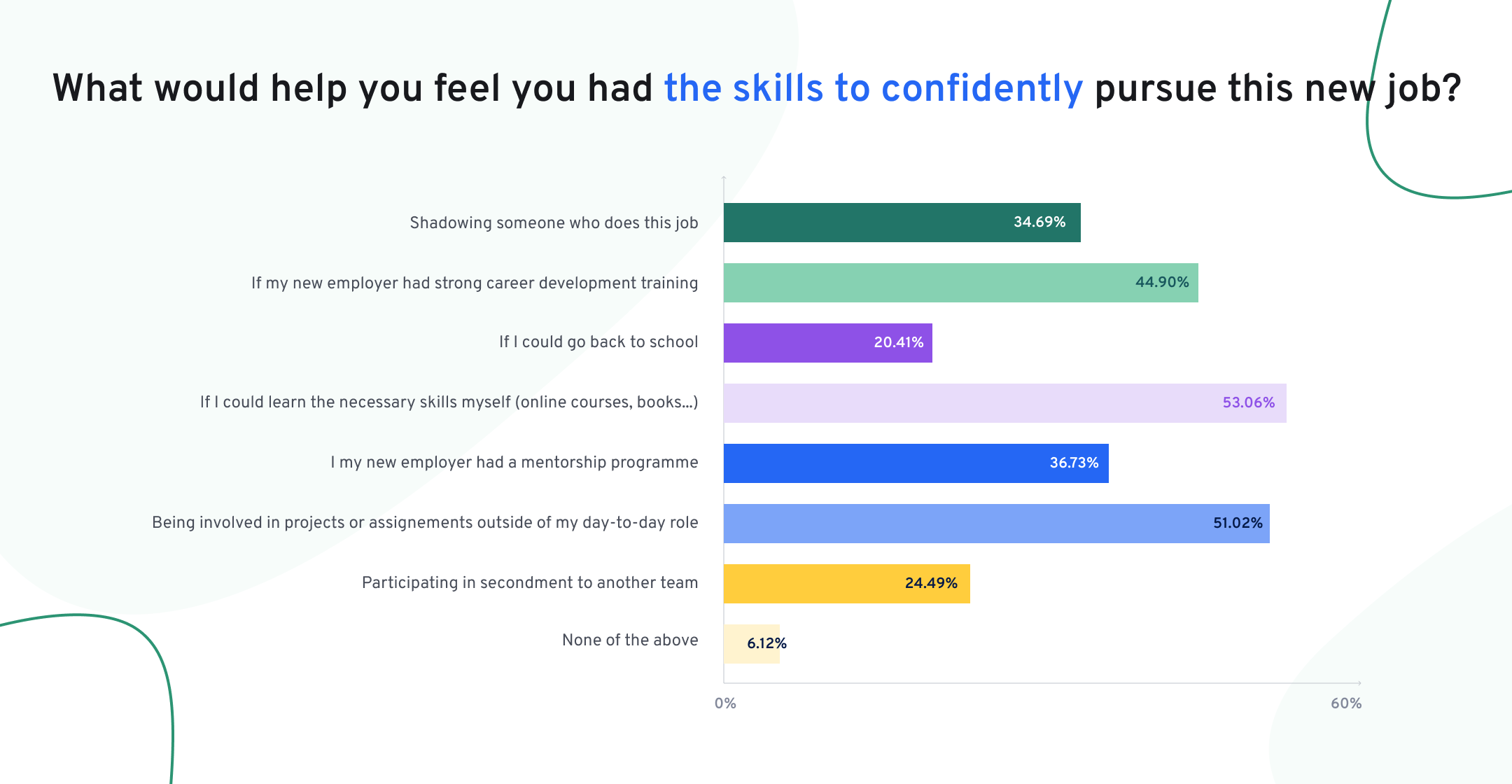 Our findings are in line with LinkedIn's Workplace Learning Report, where 74% of learners said they want the freedom to take training courses during their spare time and at their own pace. But the same report also stated that 75% of respondents want their managers to recommend courses.
This shows that employees don't just want to operate in isolation—they want knowledgeable management and leadership to be invested in their growth, show them the way, and provide the resources and support they need to learn.
Employees quit when they feel trapped within a role
In our survey, respondents who quit or are thinking of quitting reported that there were no options for internal mobility. What's worse is that almost 35% didn't even bother asking because they didn't think their employer would give them what they wanted.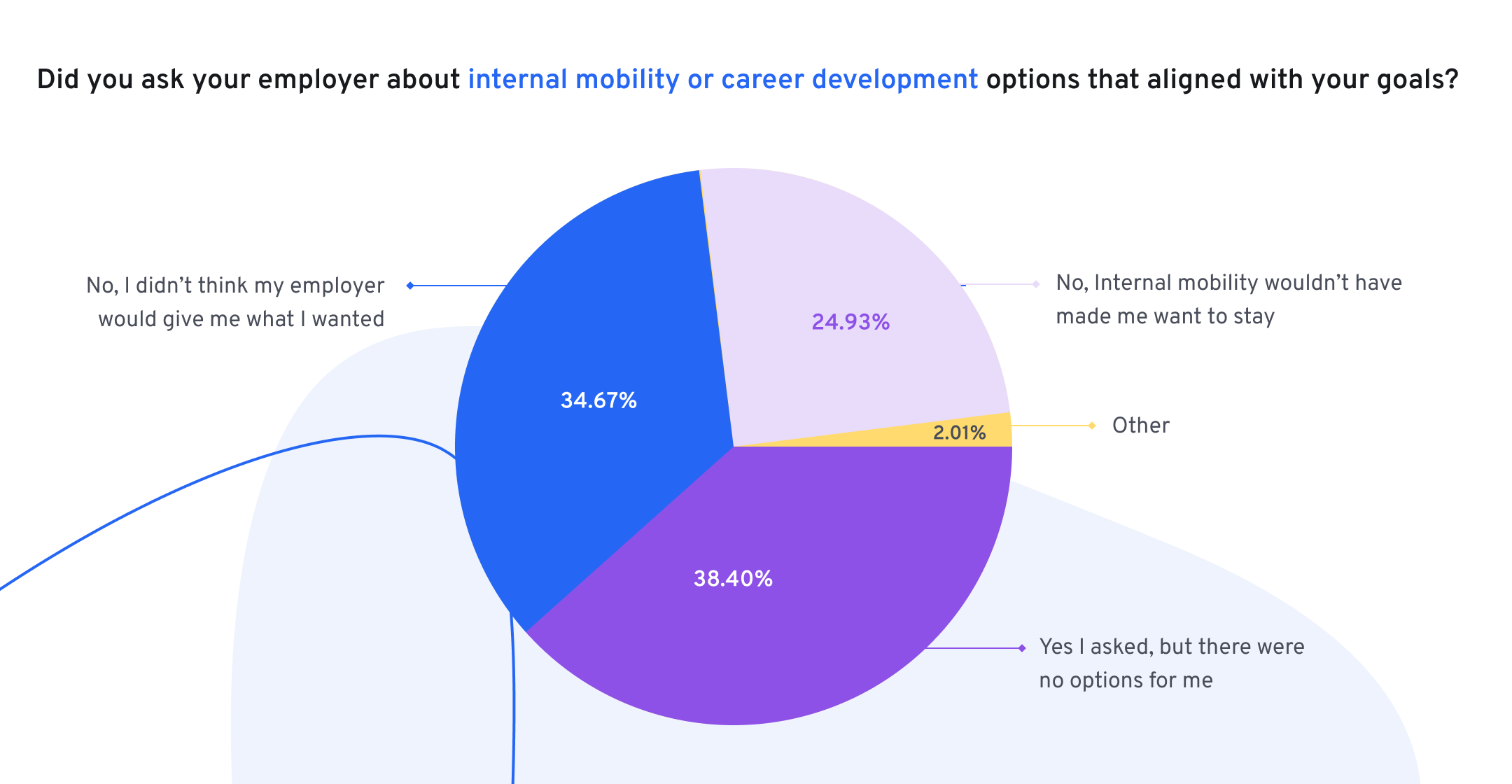 This points to a gaping hole—and a tremendous opportunity—in helping employees find new roles to transition into within the same company. Millennials and Gen Z place immense value on career development opportunities and want to change their roles when thinking about the next step. Even British baby boomers, those aged over 54, are nearly twice as likely to quit their jobs as people aged 25-44, according to our survey.

In addition, our survey pointed out that employees have a clear preference when it comes to acquiring the skills to confidently pursue a new job. Being involved in projects or assignments outside of their day-to-day role came in first place (49%), followed closely by mentorship programmes and job shadowing (36%).

Millennials have been called the "job-hopping generation" because of their unwillingness to get sucked into anything that feels mundane. Unsurprisingly, companies have to work extra hard to retain them. Investing in clear internal pathways that promote new learning and fresh roles is key to giving the largest part of the workforce a compelling reason to stay and find renewed meaning in their work.

How can L&D teams help employees feel more fulfilled at work?
Supporting employees to find a sense of fulfilment isn't a one-and-done exercise; it's a lasting feeling that stems from a robust company culture, personalised training paths, and leadership that demonstrates a deep interest in employees' growth and development. Engaging and retaining employees requires a well-structured onboarding process, personalised career paths, peer learning, and a bottom-up approach to identifying training needs.

Onboarding
An engaging onboarding process gives you a head start and is instrumental in getting new hires excited about their career progress. After all, 28% of new employees quit within the first three months. In contrast, 69% of employees who participated in a structured and supportive onboarding programme at one company were likely to stay at their jobs for up to three years.

Yet, employers seem to be missing out on this opportunity.

More than two-thirds of our respondents weren't impressed by their employer's onboarding process. In addition, a number of people said training could have been less general and more specific to their job function, suggesting that L&D teams need to tailor their onboarding content.

Hook your employees with a mix of required steps and optional tasks or bonuses. This will create a process that onboards employees quickly while making their transition to a new job exciting.

The required steps typically include:

Providing access to equipment before the first day
Sending out an invitation to set up the new hire's company email
Sending tax and compliance paperwork
Inviting new hires to internal tools, like Slack channels, that your organisation uses
Providing an overview of the 90-day onboarding schedule so that new hires know what to expect
Scheduling role-specific training on tools and internal processes
Ensuring onboarding is at least 90 days with opportunities for feedback at regular intervals.
Personalised career paths
A one-size-fits-all employee development programme will fall flat because your employees have different interests and career aspirations. Set clear, personalised career pathways for each employee. Their progress should be based on individual skills and aptitude so that employees experience job fulfilment each step of the way.

Creating a personalised experience doesn't have to be a chore if it's part of your overall company culture. For example, technology giant Cisco empowers its employees to navigate career opportunities in three ways:

Talent Expo: A two-day structured experience where employees work with a coach to draft their career story and share it with leaders within the organisation.
Career Launchpad: A digital guidebook that asks employees self-reflecting questions to help them come up with their learning goals and a concrete plan for next steps.
Talent Marketplace: The talent marketplace allows anyone to post a stretch assignment and invite others to learn new skills on a part-time basis.
Peer learning
Your employees come with a wealth of knowledge that they can easily share with their peers. But it's of little use if this valuable institutional knowledge remains siloed in their heads. Enlist your subject-matter experts (SMEs) with a peer learning approach. After all, employees who learn from each other and collaborate together in the learning process are more likely to feel fulfilled at work. Follow these three steps to encourage employees to learn from one another:
Create an onboarding process where new employees learn through a mix of asynchronous courses and in-person (or virtual) synchronous learning opportunities.
Encourage SMEs to create interactive courses.
Include opportunities for feedback throughout your L&D programmes to monitor engagement.
Bottom-up training needs analysis
A bottom-up approach where employees declare their own learning needs is ideal for relevant, useful training. Employees know what they need in order to grow and feel more fulfilled at work. But most training needs are determined by L&D teams that are not doing the actual jobs of the team members who will receive the training. Instead, look for ways to involve employees in L&D, such as:
Prompting learners to request new courses with a learning needs tool
Encouraging team members to help you prioritise by upvoting each other's learning needs
Help your employees find a sense of fulfilment with new learning opportunities
A sense of fulfilment isn't an elusive dream. It's easy to find meaning at work when employees are encouraged to learn and grow. The task, then, is to harness that sense of fulfilment with continuous learning opportunities that benefit both the individual and the organisation.
Looking for new ways to keep your teams engaged in the new world of work? Check out our free cheat-sheet: 5 Secrets to Keep Your Teams Engaged in the World of Hybrid Work.