In addition to creating communities of practice, Constellation Brands is also encouraging people to 'become their own experts'. As Maggie explains, this starts with emphasizing the social component of learning.
"We have casual conversations on a range of specialist topics," she says. "This gives us an opportunity to identify more experts, because people reveal that they know about these topics, too. It all started by having video call meetings where our subject-matter experts would have a problem to solve, and we'd present different solutions to that problem together." 
"There's a social component to this learning too, because we're collaborating through an online platform. This means people can follow-up on the training with new questions, and they can communicate through our forums and channels."
This new approach has already started to give subject-matter experts a little more room to breathe. "We've created a new network of people who can call each other, rather than relying on the same five people to repeatedly share their expertise. It loosens the reins on our experts and lets them do their day jobs while still contributing to our shared learning."
"Thinking about the 70-20-10 rule, only 10% of our learning is formal. The rest of it comes down to experience and learning from each other. As L&D professionals, the question for us is how we facilitate that, especially when we're not all able to come together due to a pandemic."
For Maggie, this new approach isn't just about making minor changes. "Our new approach to learning is about more than just hosting workshops for people once a week. How can we start encouraging people to offer feedback, have conversations, and solve problems together? We need to do away with the middle-men and let people become their own experts."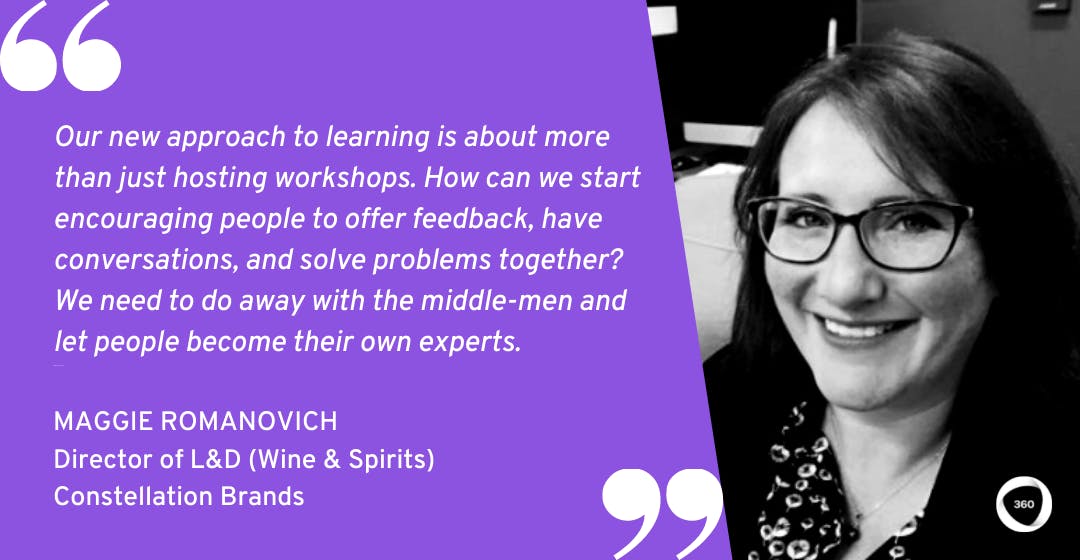 So, how has this new approach to learning impacted Constellation Brands so far?