Your Life, Your Way: A Guide to Creating a Flexible Work Culture
Autonomous Work–How to Create a Culture of Low Authority and High Accountability
One of the key outcomes of the COVID-19 pandemic is that employee expectations have changed. Employees want flexible working solutions and they're willing to walk out the door if they don't get it. In our Great Resignation report, we found that employers who wouldn't continue to allow employees to work from home after the pandemic to be one of the top three reasons why people quit.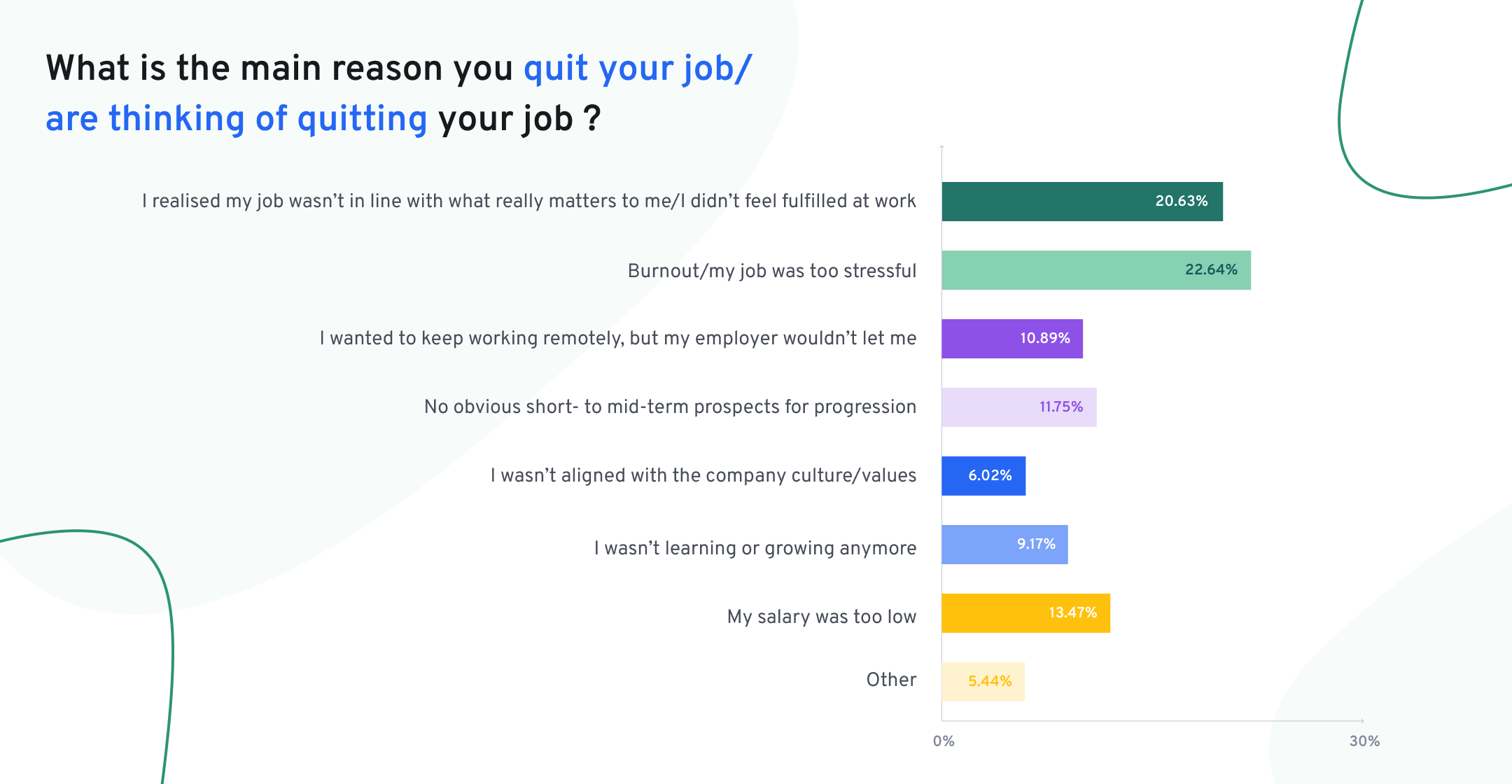 While employees crave flexibility, some organizations are reluctant to offer it, fearing that employees will be less productive at home—in fact, there has even been a rise in workplace surveillance—software that tracks what workers are doing to gauge productivity and efficiency. But despite 80% of employees saying they are just as or more productive since going remote or hybrid, many companies still hesitate at the idea of flexible work.
 What's worse, this leaves managers stuck between leadership and new employee expectations, and they feel powerless to drive change for their team. 74% say they don't have the influence or resources they need to make changes, and 54% feel like leadership at their company is out of touch with what employees want. 
This is a wake up call for leaders everywhere to change the status quo. Monitoring productivity will likely harm trust with employees as will putting managers in awkward positions. It's time to let go of top-down management styles and instead promote autonomy in the workplace as a way to drive better decision-making and business outcomes whilst increasing employee motivation and engagement.
At 360Learning, we place emphasis on giving employees the autonomy to work in a way that suits them to reach greater impact. In this chapter, we share our playbook for autonomous work—from the foundations leaders need to set in order to empower autonomous working in a remote environment to the close links between autonomy and motivation, we provide insight on how to balance giving employees freedom whilst ensuring leadership priorities are met.
Monitoring productivity will likely harm trust with employees as will putting managers in awkward positions. It's time to let go of top-down management styles and instead promote autonomy in the workplace.
Autonomous working relates to how much freedom and independence employees have to do their jobs. Specifically, it refers to employees being able to decide when and where their work should be done, but also having the authority to make decisions that contribute towards the overall improvement of their performance.
At this point, many leaders might be thinking 'But how does this actually work? How do you ensure that getting rid of top-down management won't lead to everyone in the organization doing only what they want to do, or having a say in every single decision?'
These are valid concerns. Luckily, there is a way to balance giving people the freedom they need to thrive and ensuring leadership priorities are executed. For autonomous work to be successful, organizations must have three foundational pillars in place: transparency, accountability, and impact.
Transparency is a fundamental practice in keeping everyone on track to deliver impact. To empower autonomy, organizations need to be dedicated to making business information available to everyone so that people can make the right decisions for the business. 
At 360Learning, all communication (from top-down to bottom-up), is written in Trello. We avoid emails, favor asynchronous work, take written notes which we make public after synchronous meetings, and maintain a bi-weekly all-hands. On a quarterly basis, our CEO and c-suite will use the all-hands forum to also answer questions submitted anonymously. From salary bands to performance reviews, everything is written, communicated, and public.
For true autonomous work to be successful, every employee needs to have a clear understanding of their scope and a high sense of accountability for their performance. At 360Learning, we combine high-accountability with low-authority so that everyone knows who does what and who is responsible for which projects. 
We use the Objectives and Key Results (OKR) system, updated each quarter and shared transparently, to keep everyone on track. This level of accountability empowers people to work autonomously—we own our successes as well as our mistakes. As we define our own OKRs, we place a great deal of importance in understanding and writing them as part of our employee onboarding process.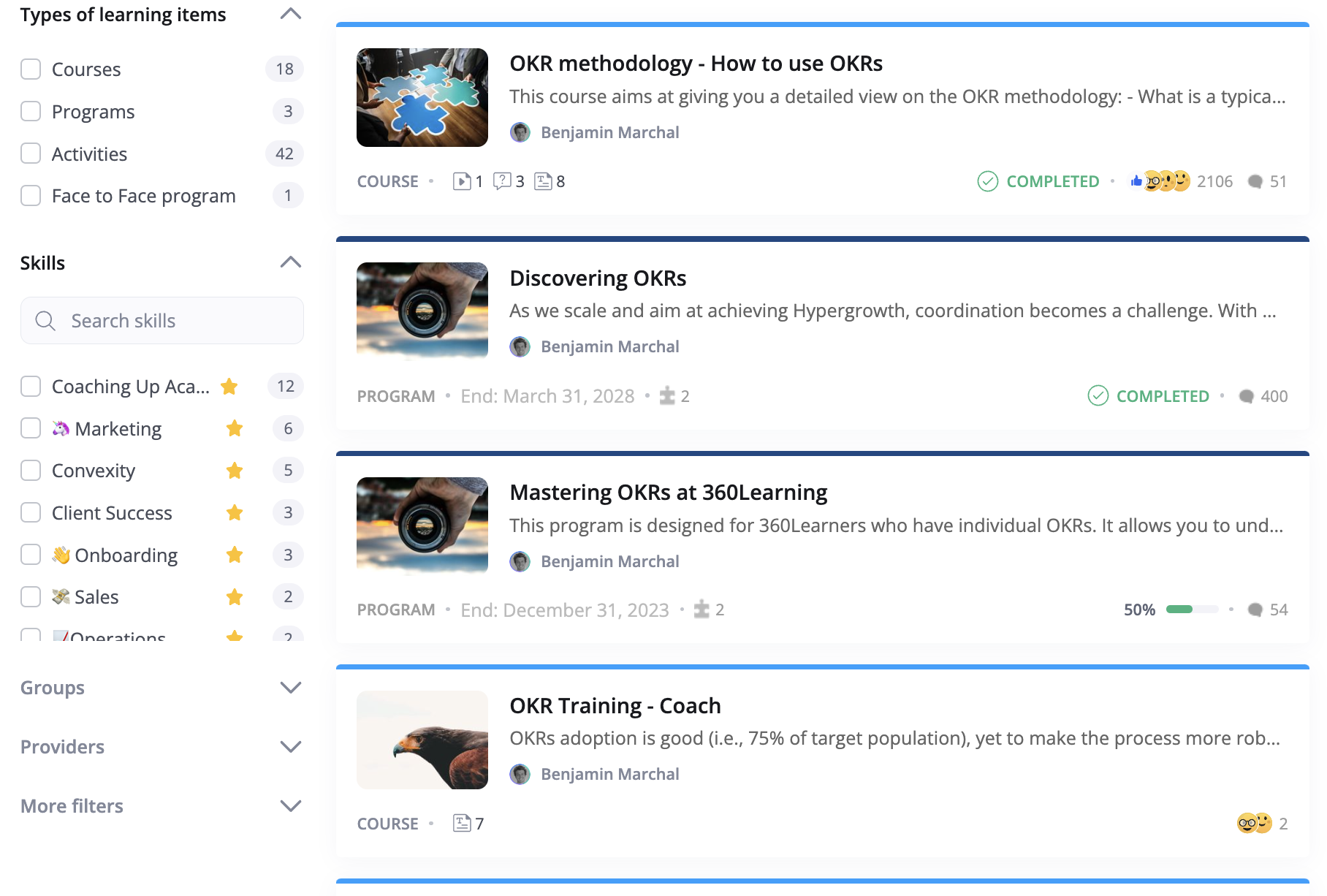 A clear way of measuring impact is one of the most important foundations for organizations who want to opt for an autonomous work environment. It's what helps you give people freedom whilst ensuring leadership priorities are met. At 360Learning, our OKRs are based on quantifiable metrics instead of subjective indicators, keeping everybody focused and on track, whether people are in the office or remote.
With the three foundational pillars established, organizations need to also build autonomous motivation. Read on to see how to achieve this.
By adopting a culture of autonomy, organizations set employees up to continuously do their best work wherever they are and stay motivated and engaged.
Autonomous motivation, a concept embedded in self-determination theory developed in the 1970s by psychologists Richard Ryan and Edward Deci, is based on three essential psychological human needs: autonomy, relatedness and competence. According to Ryan and Deci, autonomy is the most critical in driving intrinsic motivation. 
Common intrinsic motivations in the workplace include:
Personal development and learning
A sense of accomplishment
Pride in work
Feeling respected and trusted
Choice in work projects
Feeling part of a team  
The foundational pillars of autonomy: transparency, defined scopes, low-authority, high accountability, and impact, naturally help activate these intrinsic motivations. But what are some practical approaches you can encourage in your organization to help foster these motivations when working in a remote environment? Here are six we use at 360Learning.