Okay, so you have your Level, now what? We go to our salary ranges. These ranges are designed to target the 70th percentile of the tech market, meaning we want to be within the top 30% when it comes to cash compensation. We build our ranges based on market data purchased from specialized vendors. Our salary ranges are reviewed each year so as to fully capture the market movements and our company's hypergrowth.
We have one set of salary ranges for each job market we operate in (as of writing this, France, the United States, the United Kingdom, and Germany), and one salary range for each distinctive group of functions (we have eight ranges at the moment: Sales, Business Development, Sales Engineering, Client Success, AI/Machine Learning, General Tech, Support/Admin, and Default). 
Each salary range determines how much we offer. For example, if you apply for an Account Executive role in the United States and we assess you as a Senior Manager 4.5, you'll be matched against the US - Sales - 4.5 range.
Here's what our US Sales salary range looks like in practice: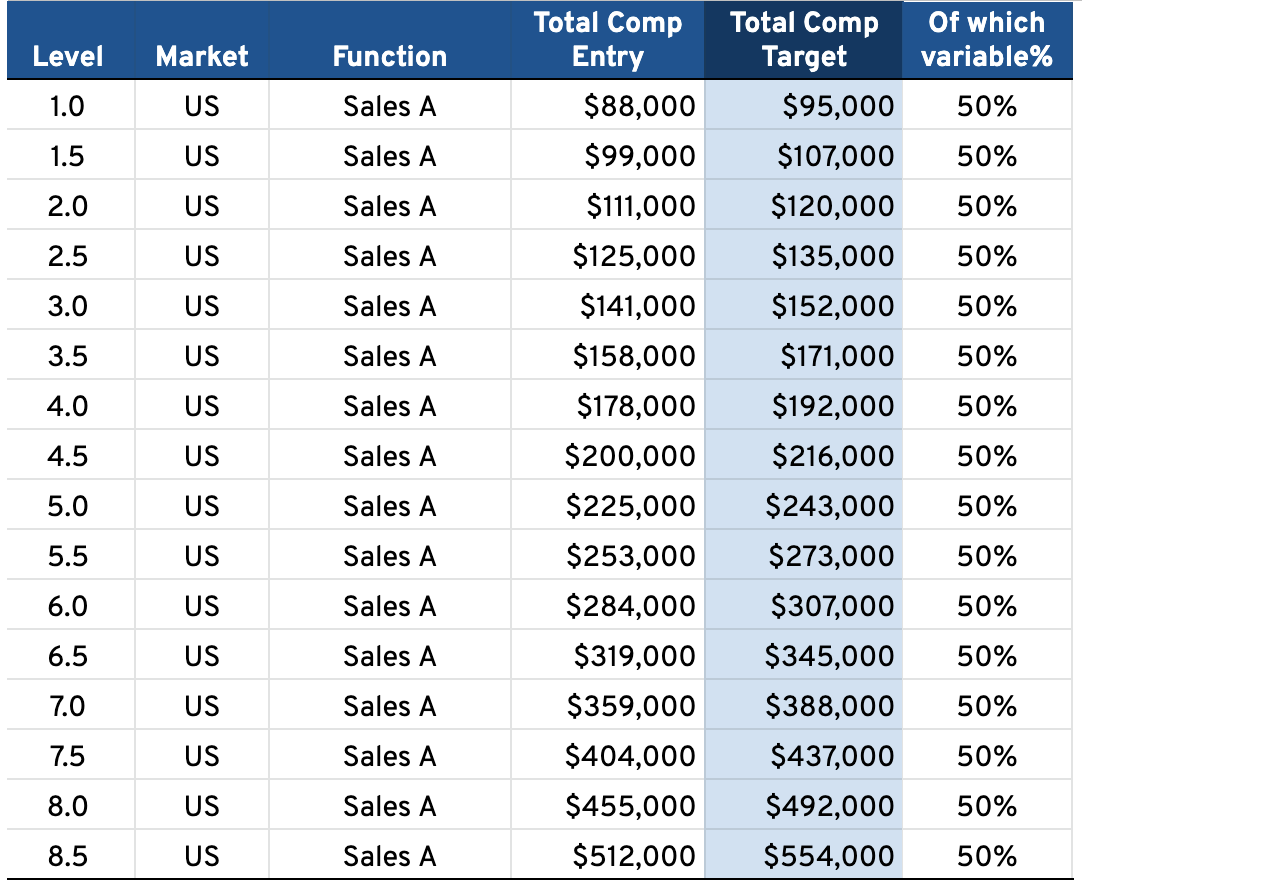 In our US-based Account Executive example (an individual contributor, not a coach), if we assess you as 4.5, our offer will never be lower than $200,000 (consisting of 50% base and 50% variable), and could go as high as $216,000. We'll offer what we need to within the range of $200,000 and $216,000.
You can think of this $16,000 or so as your "negotiation margin". If you expect more, we'll pass. If you expect a lot less we'll still make you an offer at the entry level. Given what we all expect from each other, we have no intention of being cheap on our future teammates. In some cases, that means raises of 25% or more. 
The same thing goes internally. When we reviewed our ranges earlier this year, we found we had a few people below the range. We adjusted our salaries as a result, and this translated into a lot of two-digit % increases.
So, what about our equity grants? Well, they function exactly the same–except for the negotiation margin which is a strict zero. But that's a complicated discussion, and something we can come back to in a later post.