Your Life, Your Way: A Guide to Creating a Flexible Work Culture
Remote Work – How to Enable Your Teams to Work and Learn From Anywhere
Remote work is a true paradigm shift.
52% of people recently surveyed by Microsoft were thinking of switching to a full-time remote or hybrid job in 2022. This is nothing new: two years ago, COVID-19 accelerated the adoption of the remote-friendly option for millions of workers around the world. Even though it was not a new way of working, companies had to adapt to full remote work in just a few days.
But this was done out of necessity without any strategic plan behind it. And in 2022, we're not the same people that went home to work in early 2020!
So, what does remote work look like now? To what extent will remote work persist, and how should we strike the right balance between employee productivity and business goals? And how can an organization build a sustainable remote work policy that lasts in the long term?
There are many hybrid and remote work models, so it's important to be clear on what you're actually talking about.
The four first models are hybrid, as they involve at least the possibility of office work. The last one is a 100% remote option. See for yourself:
1. Centralized / Office-first (remote-friendly) hybrid model: In this model, coming to the office most of the time is required, but employees have the possibility to work from another location for a fraction of their working time, at a pace of one day a week for instance. Companies that apply this model are convinced that employees more effectively develop connections and coordinate business if there is no physical distance between them. In this case, the flexibility of remote work is more of a perk.
2. Partly remote (remote-ish) hybrid model: This is a split model, where not all teams follow the same arrangement: some of them may be fully remote whereas others are in the office full-time. The main struggle in this model is to ensure the right level of connection between in-office teams and those that are remote. Thus, it is designed for organizations that already have offices and are willing to expand their activities to include other geographic locations.
3. Flexible hybrid model: Here, all employees can choose when they want to work from the office and when they'd prefer working remotely from elsewhere. Companies that operate on this model are convinced that giving the autonomy to choose where they work from will make their employees happier and more efficient. In this case, companies don't have a particular preference one way or the other–it's truly down to the employee.
4. Remote-first hybrid model: In this model, remote work is encouraged for all and adopted by default, no matter which team employees are part of. This means the company has made all its processes (operations, policies) remote-friendly, and keeps its offices so that employees can work from there occasionally. This is how we work at 360Learning.
5. Full remote: In this model, companies don't offer any headquarters, and everyone is invited to work remotely. The HR/People ops team provides all employees with necessary equipment to work from home. This is particularly adapted for companies that have a solid asynchronous communication.
All of the hybrid work models mentioned above allow employees to:
Stay at home and take care of their personal matters when they need to (important deliveries or ill children, to name a few) without having to take time off.
Avoid commuting time and instead spend more moments with friends and family, or participating in personally enriching activities.
Achieve the work-life balance that really suits them, and thus be more productive when they are working.
These models also make it possible for organizations to:
Eliminate workplace proximity bias when working fully remotely, i.e. ​avoiding the possibility of ​employer prejudice against remote workers
Benefit from the widest possible talent pool, as they can hire people from anywhere in the world
Save money on expensive offices
So, that's a sense of the types of remote and hybrid work models, and the distinct advantages of each. But how can you actually make this shift?
According to PwC's US Remote Work Survey (January 2021) 83% of employers now say the shift to remote work has been successful for their company. Six months earlier, in mid-2020, this figure was 73%. Organizations are still learning how to make remote work a success. But if you really want to develop a remote work system, no matter the model you choose, you need to align your entire company culture with that commitment. Here's what that means in practice.
Remote onboarding is the process of welcoming new team members into your organization via technology, without real-life interactions. A great remote onboarding is a core driver of business capability and it should reflect a company's unique culture within the new hire learning experience.
Ideally, remote onboarding reflects your unique business model, existing knowledge and expertise within teams, communication preferences, and, of course, product information and values. Use clear targets and metrics to regularly measure performance of the onboarding process as a whole. Encourage collaboration between team members to share knowledge and expertise not only to build the remote onboarding but also during the onboarding process for every new hire. 
To do so, you might wish to use a peer learning platform so that the new hire can do most of his/her onboarding asynchronously, and can still meet with other team members for discovery meetings synchronously.
Make sure you offer your employees the setup they need to be comfortable and productive when working from home. This starts with essential equipment such as a high-quality laptop, to monthly budget for other remote expenses like a coworking subscription to reimbursement for travel to business meetings.
Be frugal with your offices: in order to manage an inconsistent flow of people, create a booking system at all your offices that are operating as hot desks.
Encourage the following remote-first work habits:
Actively encourage coaches and leaders to build relationships of trust and autonomous work with their teams: use a metrics-driven framework like the OKR system, updated each quarter and shared publicly, for maximum transparency on project achievements. Create weekly meetings with the team and with each member, as well as quarterly meetings to build trust and create a positive feedback loop.
Keep synchronous meetings to a minimum, and be sure to record and share written notes to ensure full transparency. In doing so, time zones and physical distances are less of a barrier to efficient communication.
Favor asynchronous work over synchronous work, for everyone to get equal access to information. Use a knowledge management system to store information and make it accessible to all. Make sure written communication is preferred across teams. 
Share clear scopes from day one, so that everyone knows for which projects they're responsible.
Want to learn more about 360Learning's remote policy? Check out our webinar with Swile Travail hybride et engagement des collaborateurs : le match 360Learning vs Swile
If your remote policy is here to stay, you can't count on compulsory physical attendance to training courses. This means you'll need to support every team to be self-motivated and engaged in autonomous digital learning. An effective way to ensure your teams are learning from afar is to create a peer-driven environment where people can upskill from within. You may do so by :
Shifting towards a bottom-up training approach: switch to online training sessions that can be completed in micro-sessions throughout the week to decentralize learning. 
Helping all team members participate in the learning process by identifying their learning needs, giving feedback on existing courses, and creating courses themselves.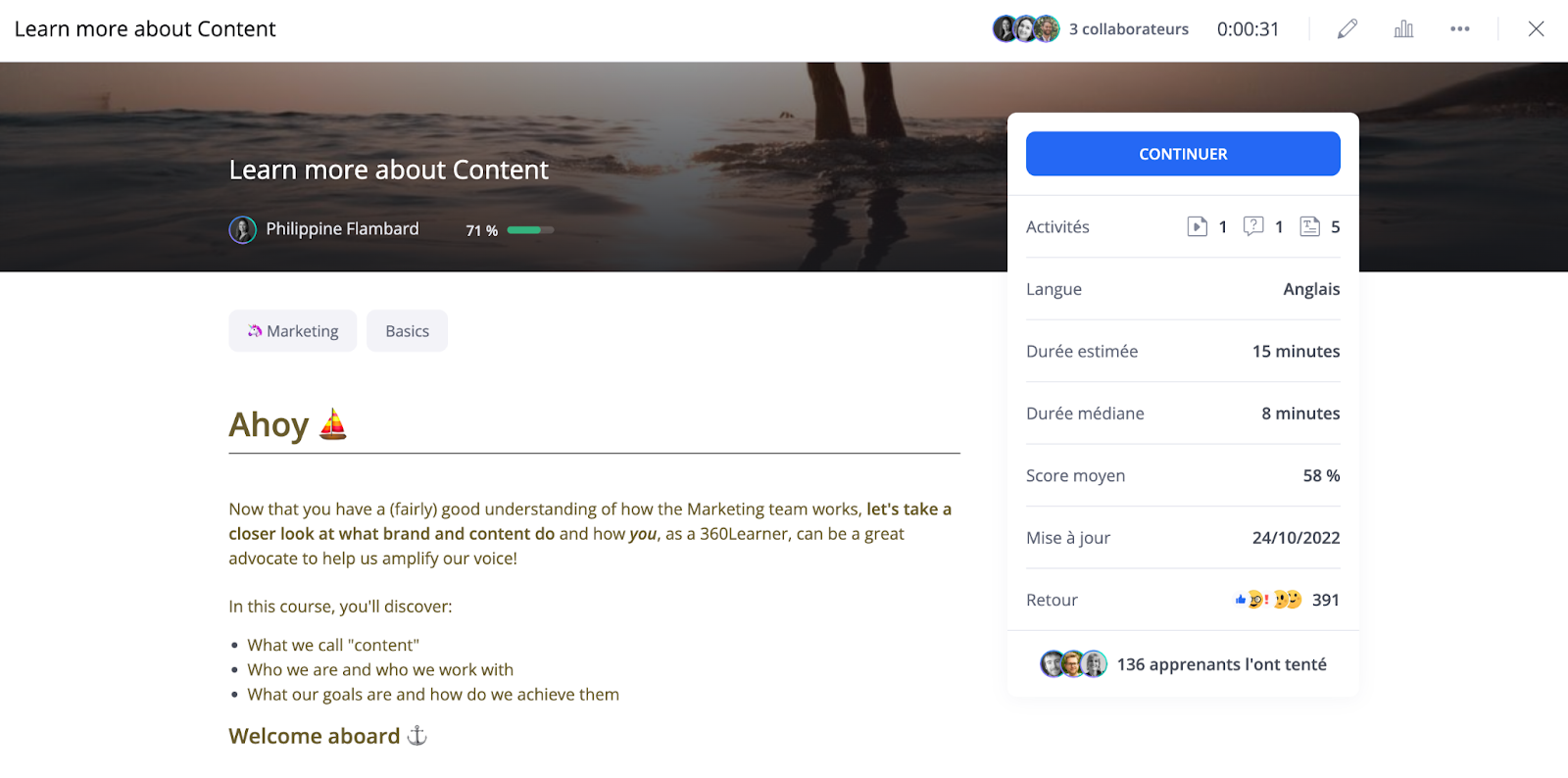 Over the course of our lifetimes, the average person will spend a full nine years non-stop at work. We are now more likely to make friends at work than any other way, according to the Survey Center on American Life. And just in case you were wondering, yes, we can absolutely make "social" and "remote" work together! Generating social connections and collaboration even remotely has proven to be bringing better business outcomes and employee retention, according to Gallup. 
Having a buddy when you join a new company is reassuring, as you can get tips, make connections with different teams, and understand the company culture faster. The buddy can be an employee who has been within the company for a minimum of one year, for instance. But to be effective, a buddy system needs frequent interactions. Microsoft found that when its new hires met with their buddy more than eight times in their first 90 days on the job, 97% said that their buddy helped them become productive quickly.
When working remotely, employees may not be able to meet physically with all teams, especially because they are not sharing the same office and thus may not be able to say "hi" at the coffee machine. To foster informal meet ups that typically happen at the office, create random rounds of coffee chats, and icebreakers at the beginning of team meetings.
Some of your employees want to have "real life" face time with colleagues, not directly related to work. Let's not forget the importance of teambuilding: it is crucial to grant a specific budget to your teams so they can gather together (cooking class, team drinks, game). It's essential to enable colleagues to socialize, build connections, and get to know each other informally, no matter what their work setup is.