Performance Management
The Right Way to Go About the Performance Management Cycle
Are your learning and development programs doing enough to attract the next generation of talent?

The millennial workforce recently said that company investment in training and development is the most important job benefit. The same Deloitte study found that millennials expect weekly development feedback. But most traditional L&D models aren't set up to deliver. They operate on antiquated models of management, which provide irregular feedback that doesn't actually help employees do their jobs.

Applying the performance management cycle to your L&D program is a great way to build more effective employee development because it provides continuous, ongoing improvement opportunities—opportunities that today's employees demand.
The performance management cycle is an ongoing model of continuous employee learning and development. It has four steps: planning, monitoring, reviewing, and rewarding—then, it starts over with planning again.

You can tailor the length of each step to your business's needs. Year-long cadences, where each step takes roughly one quarter, are popular for larger initiatives and goals. Smaller, more agile organizations may prefer a quicker pace where you complete an entire cycle each quarter.

The performance management cycle has several benefits over traditional yearly assessments. The cyclical model fosters continuous growth—employees don't have to wait for an annual review to understand what's going well and how to improve. Since there's a periodic revisiting of goals, they're constantly updated and aligned with the employee's and the organization's most recent initiatives.

The performance management cycle also provides a clear plan for employees to follow—the consistent, healthy rhythm of looking ahead and reflecting back ensures employees aren't left wondering about how they perform or what they should work on.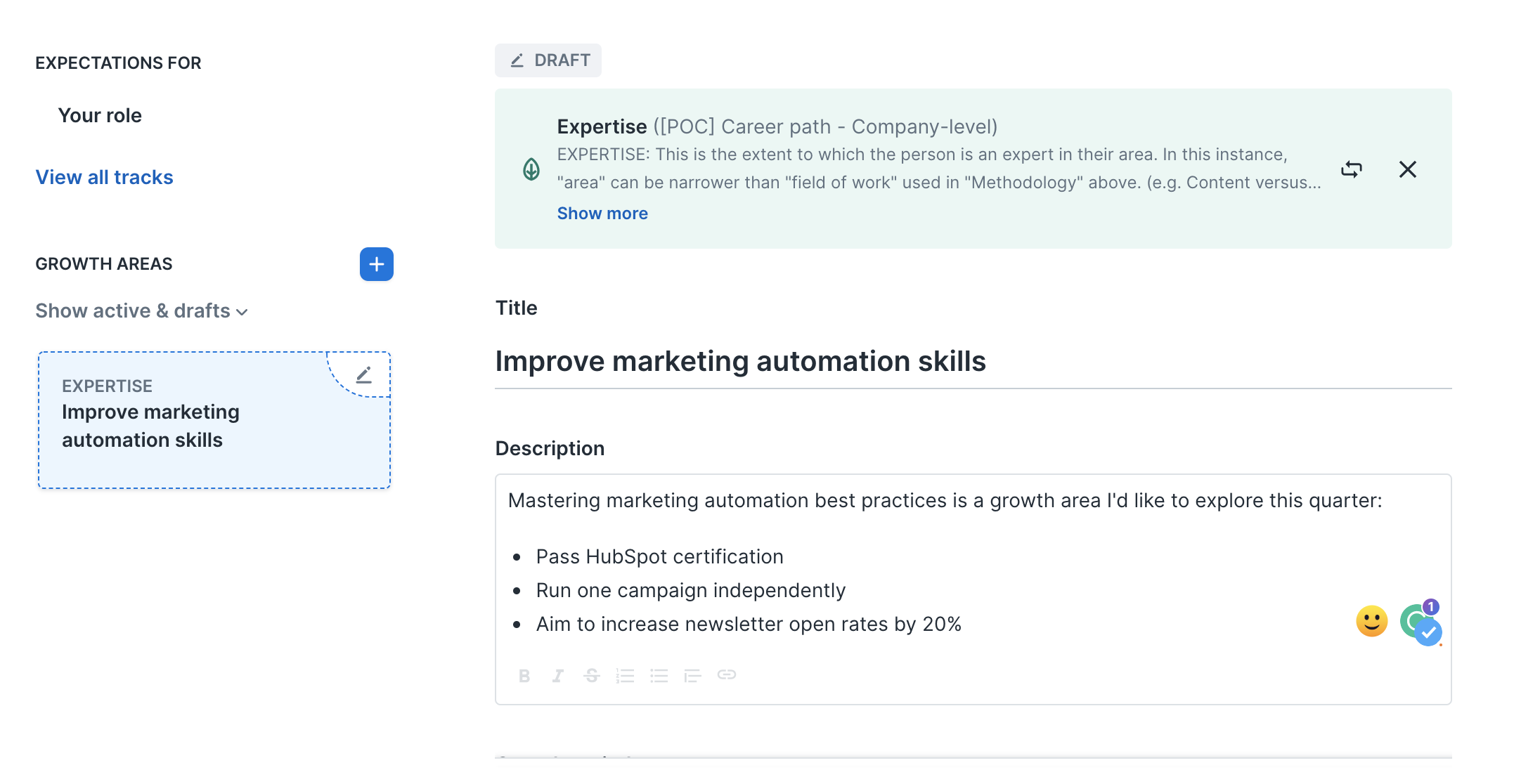 The performance management cycle is a perfect model to ensure your organization's development program consistently evolves to better serve your employees.

Help each member of your team develop goals that follow the SMART model to ensure their objectives are specific and actionable enough to be successful. These goals should feed directly into your organization's overall goals, so your employees feel engaged in the bigger picture and accountable to the company's values.

To create SMART goals, compare your organization's broader objectives to each employee's personal growth path to see where their plans can tie into the larger strategy. This kind of alignment can grow revenue 58% faster and make companies 72% more profitable, according to LSA Global. To help guide this development, ensure each goal is:
Specific: Make goals as detailed as possible. Strive for numbers-based objectives with set due dates.
Measurable: Design goals you are able to track by using numbers, percentages, or clear evaluation criteria.
Achievable: Set reach goals, but not unrealistic ones. Make sure your goals challenge employees but are within their ability to complete.
Relevant: Don't forget the "so what?" Every employee goal should directly point toward one (or more) of your organization's overarching goals.
Time-bound: Set clear, absolute deadlines, and stick to them. Having deadlines helps employees prioritize work and remain accountable.
Related: Our 3-Step Process for Using OKRs to Drive Performance (+ Free OKR Template)

Unlike in traditional review models, leaders must monitor progress regularly with check-ins under the performance management cycle. The whole point of the performance management cycle is to increase urgency and agility; infrequent check-ins hinder this process.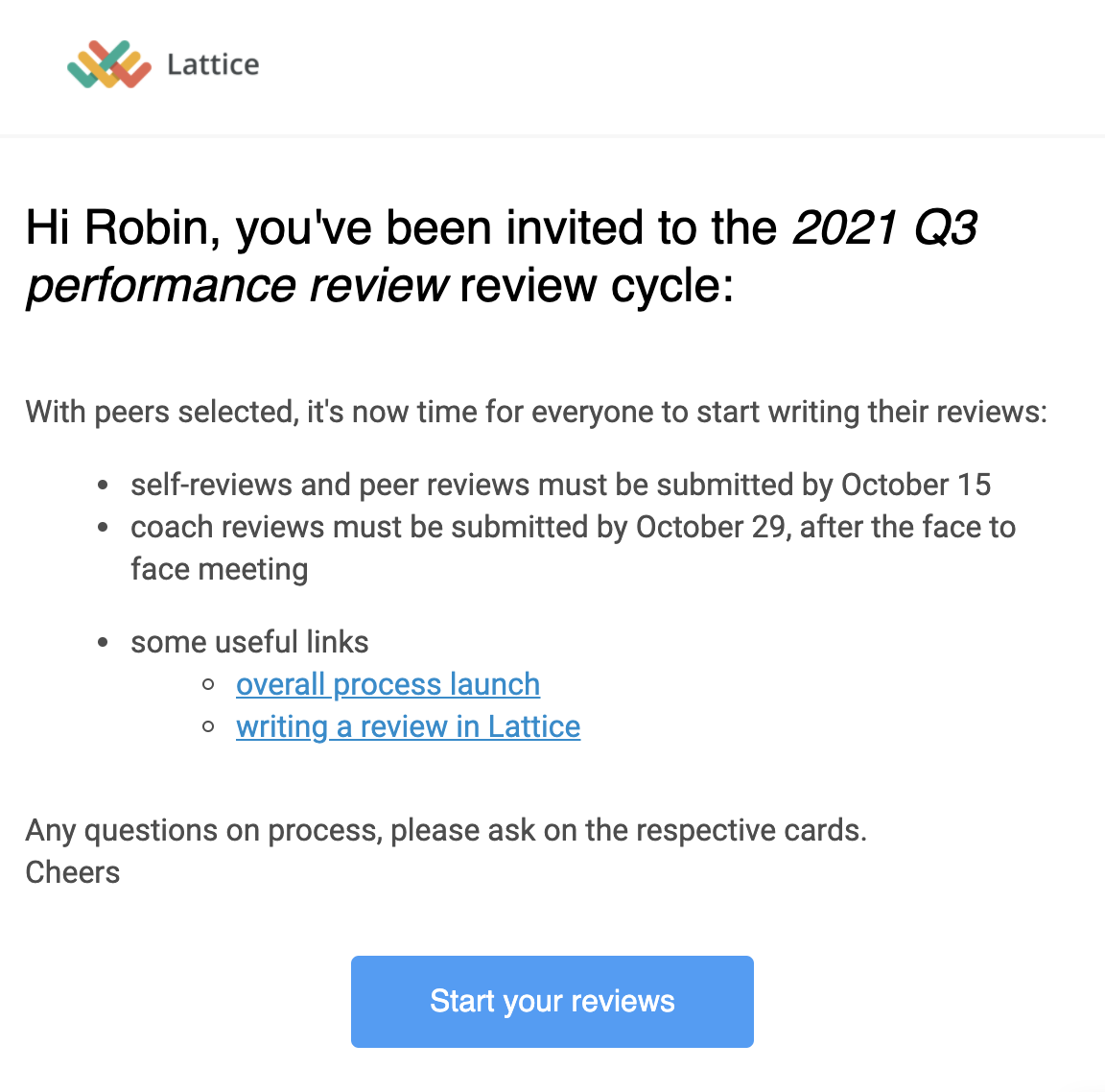 Aim for bi-weekly check-ins, with larger-scale check-ins every quarter. During these sessions, break down overarching goals into smaller mini-goals and measurable key results so employees leave each check-in with another step forward to reaching their longer-term objective.

These more frequent check-ins also allow for more flexibility in goal setting. If the employee's or company's goals shift throughout the year, your staff can pivot in a couple of weeks instead of heading in the wrong direction for a whole year.
After a year of quick check-ins, you want to do a formal review to wrap up this cycle of performance management. Instead of being the only review of the year, this end-of-year review is really just a bigger picture check-in that evaluates the employee's development and progress throughout the cycle.

This review gives employees a chance to look back and reflect with "20/20 vision" on how their development evolved during the year and provides managers with a point of summary to review employee growth. It also represents a clear deadline to check in on goals, discuss promotions, set new goals, and offer feedback to both the employee and their manager.

When conducting the end-of-year review, consider asking some of these specific questions to direct the conversation:
What skills or insights did you gain during this cycle of performance management?
Were there any roadblocks that interfered with you reaching your goals?
Were you supported properly by your manager to achieve your goals?
What would you do differently if you could repeat this performance management cycle?
Do you have any suggestions for management on how we could improve this cycle in the future?
These big-picture reviews represent a valuable opportunity to focus on large strides and lessons learned, separate from day-to-day tasks and stress.
Once your employees have completed a performance management cycle, it's time for the fun part: recognizing staff success with public praise, financial incentives, or career advancement. The performance incentive process is the most critical phase when it comes to employee engagement and satisfaction because for the individual, it's a big reason they worked hard and participated. Being recognized and celebrated boosts employee confidence and, ultimately, increases retention.

What you choose to reward employees with will be based on several factors, like their specific goals and your company culture. How large the award is should be dependent upon what is achieved and the frequency of the review cycle. Some options may include:
An overall salary raise (or a bump up in 'Level' or seniority)
A bonus (one-time or recurring, depending on your company's bonus structure)
Additional PTO
A promotion in job responsibilities
Special projects, like being put on a subject-matter expert team or getting to participate in a unique temporary assignment
Company-wide acknowledgment, like awards or recognition ceremonies
When it comes to acting on the learning and growth goals established during performance reviews, Collaborative Learning platforms like 360Learning help put your employees in the drivers' seat. It's where your employees can actually execute on all these development goals set at the beginning of the cycle by taking what they learn and sharing it with the rest of the team.

Collaborative Learning platforms help ensure your employees' performance cycles remain evergreen and that others on your team can learn from their success.