Performance Management
How to Create a Performance Improvement Plan That Leads to Less Firing
80% of Performance Improvement Plans (PIPs) do not lead to any improvement in performance. Perhaps because most employees view it as a precursor to getting fired and workplaces seem to use PIPs to document an employee's failures and the erroneous thinking that PIPs provide legal protection.

Workplaces are undermining the strength of a Performance Improvement Plan. If you approach a PIP with a 'set-it-and-forget-it' mentality, it'll serve as a documentation formality and lead to the employee getting fired anyway. Instead, it's crucial to build PIPs that provide ongoing, specific support actually aimed to build the employee up.

Here's how to create Performance Improvement Plans that take a different path and can actually lead to less firing:
A PIP can save you $80K but that doesn't mean you start doling them out. Even before you decide on a PIP, you need to evaluate whether it's the right answer to bringing an employee up to scratch.
Generally, PIPs are good for employees who aren't performing up to expectations even after repeated interventions and coaching. They might not be right for employees who are already engaged and motivated, and would benefit from extra training and feedback.
Example: if a long-time employee has always been a mediocre performer but has never been given feedback, it's better to start with a long-term approach like yearly reviews, training goals, and creating an effective feedback loop. A 30-60-90 day PIP may not be the best solution in this case.
An employee may need a coaching improvement plan instead of a performance improvement plan that communicates expectations and lines up goals with a focus on coaching. Sometimes, just talking with an employee about a concern is enough to bring them back on track.
For the PIP to work, the employee needs to have an equal role in creating it. A plan that has been set up taking the employee's views and challenges into consideration will motivate the employee rather than an autocratic template that reads more like an ultimatum. Here are ways you can collaborate:
Listen to the employee's point of view. Employees need to know that they have a voice. An employee who feels misunderstood will be disengaged and treat the PIP like a mere formality.
Find the root cause of the problem. Ask the employee about unique challenges or situations they may be facing that hamper their growth. How do they feel about their future with the company? Sometimes, performance issues may be tied to a lack of growth opportunities at the company or poor management.
Support the employee by offering your trust and advice, and past examples of employees who have succeeded with their PIPs.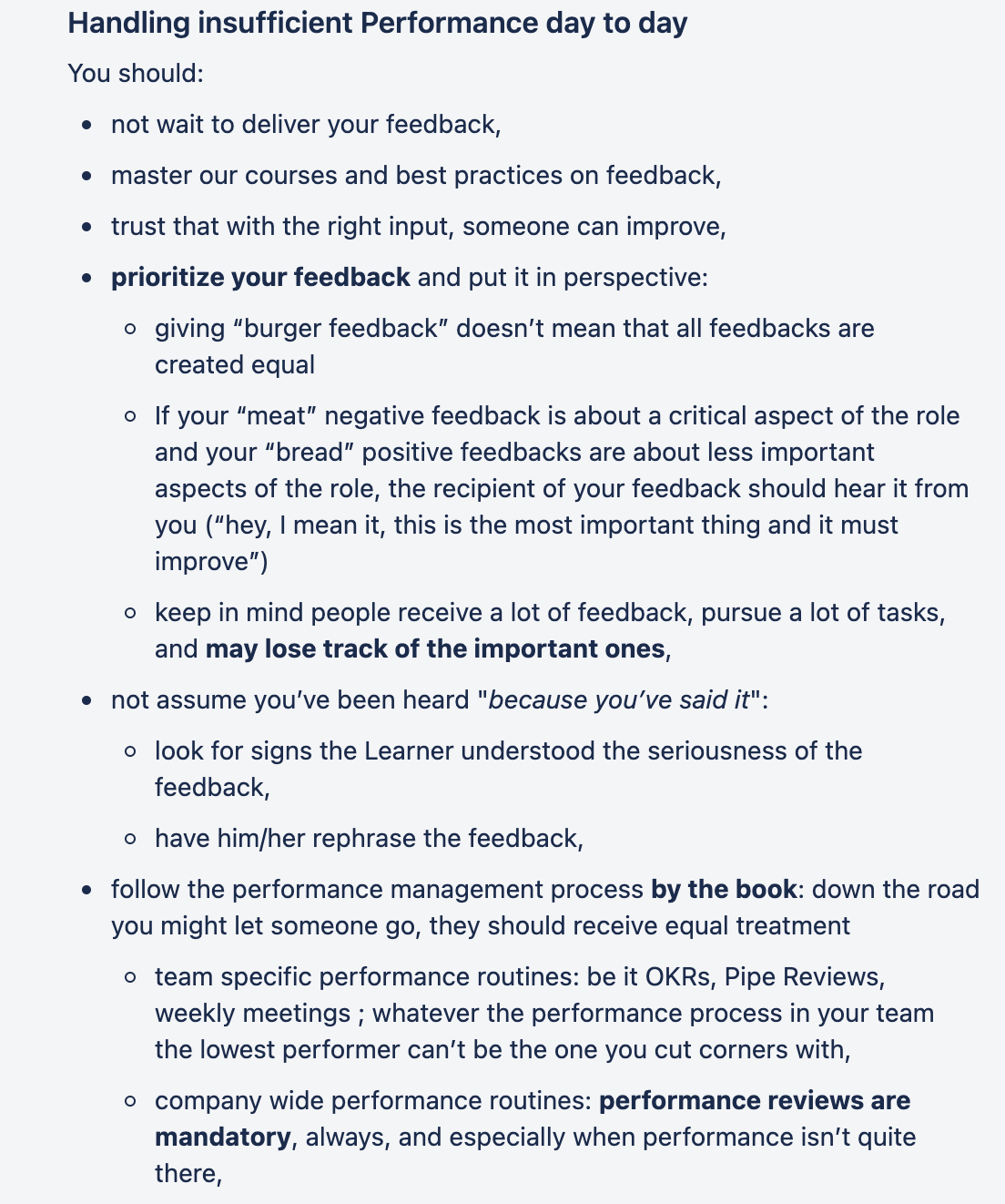 The clearer the goals, the easier they will be to achieve and measure. To identify a solution and set goals, it's important to discuss the problems in the employee's performance without turning it into an attack.
Articulate the problem and back it up with examples of situations that could have seen better delivery from the employee.
Present clear solutions, with examples if possible.
Agree on objectives that will be measured over time and discuss how they will be documented.
At the core, a PIP is laid out to identify what is missing from an employee's performance and how to provide the right training opportunity that will skill the employee in the areas of concern.
Perform a skills gap analysis to make sure the employee has the skills and expertise to hit the company goals. A PIP may also be a good opportunity to identify a learning need within the company, especially if more than one employee is facing performance issues in a specific area.
Provide training opportunities with the help of mentorship, short courses, and peer learning.
Your PIP needs to extend over a 30-60-90 day period with measurable progress slated for each month. However, it doesn't have to be set in stone at the outset. Discuss the timelines with the employee and make adjustments where necessary based on their situation.
The 30-60-90 model is a typical timeframe, with goals and objectives set for each period.
Be flexible. If it's an employee that is already struggling with time issues and deadlines, a PIP should account for a slower speed at which this person may need to ramp up.
Lay out rewards and repercussions, depending on whether goals are met or not.
A PIP is not a one-time handover. It's a process that requires regular revisiting to evaluate if the employee is progressing in the right direction. At the same time, give the employee their own space and pace by giving them a sense of ownership.
Look for signs of burnout like when an employee is isolating and doesn't connect much with coworkers. The goal of the PIP is to rejuvenate the employee with new skills and confidence, not tire them out with constant pressure.
Identify a coach, preferably a peer, who is ready to jump in and help out with questions or concerns the employee may be uncomfortable asking a manager.
Schedule reviews at intervals, where the manager and employee sit down to reflect on the ups and downs. The review is not a matter of ticking boxes, it needs to take a holistic approach. Focus on the employee's progress and whether the framework of the PIP is helpful for improvement.
Hopefully, your PIP was solid (and compassionate) enough to motivate the employee to work towards their goals and get up to speed. Chances are there is still work to be done. A PIP is not an end goal in itself but a work in progress.
Say cheers by recognizing areas of improvement.
Make the employee feel safe returning to work with a renewed sense of confidence. Onward and upward.
A PIP is seen as a significant event in any employee's career, but it doesn't have to end in termination. With organizations looking to make continuous performance management a standard practice in the workplace, the need for a PIP may become less necessary. But if it does, it's important to implement it as a bonafide second innings for the employee.