What does a job shadowing course actually look like? First thing to note is that we kept each of our courses short—around ten minutes. Since we know everyone's busy, we wanted this to feel like a microlearning course that learners could slip into their day when it was convenient.
Another important point is that we also used a Collaborative Learning approach, meaning that we asked our subject-matter experts—the people doing the jobs that were being shadowed—to create their own courses within the 360Learning platform. This is pretty easy since we have a built-in authoring tool that anyone can use. The L&D team was a facilitator, but the heart of the courses were created by employees themselves. (You can learn more about Collaborative Learning in our ebook, below):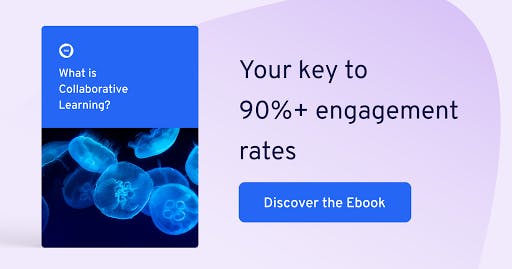 Lastly, there are a few key elements we think should be a part of any job shadowing or day in the life training:
It may sound obvious, but you want to frame your training course and explain to the learner what they're in for. Having the person whose job is being shadowed film themselves doing a quick presentation is a great way to set this up, since it adds a personal touch. The 360Learning platform has a built-in video recording feature, which we encouraged course creators to use for this purpose.
The learner wants to get a feel for what your daily routine is; recurring work and key projects, typical tasks, what happens in a normal morning vs. afternoon, when you make time for deep work and when you're in collaboration mode…
What do you do for lunch? How do you take a quick break or unwind? We asked our course creators to include an informal activity that described what they do for downtime during the workday. We didn't push anyone to reveal anything too personal, but we encouraged them to share a tip, like a recipe or lunchtime hangout spot.