2022 UK L&D Salary Benchmark Report
Why Do Nearly a Quarter of Survey Respondents Want to Leave L&D?
In every role, in every industry, people have their bad days. Sometimes, these bad days can lead people to start daydreaming about making a change. But what does it say about the L&D industry when nearly a quarter of our survey respondents want to leave the profession altogether?
The notion of changing jobs, industries, or even fields multiple times throughout one's career has now become the norm. Gone are the days when employees would climb the ladder and wait patiently at the same company. In fact, millennials and gen z are known to job-hop because they crave new opportunities, preferring to stay unattached to any one organisation.
Our survey results highlight that this is the case for people in L&D. As we try to paint a picture of what a career in L&D looks like, we found:
87% of respondents have not always worked in L&D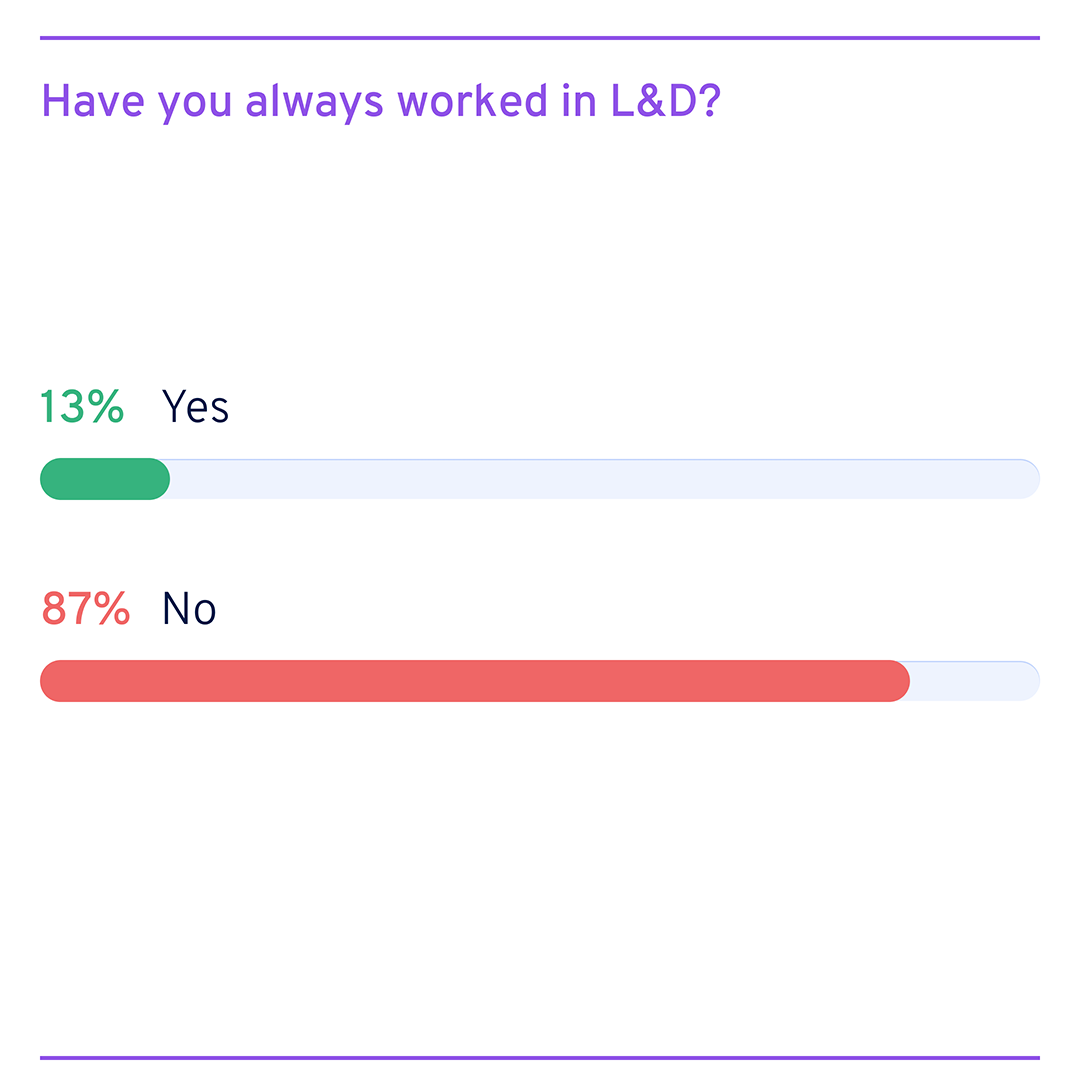 Respondents previously worked in different roles, with 11% as managers, 7% as a leader/director/Officer/Head of department, 6% were in the medical field/nurse, and 5% worked in the retail sector.
78% of respondents do not have an L&D related degree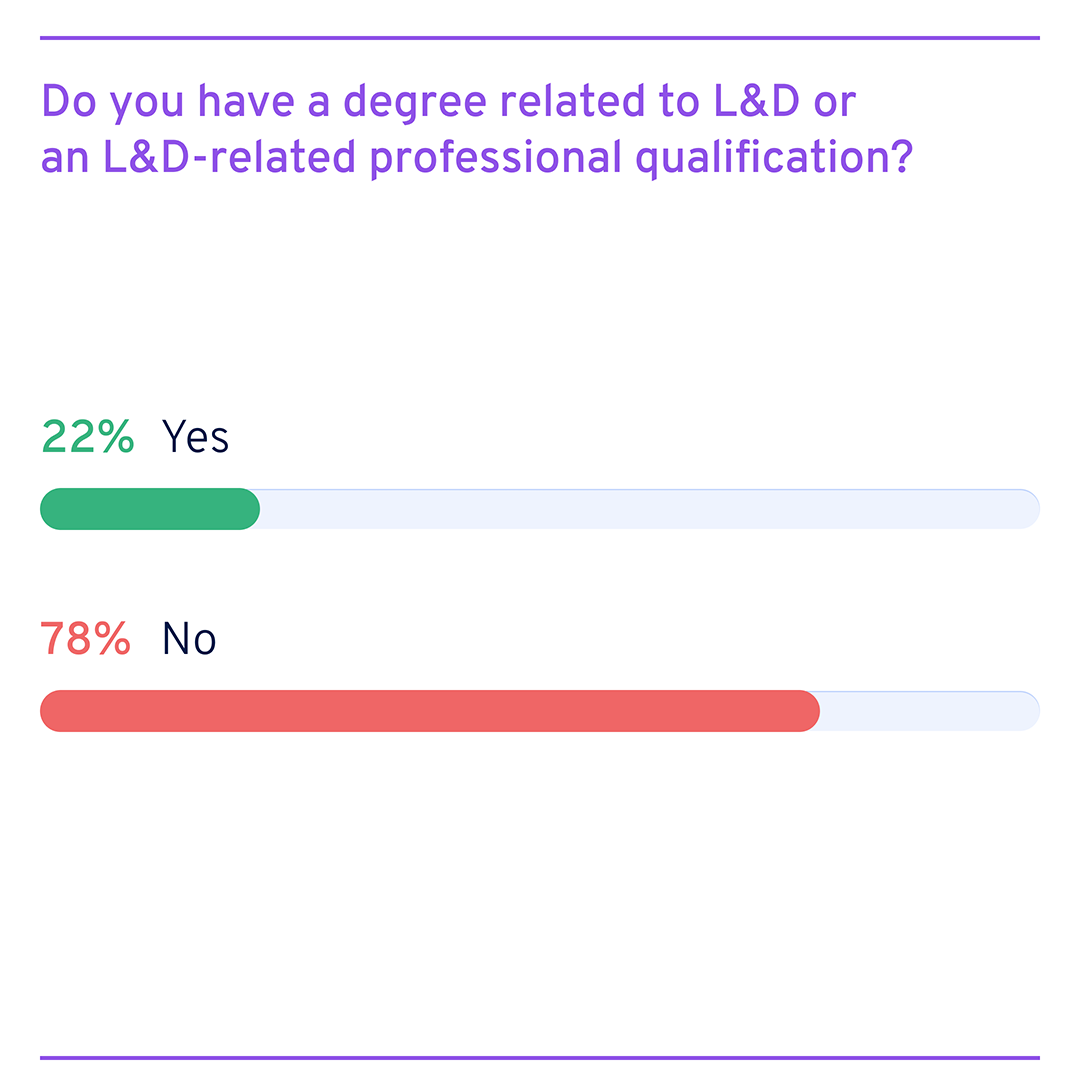 This suggests that most respondents began their careers in other areas and have since made the move to L&D.
We also found that the majority of respondents (66%) have less than five years of experience in L&D. This implies that the L&D field has seen a lot of newcomers in the UK recently. That being said, despite the L&D field appearing young and motivated, 23% of respondents want to leave the L&D space entirely within the next five years.
Interestingly, we found that people with 4-5 years of experience in L&D were more likely to want to leave L&D. This potentially points to people making sideways moves into new areas, perhaps having a certain level of training responsibility in their current job who then want to move into a dedicated L&D role. But this doesn't seem to be the right solution for many—and clearly, L&D isn't working out for everyone.
Perhaps the reason why some people want to leave the profession is down to how recent years have contributed to new pressures on people in L&D roles. The challenges of switching to remote and hybrid work, moving training from in-person to online, reskilling amidst the pandemic, and generally having to do more with less may have put strain on some L&D professionals, making them reconsider whether they want to stay in the L&D field.
Despite the high percentage of people who want to leave L&D, our results show that many L&D professionals do want to stick around. In fact, 46% want to stay in their current position, 14% want to stay an individual contributor but specialise in one area, 7% want to manage an L&D team, and 7% want to become the Head of Learning and Development.
Interestingly, there was also a small percentage of people (4%) who currently manage a team but want to go back to being an individual contributor, suggesting that the added responsibility and risk of burnout through managing people is not for them.
Our survey data shows that there is a lot of movement in the L&D field, perhaps due to the fact that people will have many transferable skills to make the jump into L&D and may have had some involvement with training in previous roles.
But with a high percentage of respondents having only been in the L&D space for a short period, with some already showing signs of wanting to leave, it's crucial to assess whether this is the right career for them. If this resonates, take a look below for what you can expect from a career in L&D to help you make the right decision about your career going forwards:
Are you prepared to advocate the move for L&D to become a business-critical function? As we've previously discussed, L&D has struggled to prove its worth within the business. You need to be prepared to advocate for change in terms of moving away from being a support function to a business-critical one. This includes getting in front of senior leaders to get buy-in to do things differently and make an impact.
Do you like working with people? You'll need to work well with people if you want to succeed in L&D. Many L&D professionals work directly with subject-matter experts in a collaborative learning environment to create, distribute, and iterate on courses. Beyond this, it's important to possess a continuous learning mindset and genuinely care about your colleagues' growth goals.
Can you crunch numbers? Like in most roles today, you need to show a flair for data and own the mindset of evidence-based practice. For example, you may need to work with your sales team to understand how your sales training affected win rates. The outcome of this is aligning your L&D work with the business metrics your learners are held accountable for. This is ultimately what will make you successful in your L&D role and help you progress.