2022 UK L&D Salary Benchmark Report
2022 UK Learning and Development Salary Benchmark Report
(Looking for the US version of this study? You can find that here.)
Everyone wants to be paid fairly. No matter what industry you're in, it's a great comfort to know you're getting what you deserve in your monthly paycheque. And if it turns out you're not getting your fair share, you need the right information to know what to do about it.
At 360Learning, we're always looking for ways to give L&D leaders everywhere actionable data and insights to help you make the biggest possible learning impact, and to prove your value in solving critical business problems. That's why, in  our 2022 UK L&D salary survey, we're here to collect, analyse, and share salary data that:
Provides L&D professionals with the opportunity to benchmark their salaries against their peers. You can use this data to negotiate your salary at your current job or bring it to future prospective employers. We break down salaries by job title, education, region, and sector. You can also leverage our top tips to get the pay rise you deserve at your next performance review.
Highlights pay discrepancies. The reality is that gender pay gaps exist everywhere–and L&D is no exception. We shed light on these and give employers guidance on how to level the playing field.
Identifies L&D career trends. From understanding if L&D professionals have benefited from having a mentor to assessing whether people are comfortable asking for pay rises, we share all the current L&D career trends affecting salary and remuneration.
Showcases opportunities for growth and development. With the help of our survey findings and our L&D masterclass series, you can explore potential L&Dcareer trajectories, and assess where you want to go next, and make a plan for how you want to get there.
Before we dive into the data, we take a look at the status of pay transparency in the UK as well as the current L&D professional development landscape which highlights the contributing factors that help build context around our survey findings.
For decades, a sense of secrecy has existed around salaries. Perhaps this is why, for many of us, compensation remains one of the more uncomfortable and awkward topics of conversation at work.  In addition, the lack of salary transparency has made it difficult to negotiate salaries, and has created the opportunity for bias to affect decisions around salaries.
There are, however, signs that this may soon change. The UK government has launched a pay transparency pilot scheme that aims to help break down barriers and ensure all employees are paid fairly.
There's no doubt that this will be a welcomed initiative, no less amongst the learning and development community. Our recent Great Resignation survey showed that, alongside unfulfillment and burnout, pay was one of the key reasons for employees' quitting their jobs.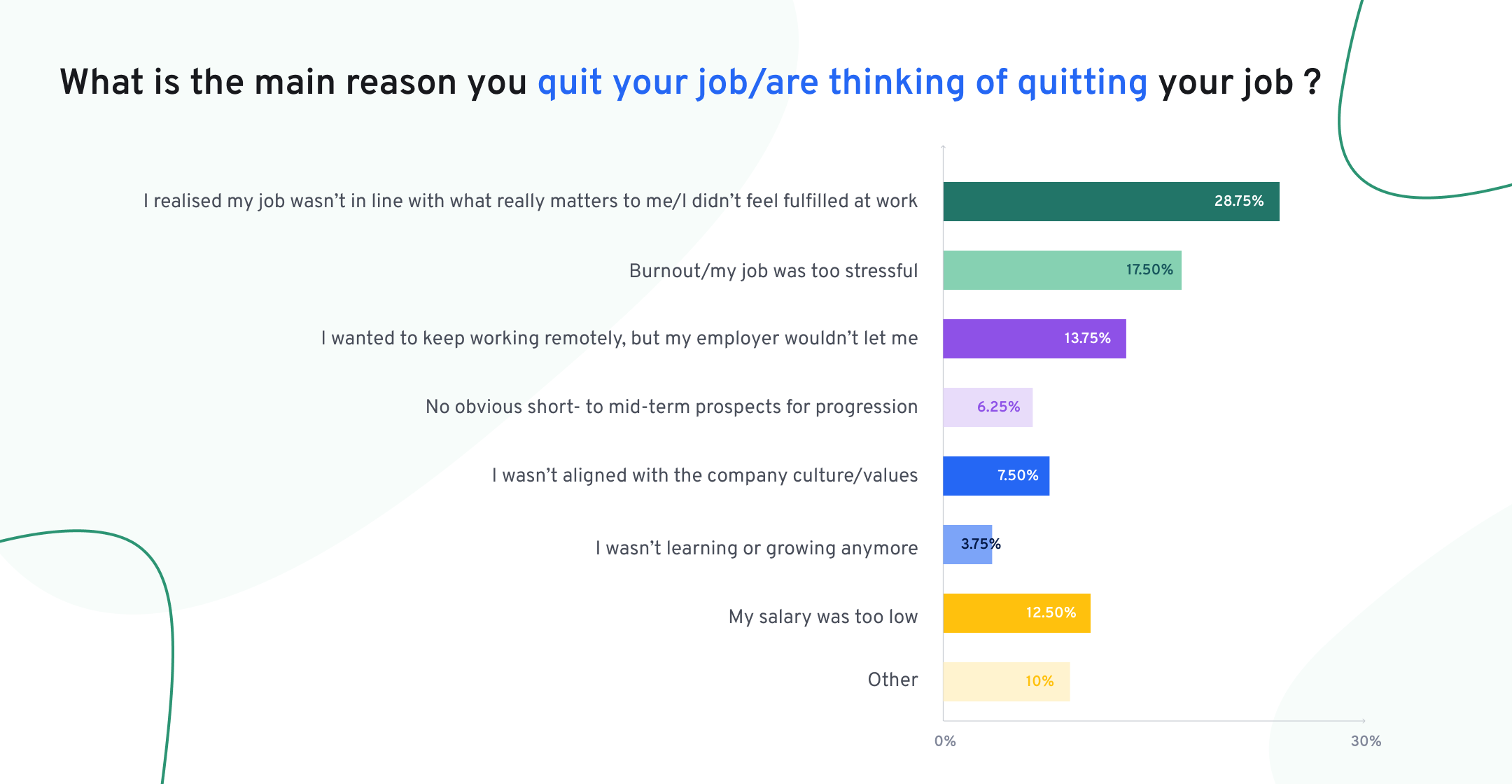 But we also found that over half of the 1,010 L&D professionals we polled weren't comfortable asking for a pay rise. This suggests that employees are willing to quit rather than ask for a pay rise, perhaps because they don't believe their employer will honour their request. This is a serious threat to talent retention that employers everywhere need to address.
So, why are L&D professionals so reluctant to ask for a pay rise? In most cases, employees who can highlight their performance and achievements with data-based evidence are more likely to feel confident in approaching their manager to propose a salary increase. 
But historically many L&D departments have acted as a support function for the rest of the business. Coupled with the challenges of making the move to digital, L&D teams have struggled to align their goals with organizational priorities and prove their impact on overall business performance with data. 
The result is that the L&D leaders find it difficult to get executive buy-in and the budget and resources they need to execute their initiatives and grow their teams. And when resources and budget are tight, team members automatically assume that a pay rise is unlikely to be on the cards. When this happens, employees might feel like they've hit a wall professionally; even worse, they might leave the industry entirely.
This is why salary transparency and highlighting professional development trends in the learning space are so critical in elevating the L&D industry as a whole. It's ironic that the sole purpose of the L&D function is to help employees grow, yet the current reality suggests that L&D professionals aren't presented with growth opportunities themselves.
That's why we surveyed 1,010 L&D professionals working in the UK to understand current L&D salary trends and provide support and resources to drive growth opportunities for L&D teams. We've crunched the numbers to understand average salaries, satisfaction thresholds, career progression challenges and much more.
It's ironic that the sole purpose of the L&D function is to help employees grow, yet the current reality suggests that L&D professionals aren't presented with growth opportunities themselves.
Our total sample size was 1,010 respondents who have training & development as areas of responsibility in companies with more than 250 employees in the UK. The fieldwork was undertaken between the 4th to the 14th of February 2022.
We did not ask people surveyed to tell us their exact salary, but instead asked them to choose a relevant salary range. Some respondents chose not to share their salary range, therefore some statistics do not add up to 100%. We used an unweighted data approach and calculated the mean (average) salary by assigning a middle value to each range. All results are based on a sample and are therefore subject to statistical errors normally associated with sample-based information. 
Ready to dive in? Check out the first chapter of this guide, which highlights salary trends.