4. Choose the right Collaborative Learning platform
To create an effective Collaborative Learning environment, your most important tool is the right Collaborative Learning platform. Collaborative Learning platforms like 360Learning allow companies to easily and inexpensively create courses targeted to their employees' needs.

Collaborative Learning platforms offer several key advantages over traditional Learning Management Platforms and Learning Experience Platforms. For one, they make it faster, easier, and cheaper to create courses, since courses are created by employees as needs arise.

L&D departments no longer need to spend time building and sourcing learning content—tasks that take up 29% of an L&D team's time. Instead, they become learning facilitators and have more time to meet with key stakeholders, facilitate the flow of learning content, and strategize.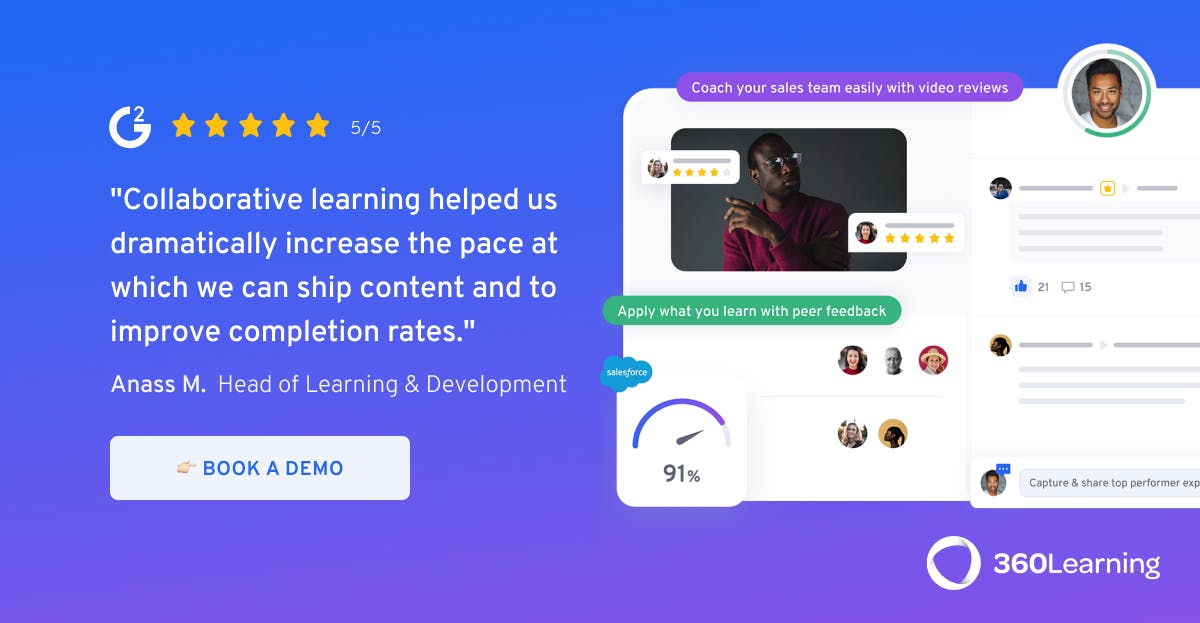 Because courses on a Collaborative Learning platform are created internally, they are specific to your company's needs and targeted to your team, meaning no more generic, one-size-fits-all lessons. Any skills gaps in the company can be addressed immediately, and outdated courses can quickly be flagged and corrected. This helps your company stay competitive and responsive to rapid market changes.

Finally, using a Collaborative Learning platform puts the focus on ROI. Traditionally, the success of a company's learning initiative is measured by course completions or minutes of learning per month. This gives a good idea of how much coursework is being completed, but it doesn't tell us how the learning is actually benefiting the company. Collaborative Learning platforms are tailored to your company's own needs and skills gaps. As team members progress, you can measure improvements in their outcomes and gauge the overall student success for each learning initiative.