As Andrew describes, he starts by getting inputs from partnerships and industry peers.
"Sure, the talent pipeline is under our custodianship within the L&D world," he says. "But it's also a collaborative effort. It's crucial to get inputs from existing leaders and board directors, including partnering with HR business partners or managers out in the field, as well as other organizational development and talent management peers."
"It's not just us facing it alone. We may be the ones driving it, but we've got to get all of those inputs from all over the place."
Andrew starts this leadership development pipeline by looking at the overall culture of the organization. This includes its guiding principles, philosophy, or vision statement–everything that can help employees understand the culture.
"We look at the culture first," he says. "Then we look at the competencies or the skills and abilities we require from leaders in their roles, and we make sure they are aligned. If there is a disconnect between our culture and the expectations we have for our leaders, we're not building the right pipeline of future leaders."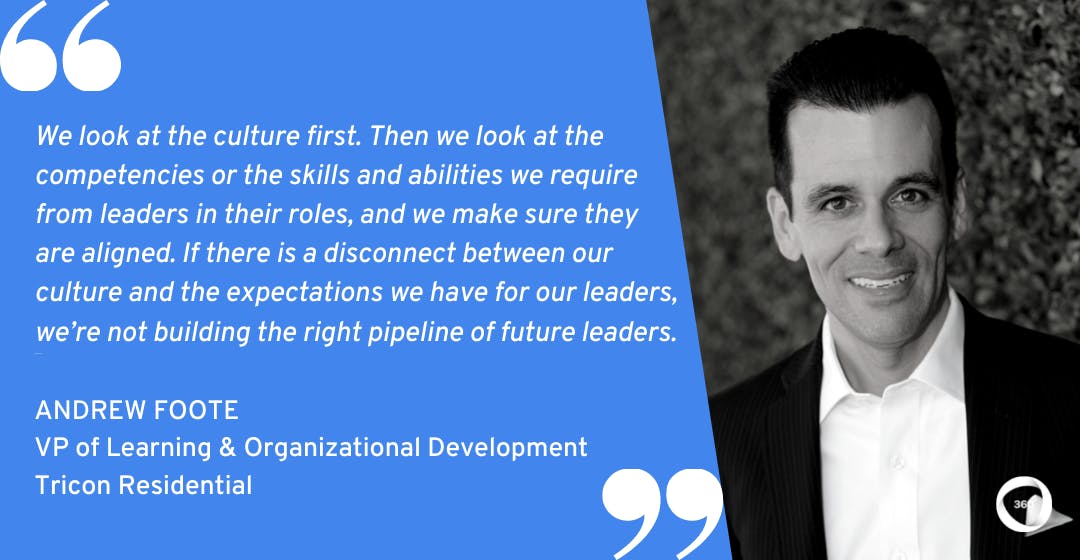 "That's the most important step to start to move in the right direction."
Next, Andrew explains that developing internal talent requires the right focus on metrics such as performance ratings, talent assessments, or looking across the succession charts.
"What we're looking for," says Andrew, "is not just someone's overall current performance in a leadership role, but their potential for future performance."
"With the leadership pipeline, we really should be looking several years ahead to identify who we could potentially support to step into those future leadership roles. What do they need to support their growth and development into that leadership position?"
Related: Diversity and Innovation: Stanford Medicine's 3-Step Leadership Development Program
Finally, Andrew explains that his approach acquires a level of detail that allows for a bespoke development framework tailored to each individual leader.
"It's not a one-size-fits-all deal," he says. "Even though we're trying to grow them in a very similar direction, we don't assume that they are all at the same level."
"I borrowed some inspiration from the Center for Creative Leadership. They have a model called ACS which is Assess, Challenge, and Support. Setting that as the framework for very bespoke leadership development has been very impactful and effective."
Phase 1: Assess. Help the leaders understand where they currently sit in their ability to lead using an assessment tool like a 360 tool or a Hogan's assessment to look at their leadership potential.
"Those really help our learners," says Andrew, "as future leaders, to understand themselves. It's amazing how many leaders at that level have never gone through any type of formal assessment. So you see a lot of aha moments."
Phase 2: Challenge. Instead of a debrief, match the leader with a coach who will engage and work with them long-term on their assessment. 
"The coach is going through the challenge phase of helping the leader to understand the outputs from their assessment and then identify targeted areas where they can grow."
Phase 3: Support. Leaders who have gone through Phases one and two can then get involved as coaches to support those coming up through the program, help them identify blind spots, and ramp up their leadership skills. 
"It's a really simple model to lay out," says Andrew, "and is very simple to explain to the leaders when you're trying to get them involved in that leadership development."
Tricon residential's three-phased talent pipeline program highlights many of the advantages of collaborative learning. By connecting aspiring leaders with coaches who support and accompany them along their leadership journey, the company can ramp up the skills of existing staff and create a collaborative, consistent organizational culture.
That's Tricon Residential's three-phased strategy for developing a leadership pipeline. But how does Andrew know that his approach is addressing the initial challenge of fostering and developing leadership?
Related: A Practical Guide to Employee Coaching for L&D Teams