For Opendoor, leadership development is key to sustaining the company's rapid growth. "We're working on a few things focusing on leadership development," says Shaun. "This means meeting people where they're at. We need to take the time to personalize and recognize that not everybody is on the same level footing in their different roles."
So, how exactly are Shaun and his team providing this leadership development support?
"One big area we're trying to push and leverage is around a mentoring program," says Shaun. "The reason being that our L&D group is a small but mighty team, and we can only do so much. That's why we're trying to take the experience we have within the business overall and see if we can connect people at the different stages of their growth journeys."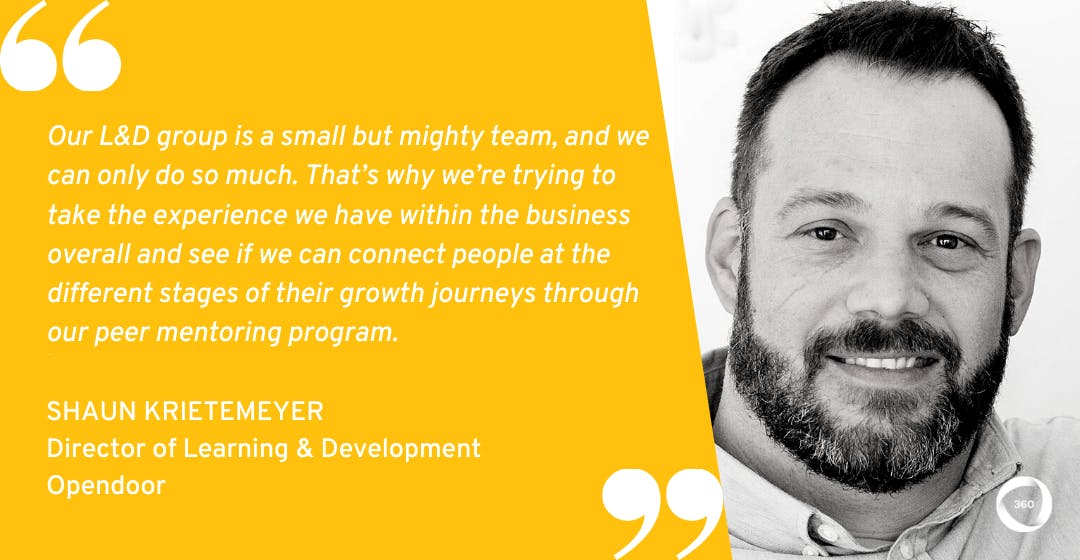 As Shaun explains, he and his team focus on three key steps during this process.
"Right now we're in the early stages of the peer mentoring approach. We're identifying pilot groups, resources, and vendors who can help us out through the process. What we're working on is to identify the right immediate learning needs."
"We want to match our learners with people who are moving in the same direction, or who have some experiences they can offer to help others move through that journey a little bit easier. It's something I've seen work really well in the past, and we've been testing it out in small groups."
Next up, it's key to recognize that every mentoring relationship is different. "It's really important to remember that not all mentoring and coaching is created equal, because people bring different skill sets to the table."
"You want to make sure you match up mentors with a mentee that's looking for support with a particular interest, or looking to grow in a certain area. That's the key step, and it's something a couple of vendors are helping us with."