With Too Good To Go expanding so quickly, Alessia knew she needed to offer tailored support for strategic roles, such as key account managers. That's why she's piloting a new growth path for key account managers using a three-step approach based in Collaborative Learning.
The first step? Get the right stakeholders on board.
"One big part of addressing these challenges is about making the time and energy to constantly align with different stakeholders and seek their input," says Alessia. 
"This is a project led by People & Culture, but a lot of our input comes from elsewhere in the business. We're moving away from the idea of just creating beautiful content, and looking for ways to make everything more relevant and useful for people in their particular roles."
"We're also looking for new ways to leverage peer learning and internal expertise, because this is one of the key foundations for our growth path." 
"We start by profiling our participants and creating smaller learning sub-groups where people can mentor each other and benefit from cross-country exchange–especially from our more mature markets. We want our key account managers to learn what their colleagues are doing, share their best practices, and really leverage their internal skills and talents."
As Alessia explains, this approach offers some big advantages over other forms of learning. "Traditional learning is a lot more static and more passive, which makes it harder to leverage internal skills. The idea is to create small learning communities and focus them around completing tasks and solving challenges together."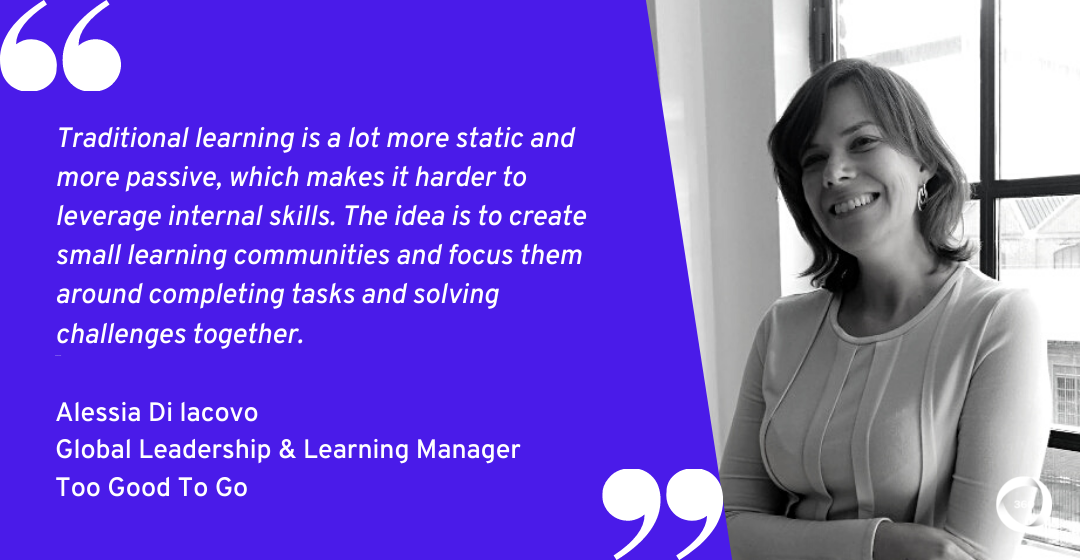 "We want these communities to focus as closely as possible on the actual challenges people will face within the business, and keep the connection between what happens within these learning moments, and what they need in real life. We want to bridge that gap as much as possible."
As helpful as this internal expertise is, says Alessia, it's important to mix in some external training too.
"We're using a mixture of external training, because I like the idea of bringing in fresh perspectives to match the areas where we may not be quite as developed," she says. "At the same time, there's a wealth of talent and resources, and we just need the right support to bring that to the surface and share it in a scalable way." 
Right now this pilot growth path focuses just on key account managers, but the long-term goal is to go further. "We're working with approximately 100 key account managers, but if this first pilot works, there are many other roles within the company we could extend it to." 
"We have a lot of other growth paths, including within our sales team, our customer success team, and marketing. There's a lot of potential for us to expand on this pilot." 
Related: What is Collaborative Learning Theory and Why Do You Need It?