Our 2022 Report on the State of Learning in the Flow of Work
Chapter 3: Most French Learners Aren't Getting the Relevant Training They Need
Learners today have competing demands and busy schedules. This means that unless learners are presented with resources that can solve an immediate problem, it's unlikely that they'll browse the content in your LMS at leisure–and French learners are no exception. 
Adding to this roadblock is another worrying factor: French employees reported that the training offered to them isn't relevant to their job. 29% of French survey respondents cited this as the top cause of what's stopping them from learning at work, and 28% said training isn't offered in a way that fits in their workflow.
These findings make it clear that French L&D leaders should make learning in the flow of work a priority as learners express the need to be able to fit learning into their day-to-day life. But, is this happening in reality? 
The data in this chapter represents responses from 482 French employees (learners) and 251 French L&D decision-makers.
Our survey results reveal that 27% of respondents say implementing learning in the flow of work is a high priority this year, while 46% say it's a medium priority.
A significant number of respondents (16%) say it is less of a priority this year. This may be due to the fact that the majority of French L&D leaders (59%) polled, say they are either very effective or somewhat effective at providing training programs at the point of need, meaning they're moving on to prioritizing other learning initiatives.
While many L&D leaders said they were effective at providing training at the point of need, there is still an opportunity to better understand when to provide learners with training by leveraging technology. For example, 43% of L&D leader respondents say their learning management systems (LMSs) don't integrate with business tools which makes it harder to meet learners where they are.
French L&D leaders also cited limited technology and integration capabilities as one of the key challenges L&D leaders face in their efforts to facilitate learning in the flow of work. However, the majority of respondents (44%) also cited limited resources and budget, and limited support from leadership teams in how they structure training programs (24%).
Interestingly, there appears to be significant disparities between the training French learners have received at their current organization and what types of training they actually deem effective in how they learn to do their job.
Nearly two-thirds of respondents say they have received online training (such as eLearning, virtual workshops or massive open online courses [MOOCs])–but only 35% say this was effective. 
Nearly two-thirds of respondents say they have received online training (such as eLearning, virtual workshops or massive open online courses [MOOCs])–but only 35% say this was effective. 
Instead, the most effective types of training our respondents cited were "formal/accredited qualifications", "instructor-led training delivered on-the-job", and "coaching or mentoring". Yet, only 28%, 37%, and 44% of respondents, respectively, have received these types of training.
These findings suggest that French learners may not be looking for their L&D teams to deliver this training themselves, but they are looking for training that is more relevant and tailored than what they're getting right now.
We wanted to dig beyond questions of training effectiveness to find out how French employees really feel about learning at work.
Over half of respondents say they take advantage of every learning opportunity offered to them, but 34% of respondents say they only partake in learning that is strictly relevant to their job. This aligns with the overwhelming response when asked "what are the strongest drivers to pursuing learning opportunities at work" in which 70% said "to help me do my job better."
This implies that for French employees to be engaged in training, it must be relevant to their job role. This is music to the ears of L&D leaders who want to leverage learning in the flow of work as a delivery method to help support and guide employees when they face unfamiliar situations and need to learn lots of new information.
So, how are French L&D teams supporting employees through transition periods such as becoming a manager, transitioning to a new role, or learning a new system, software or process?
While 24% of respondents say new manager development is continuous, 20% say manager training is provided when there is availability on a management course, and 22% receive training in the weeks after a manager takes on their new role. Just 8% of respondents say their manager training happens in the weeks leading up to the person taking on their new role and 5% say manager training occurs in batches twice yearly.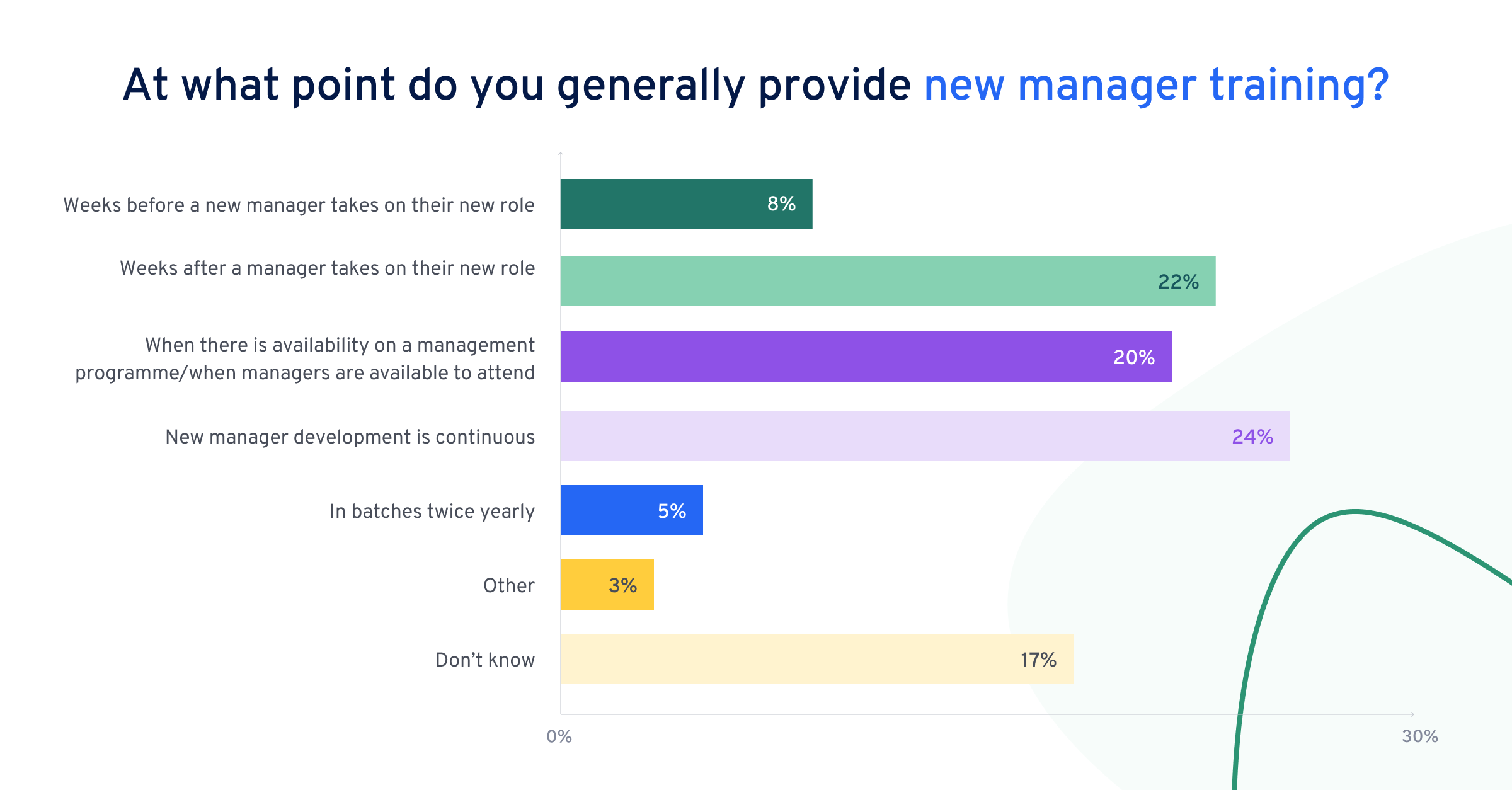 These findings show that the timing of manager training may be an issue. If a manager receives training in the weeks after they take on the role or worse when there is availability on a course, they are likely to already have faced challenges with no answers on how to deal with situations.
This aligns with what managers said about their training. While 50% of managers said their formal training was somewhat easy to apply, 42% said it was too generic and not specific enough to the situations they faced in their role as a manager. 
This indicates that there is a need for L&D teams to understand the individual's context and challenges and for learners to access the training before problems arise.
Interestingly, 21% said their L&D team is not resourced to provide department-specific change initiatives, and 26% said they may be invited to help.
This suggests that French L&D teams still have limited involvement in supporting employees with resources that are directly linked to the daily work they do. This is a glaring gap, and suggests there's more French L&D teams can do to offer tailored training support for people.
Our survey results suggest that French L&D teams are already doing a lot to support learners. However,  French L&D leaders have the opportunity to more closely help employees overcome their challenges to thrive in unfamiliar environments and situations. Here, we provide three ways to further facilitate learning in the flow of work. 
Build integrations: Leveraging technology and tools that integrate with your learning management system (LMS) to better understand and recommend resources in the flow of work is well worth pursuing.

Identify continuous learning needs: We found that only 17 % of respondents have a process of collecting learning needs in their LMS, instead waiting for performance reviews to come round to understand what employees need support with. Gathering learning needs should happen continuously in real-time, so investing in a learning needs tool is well worth it.

Receive leadership support: Our findings show that for French L&D leaders, getting leadership to buy in to learning in the flow of work initiatives is one of the key obstacles they face. As a result, proving that this delivery method works should be your key objective.
For more practical recommendations on getting learning in the flow of work right, check out our six-step playbook. You'll learn:
What mistakes to avoid
Why uncovering evergreen problems and critical points of failure using data is the first thing you should do
How to understand your learners better
How to leverage subject-matter experts to facilitate learning in the flow of work
What types of resources work best for flow of work