According to Sara, while creating leader-first sales enablement might seem daunting, it all comes down to three key steps. "When I think about leaders-first enablement I really think of three things: training, communication, and resources."
"The first thing we did at Templafy was partner with a third-party company to train all of our sales managers on our coaching framework," says Sara. "This meant all of our managers were certified sales coaches." 
"That gives us a common language across the team on coaching, and it helps us build a culture of coaching, so that our sales team understands they're being coached, and they know what to expect from the experience. It also means that our managers are able to be effective."
"With sales enablement, we also make sure we communicate with our managers first," says Sara. "This means everything goes to them for input before it goes to their team. This way, they're able to orientate themselves around it and get behind it a lot faster. This ensures we have buy-in, and we're giving clear direction to people."
"A really good example of that is, Templafy recently rolled out a new positioning and value proposition. The team needed to be able to master the value proposition, and to develop their own 30-second pitch on who we are and why we matter. But first, we rolled this out to sales managers to get their input and make sure we were all on the same page." 
To stick with the example of Templafy's new value proposition, Sara knew she needed to follow up with the right resources for sales managers to play a key role in sales enablement.
"We trained our managers first," she says. "Then, we gave them activities and resources to run small group sessions with their teams while providing support and meeting specific needs."
"When we build enablement programs, we also build a coaching resource, so that our managers know what results they should be looking for, the effort it's going to take to reach those results, and the knowledge and skills our reps need."
By including these coaching resources, Templafy helps to ensure their sales enablement is as consistent as possible. "We really clarified for them the result we were looking for: everyone should be able to deliver this 30-second pitch, here's the effort required, here are the knowledge and skills they need, and here are the resources to make this happen."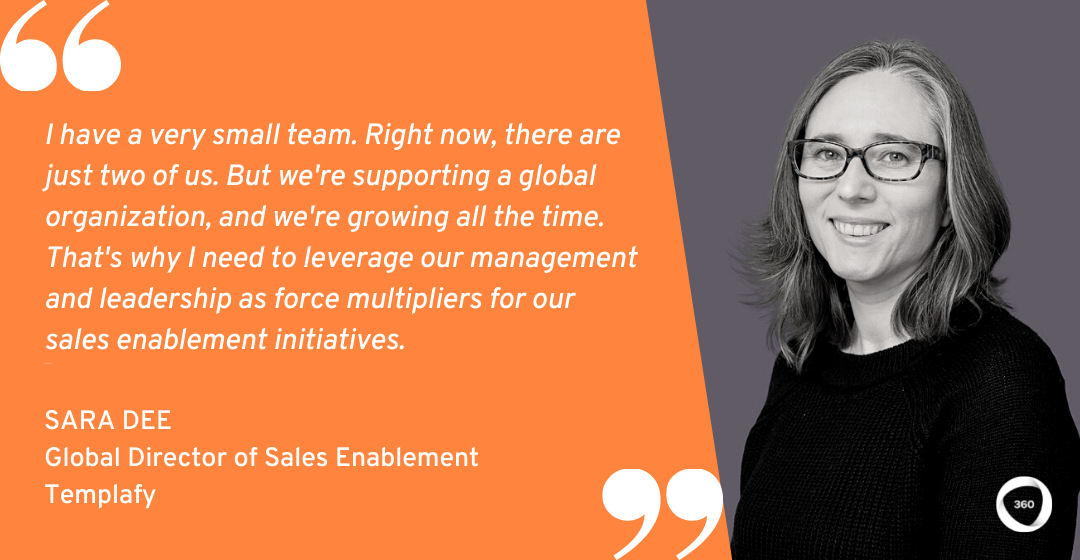 This 3-step approach helps Sara and her team make the most of limited sales enablement resources within Templafy. It also helps them avoid some of the classic pitfalls of delivering enablement via large-scale synchronous meetings. 
"With these three steps, we were able to support our managers to roll out this training to their teams. Because with an initiative like this, a large 100+ person meeting isn't going to do it."
So, how is Sara measuring and evaluating the wider impact of Templafy's strategy?
Related: 3 Essential Tips to Create Engaging Training for Your Sales Teams