For Areebah and her team, building a new competency diagnostic tool has been a great way to empower learners to take charge of their own goals.
"Our vision is for people to be able to assess their own competency gaps and drive their own performance in closing those gaps. That's our North Star. We want people to be internally motivated, and to have the right resources at their fingertips, whether we're talking about online events, live events, coaching, or any other part of the learning experience."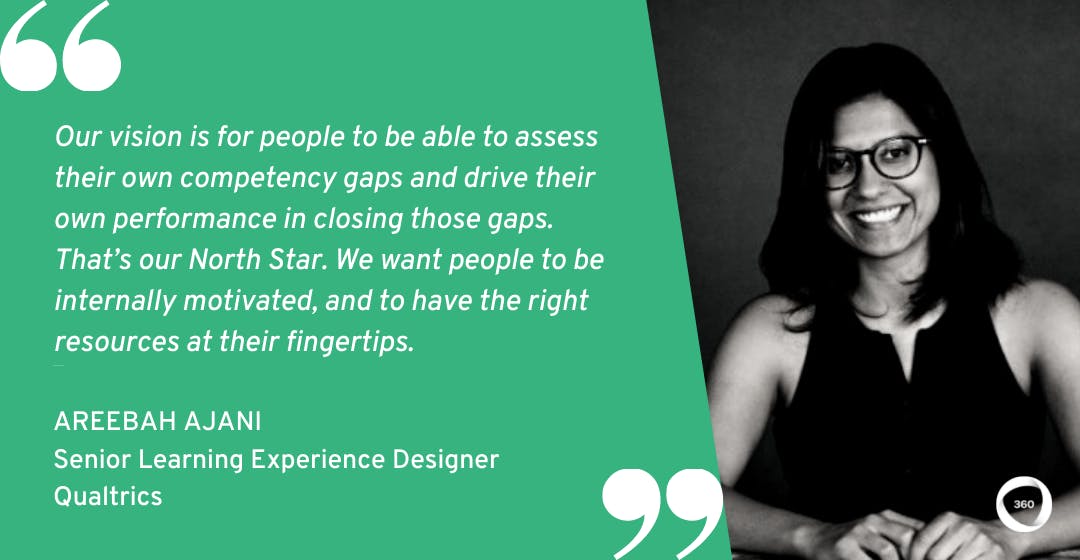 So, how is this going for Qualtrics so far? "We're making progress," says Areebah. "We started off with workshops on our sales rep competencies based on what our high-performers do, and we developed a simplified model of these competencies to get to the essential skills. That model for reps then powers a competency diagnostic that goes out twice a year." 
"With this diagnostic, reps assess their own skills, as well as having managers and other go-to-market peers assess their skills too. That gives people the data to identify gaps at an organizational level, at a team level, and then to shape recommendations for individual improvements."
As Areebah says, this diagnostic tool helps Qualtrics to make better performance development decisions at three different levels.
"With the data from our diagnostic, you can make decisions on how to alter your action plan at an organizational level. It's really great, because we don't have to apply a one-size-fits-all competency model, though we can still identify global trends and larger priorities, such as a gap in resources to support certain competencies." 
"At the team level, managers can see from the open-text responses and the results of the competency diagnostic that they may need to focus their coaching on identifying buyers, for example, or on navigating the internal ecosystem. It helps them know what to focus on."
"A third use of this model is, we can tag all of our learning content and sort it according to the new competencies. That will help get us to the point where we can predict or prescribe the learning paths based on how individuals are doing. It's an ongoing project."
This competency diagnostic tool is a great example of Collaborative Learning and the shifting role of L&D teams. Instead of simply setting development priorities from the top down, L&D teams are providing the right tools for people to measure their capabilities and take learning into their own hands.
Related: How Gong Built a Performance Management Approach to Attract, Motivate, and Reward Ambitious People