As Ryan explains, he developed Gong's three-step solution to make performance management clearer, more impactful, and more authentic. 
"We focused on one key question: how do we take what feels like a very formal and intimidating process and make it a little bit more authentic? We took some inspiration from Adobe–they have an open-source website for their check-in process, which is much more conversational."
"In my first few months, I wanted to understand how people viewed performance management. I interviewed about 60 people in my first 60 days, and I kept asking the same questions: what do they hope to get out of performance management, and what is important to them?"
So, what did these interviews teach Ryan? "People want a conversation. They want to get to what matters, and they don't want the process to sound like something it isn't. Some companies try to make something sound really fun and cool, but ultimately it's still the same old process."
"We decided to simplify things," says Ryan. "We're still iterating, but there are three steps to our new process: manager review, employee self-reflection, and honest conversations."
"First, we asked managers to complete reviews of their teams," says Ryan. "What they would do is, managers would sit down and think about how their employees had been performing over the past three months."
"We gave managers a set of questions to consider here, including: what went well in the past three months? What could have gone better? We also had a couple of questions around employee performance against company operating principles."
"Our second step is around employee self-reflection," says Ryan. "This is a written process, and it focuses on three or four questions, asking for a couple of paragraphs for each question. Our reports and feedback suggest it takes about an hour for each employee to complete."
"The key thing here is, we used double-blind scenarios, meaning managers weren't reading their employees' self-reviews, and employees didn't see their managers' assessment. We wanted people to focus on their own perspectives on how they're performing, before they actually come together to read each other's assessments."
"To finish up, we brought our managers and employees together for an honest performance conversation," says Ryan. "This third step was the key. We wanted people to discuss any gaps that might exist between the two sets of responses."
"The sets of questions are similar: how do you think you're doing, where do you think you could improve, and where do you see yourself growing? They're meant to instigate really valuable conversations." 
"For example, if I wrote something overly critical in my self-reflection, my manager might see it and let me know I'm actually doing quite well. Similarly, if you think you're really crushing it, that's a chance your manager might draw your attention to some areas you need to focus on."
According to Ryan, these questions are all designed to achieve one thing: opening up a dialogue. "We've seen people using these conversations to plan for the future. So, if you say you want to grow in a certain area, you can talk to your manager about how you want to do that. It helps people to be really clear."
"For example, I'm working with my manager on my project management skills, and I've got room to improve in that area. A lot of us feel like we have to hide the things we're not good at so that no one can see them. But when you cover them up, it builds anxiety. What our feedback shows is, by having honest discussions, people don't have to be scared of what they're not so great at. Instead, it's something you can have a dialogue about and find solutions together."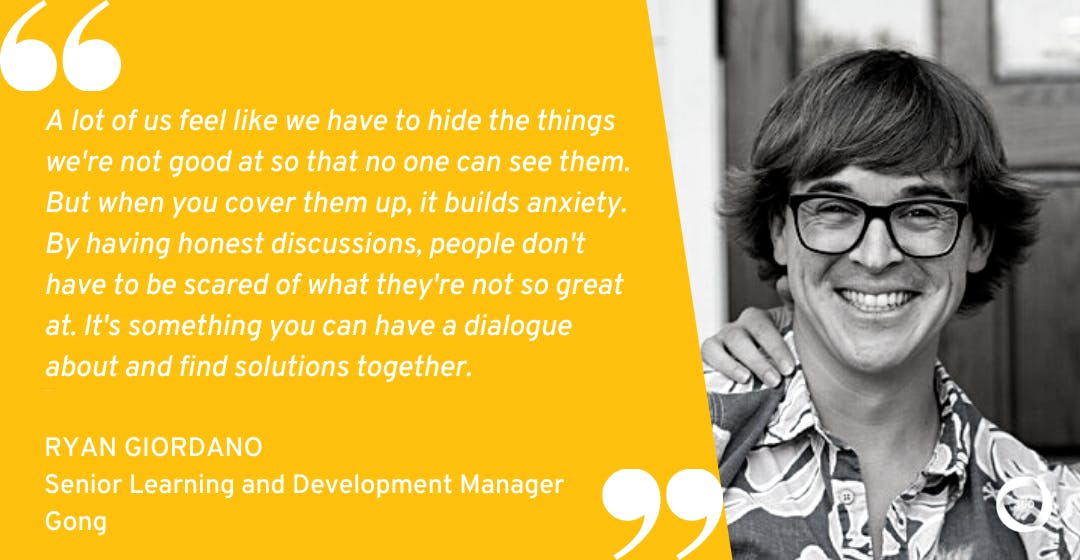 To finish up, Ryan told me about the positive impact this approach has made at Gong so far.