"At Johnson Controls," says Maitri, "learning and development plays a very critical role in enabling our organization. We're very closely connected with our business leaders and the people driving our growth, which helps us understand exactly where we're going."
But how are Maitri and her team driving Johnson Controls's digital transformation? As she explains, it's all about drawing from your greatest resource: peer expertise.
Related: How Our Company Maintains its Competitive Edge through Peer Learning
Maitri says that firstly, she and her team need to build a basic level of comfort with digitization amongst their sales reps.
"One of my colleagues, Susan Clark, designed an adaptive learning survey for all of Johnson Controls' global sales reps," she says. "There were basic foundational questions on 17 digital topics. At the end of the survey, we were able to identify where each sales rep was on the knowledge curve for each topic."
Next up, she worked with business partners and HR leaders to determine where each sales rep needed to be. "We were able to look at our consultative sellers and relationships sellers and identify by topic where a sales rep should be."
Finally, Maitri's team provided personalized digital learning upskilling pathways. "Each sales rep would go on their SharePoint page and look at the topic of the month, see where you stand, and understand which way they need to go. Then, depending on that, they would get their personalized digital learning upscaling pathway."
This gives a foundation for all sales reps to build their comfort with the digital terminology. Next up, Maitri and her team can focus on peer learning.
Maitri and her team have designed two programs based on peer-to-peer learning: Digital Jump-Start One and Digital Jump-Start Two.
"Essentially," Maitri explains, "both those programs targeted sales reps who were in those critical market areas where we had a lot of opportunity. They're both global. The first is a five week program and the second is a six week program."
"We had our 'Digital from the Street' program where people from different parts of the world talked about some key questions: what was their main business challenge? How did this serve the customer? What was the benefit from a digital sales opportunity, and what did they learn? The peer-to-peer learning gave our sales reps the ability to see what was possible immediately."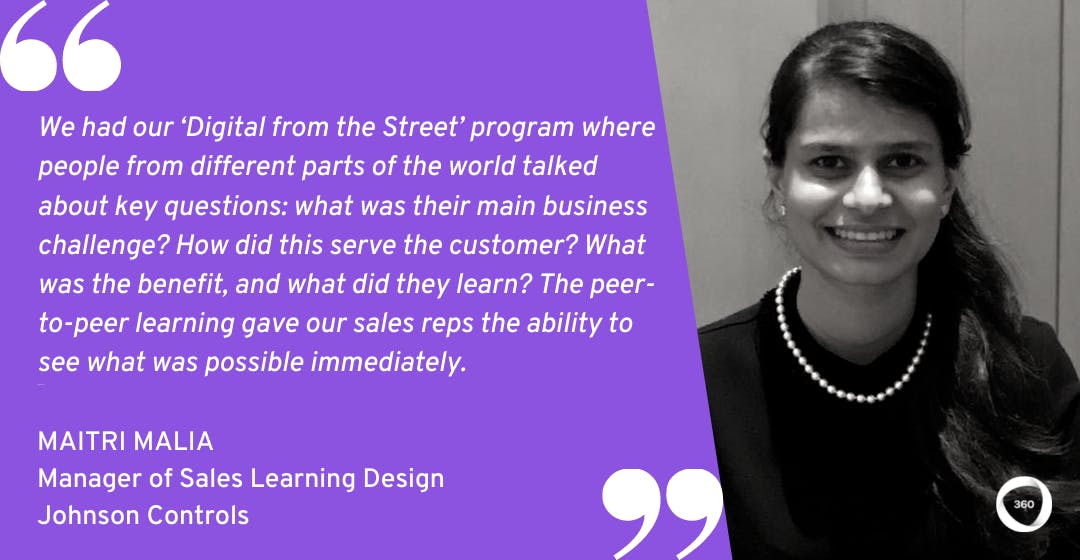 Maitri added that they also had global leaders speak about where Johnson Controls's people are going, the company's roadmap, and how they had invested in a consultative selling strategy.
"We also had some partner programs on how we can expand into places where Johnson Controls hasn't traditionally been. We also offered people the opportunity to connect with their peers. After a week's session, they could go back and talk in a small group of three or four about what they're understanding and that really makes it personal."
"Moving forward," says Maitri, "we're also developing a program called our 'Digital Roadmap' which offers training on each of our products. It's going to be a series of pathways that will become a journey on our learning experience platform."
As she says, this training will be self-directed. "Now, any sales rep can take it at their own time. They don't need to attend an eight week program that's happening on a webinar base because it's on the learning experience platform. It's intuitive, it's easy, it's bite-sized, and we can have social comments and questions so people can learn from each other."
Johnson Controls' three-step peer learning strategy demonstrates many of the advantages of Collaborative Learning in practice. By bringing their sales reps together from around the world, Johnson Controls is encouraging employees to share their knowledge and expertise through group learning–capitalizing on their skills, experience, and product knowledge. 
Related: Self-Directed Learning is Here to Stay, and It's Up to L&D to Make it Work