A growing player in the technology software sector, Aircall is a cloud-based telephony VoIP system that empowers conversations between business professionals. And according to Missy, Aircall is scaling like crazy right now.
"We're in an environment that's accelerating super fast," she says. "There's a lot of growth headed our way, and we have a couple of challenges to overcome in 2022."
"Our learning and development team has just celebrated our one-year anniversary," she says. "I'm so honored and pleased to be a part of this team because we've really done some amazing things."
One of the biggest challenges for Missy and her team? Aircall's swift hiring pace. "We're hiring around 20 new Aircallees every two weeks, including incoming managers," Missy says. "We have a lot of expectations to make sure they're onboarded in an efficient, scalable, and fun way. We also need to stay with them throughout their adventure and ensure that they are able to grow."
As Missy explains, L&D teams are entering an era where people want to upskill from within and support their colleagues in their own learning journeys. "One of the most amazing benefits that we're able to utilize is 360Learning, which helps us to centralize our training resources, make that connection for collaborative learning, and create a strong community together."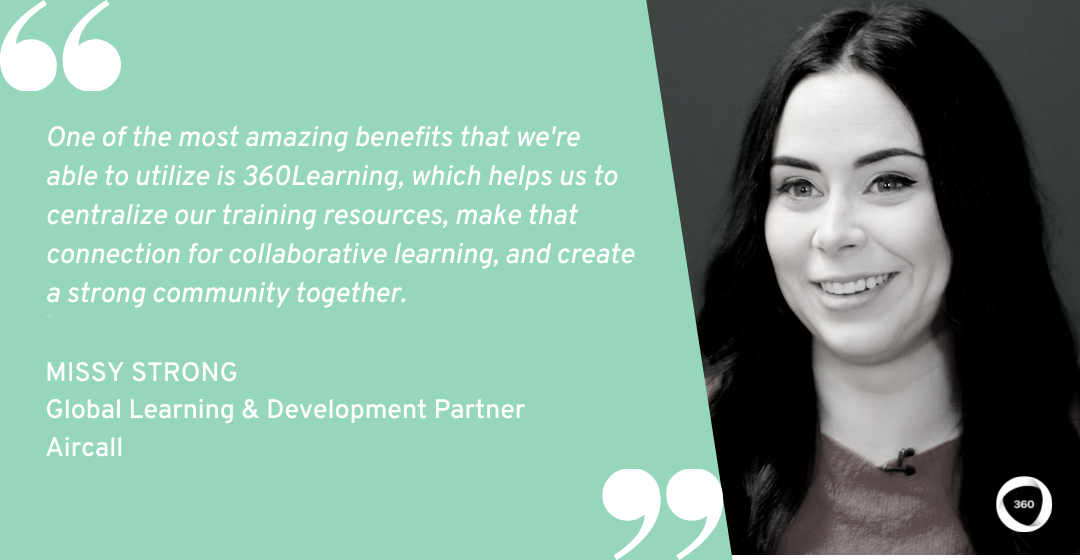 This makes it critical for the L&D team to have a single source of truth for new arrivals to get accurate information, so that people feel prepared for their adventure at Aircall. And because Aircall is welcoming so many new Aircallees, they also have a lot of people moving into management as their teams grow.
So, how are Missy and her team scaling their manager training program to help fuel this growth?
Need a few more expert insights? Find out how L&D leaders at Amazon, WhatsApp, Klaviyo and more are driving growth with the right L&D strategy.