The Great Resignation (US)
Employees Demand Flexibility, but We Haven't Quite Nailed Remote or Hybrid Work—Yet 
At 360Learning, we wanted to understand how this phase of the Great Resignation is affecting employees and L&Ds alike. We surveyed 1,058 Americans about their feelings, motivations, and concerns about their work—you can read the third article in this series below, or start from the beginning, here.
Of the 549 people we surveyed that hadn't recently quit their jobs and weren't thinking of quitting, most (56%) were working fully in person. 30% were working hybrid, and 14% fully remote. Below, we'll dig into how they feel about their work environment, and how L&D teams can help bridge gaps in satisfaction.
Generally, those working remotely or hybrid like it that way: 65% would not prefer to be fully back to in-person work. In addition, for 14% of our respondents who quit or want to quit their jobs, it was because their employer wouldn't let them work remotely. Of those, most (60%) wanted to work remotely due to safety reasons concerning COVID-19.
65% would not prefer to be fully back to in-person work.
For those who prefer working remotely, they like the flexibility and work/life balance most, followed by the time they can spend with their family and their increased productivity at home. 81% of those working fully remotely or hybrid also thought their workplace training got better after they went remote. Respondents also reported feeling more engaged with their employer working remotely:
We also asked our respondents if it was difficult for them to juggle their work and family responsibilities; for those who were finding that challenging, 'more flexible working hours' was the thing they said would help most.
However, not every respondent was 100% satisfied with their remote working situation: over a third (35%) of those surveyed do miss in-person work; they feel communication is better in person (73%), and crucially, that they have access to more professional development opportunities (58%). Many also miss feeling part of a team (57%).
58% of those who miss in person work say it's because they have access to more professional development opportunities in the office.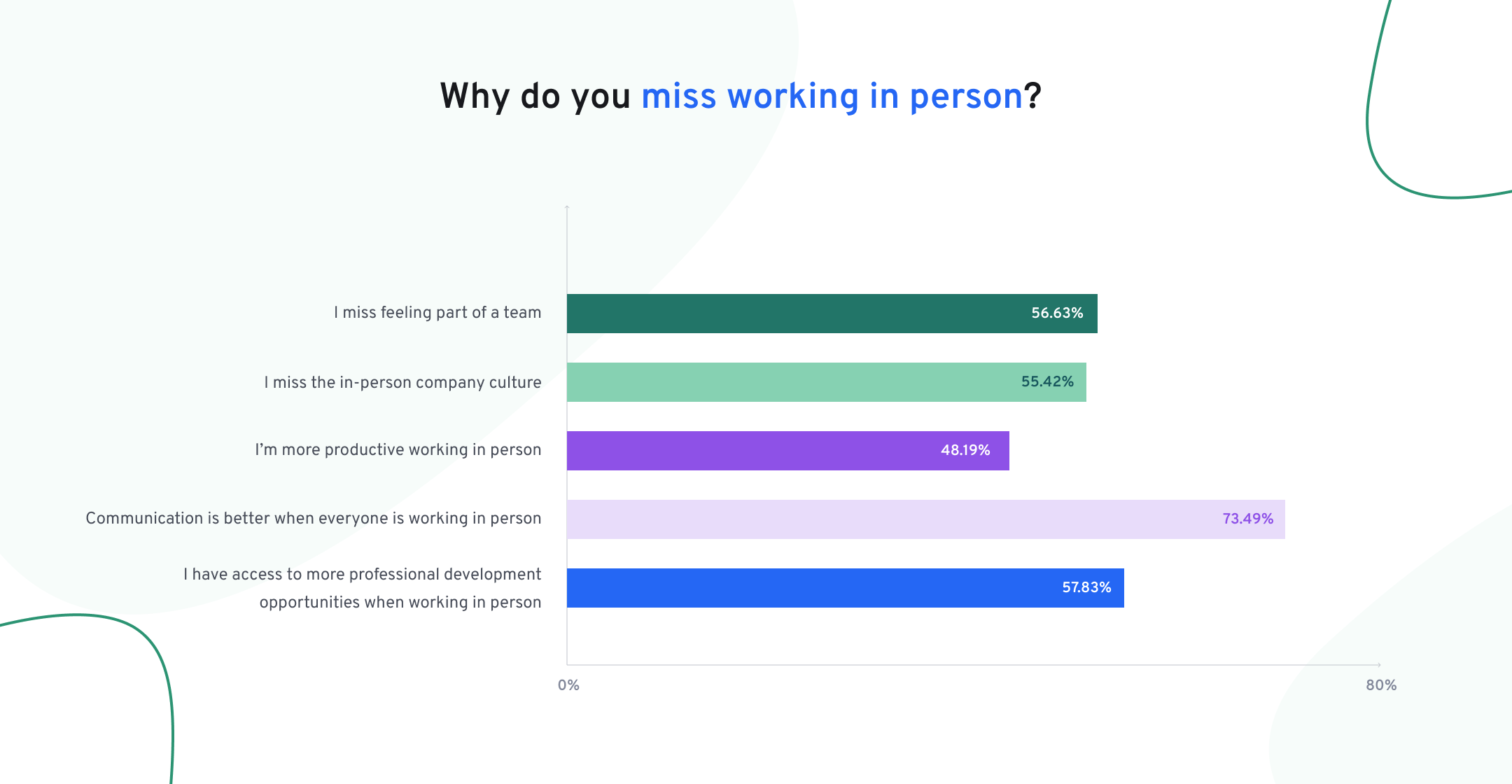 Whether it's due to safety concerns, desire for work/life balance, or to help with family responsibilities, flexible and remote working is a priority for most workers. But this setup doesn't come without its challenges. A sizeable portion of employees miss the social aspect of in-person work. Crucially, they also feel they're missing out on professional development opportunities by staying home.
L&D teams can address these issues by:
Embracing an L&D program that is both collaborative and remote-friendly, one in which social features like discussion forums and reactions are built into the learning platform to facilitate peer-to-peer exchanges and learning, to offset the isolation some employees may be feeling. You can learn about how the technology group Safran approached this challenge, here. 
Staying on top of any discrepancies between professional development opportunities for in-person vs remote or hybrid workers, and working with managers and leadership to address gaps in career paths, mentorship programs, or performance reviews.
Embracing an L&D program that includes a blended learning approach that can include both in-person and remote workers in synchronous and asynchronous ways, to make sure everyone feels included and on a level playing field. You can learn more about the 360Learning approach to blended learning, here.