The Great Resignation (US)
Burnout Is Still a Major Concern—and neither Managers nor Direct Reports Are Getting the Support They Need
At 360Learning, we want to understand how the current phase of the Great Resignation is affecting employees and L&Ds alike, and get to the root causes of employee quit rates. We surveyed 1,058 Americans about their feelings, motivations, and concerns regarding their jobs—you can read the second article in this series below, or start from the beginning, here.
In this article, we'll explore the link between employee dissatisfaction and burnout—and how L&D teams can keep employees engaged and healthy.
Of the 509 employees we surveyed who said they had recently quit or were thinking about quitting their jobs, "burnout / my job was too stressful" was tied in second place for the most important reason why they felt this way. (The other second-place reason was "I realized my job wasn't in line with what really matters to me / I didn't feel fulfilled at work". The first reason was low salary).
Burnout and job stress is still a significant source of employee resignations.
So, who's most at risk for burning out? Gender seems to play a role, since well over half (72%) of those who quit from burnout or stress—or would like to—were women. Whether someone was a manager or not didn't seem to have a great effect—the split between those who were managers and those who weren't was about fifty-fifty (48% vs 52%).
Well over half (72%) of those who quit from burnout or stress—or would like to—were women.
Of those that were managers, however, most agreed they didn't get optimal support: while just under half (48%) were happy with the amount of training they received, a full 30% said they didn't receive adequate manager training and support, and 23% said they 'somewhat' did. Tellingly, most (75%) of them agreed additional training and support could have helped them manage workplace stress better.
For all respondents who quit or want to quit because of burnout or stress, most rated the relationship they had with their manager as just 'ok' (35%), and a sad few (22%) rated it as either 'poor' or 'terrible'.
It wasn't all doom and gloom, however—44% of respondents indicated they had a 'good' (22%) or even 'great' (22%) relationship with their superior. This just goes to show that even a good relationship with one's manager isn't enough to stave off attrition rates if stress levels get out of hand.
Even a good relationship with one's manager isn't enough to stave off attrition rates if stress levels get out of hand.
Most of those who quit or want to quit because of stress or burnout also said they were only 'somewhat satisfied' with their last onboarding experience (37%). This is a lower satisfaction rate than for those quitting for other reasons—suggesting subpar onboarding might be a contributing factor to increased work-related stress. They were also more likely to say work became less important to them during the pandemic. 
For those suffering from burnout and who weren't happy with their onboarding, most (50%) said it was because training wasn't specific enough to their job function.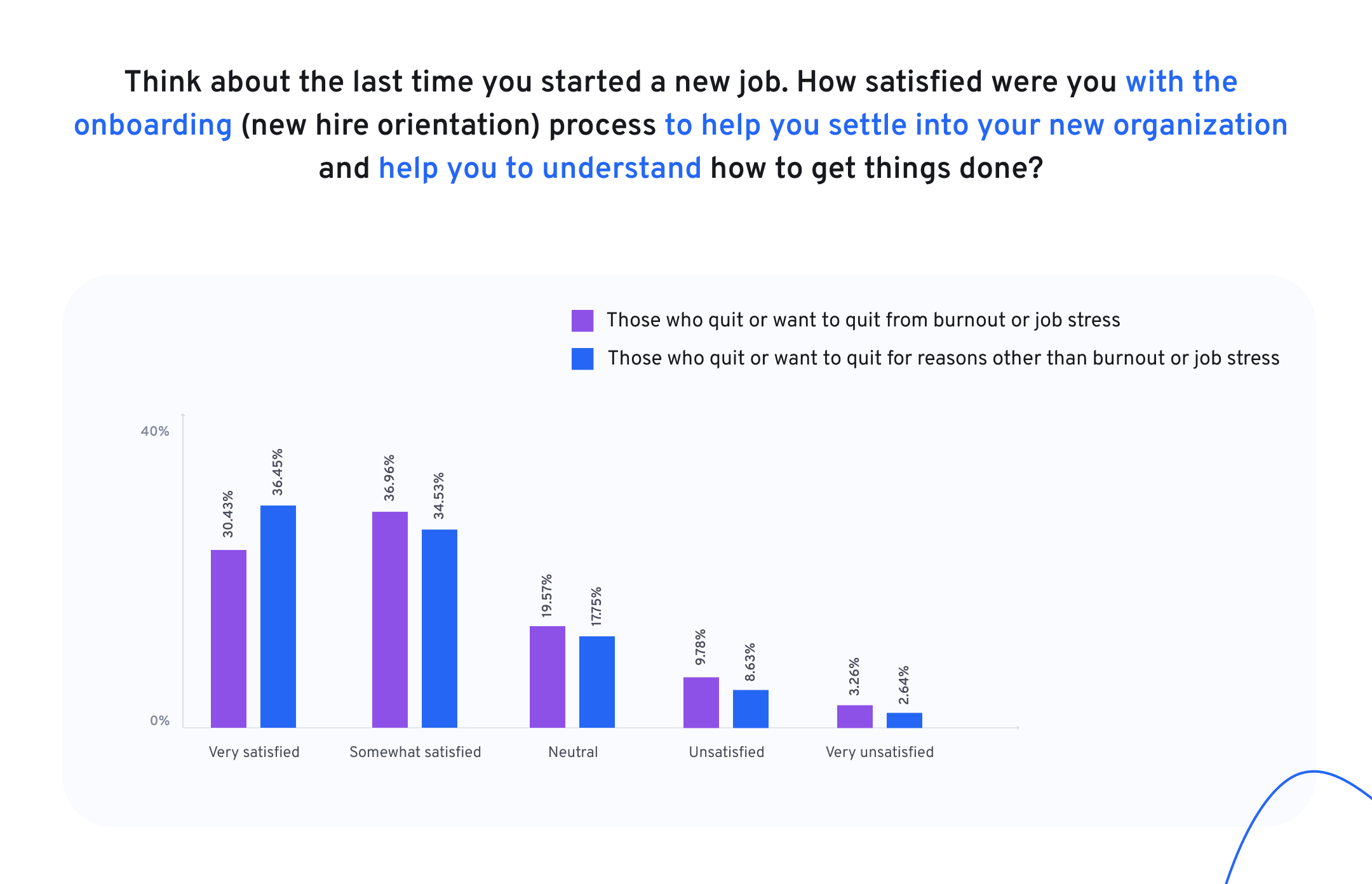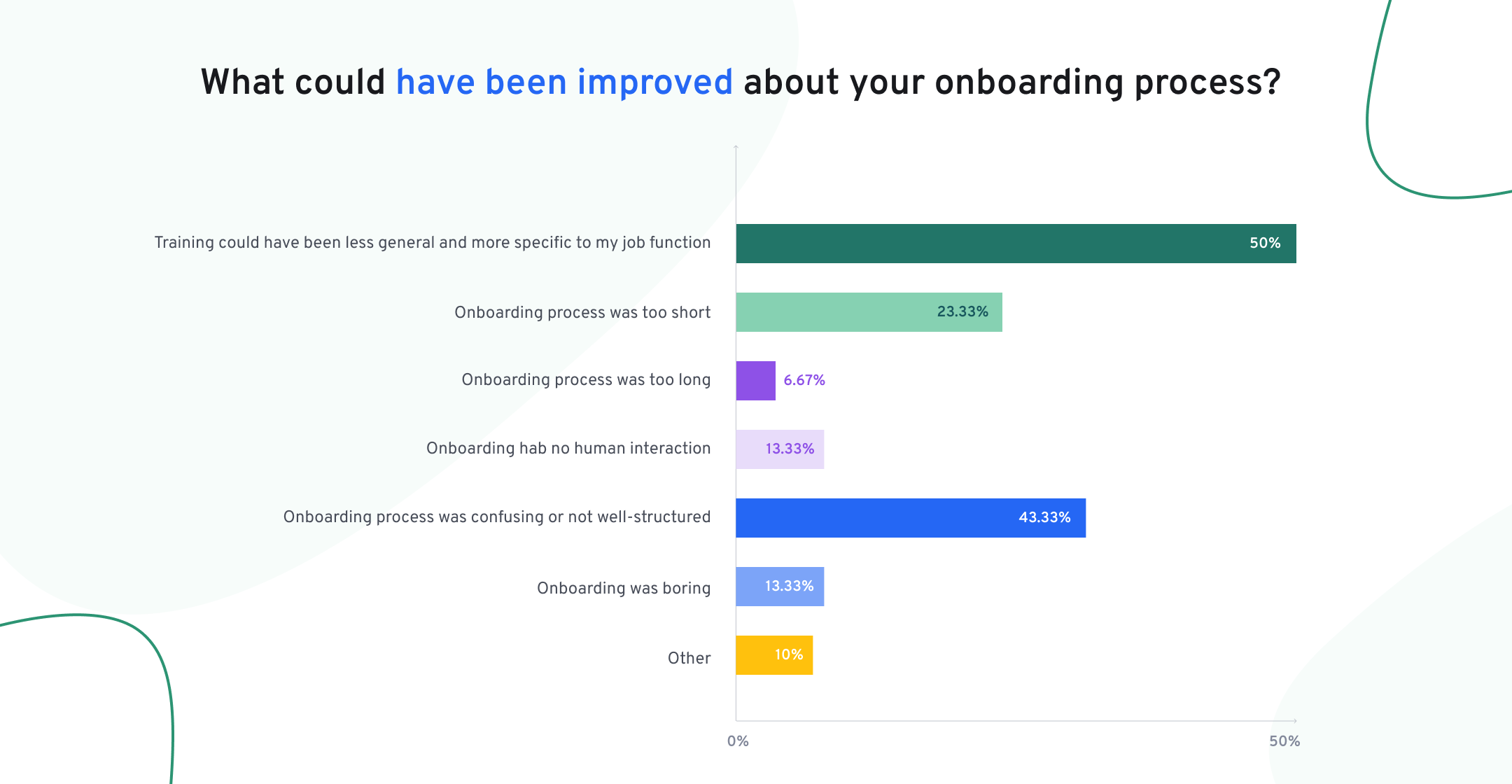 Although the Great Resignation isn't all about burnout, workplace stress is a contributing factor for some cohorts. Working with the HR team and educating upper management about signs of burnout and prevention methods is one way to keep this phenomenon in check.
Burnout is especially relevant for those in management positions, both because of the added stress people management implies for them, and because they are well-placed to spot burnout in their own teams. Sadly, however, few new managers get adequate training before stepping into their new role. During times of flux, this can exacerbate stress, burnout, and employee churn. 
L&D teams can help by:
Setting up a solid manager training program for new managers, with an emphasis on preventing and spotting burnout and creating psychologically safe environments, for in-person, hybrid, and remote teams. You can check out our complete manager's burnout prevention guide, here, or take our quiz to assess your burnout score.
Ensuring there are career development opportunities for those who don't wish to manage, so that only those who have a true desire to do so end up leading teams.
Investing in leadership training for upper management, with a focus on preventing burnout and creating healthy company cultures. You can read about how companies like Too Good to Go and Toppers Pizza are building up their leadership training, here. 
Working with HR to proactively assess manager and employees' learning needs, to get to the root of issues early on, and even prevent them from becoming problems and sources of employee churn.
Ensure onboarding for new hires is specific to their job function by relying on internal subject-matter experts to create courses. You can read about how spend management platform Spendesk overhauled their entire onboarding process with this in mind, here.