So, how do Samantha and her colleagues at First Guaranty Mortgage keep managers and leaders engaged in training from a distance? As she explains, it's all about using blended learning to provide the right mix of asynchronous and synchronous training resources. 
"We set out to develop an infrastructure for on-demand and live learning for the ongoing development of our people leaders," says Samantha. "We know that learning is more than just a one-time event, so we created a buildable learning experience to support our managers in their development."
Samantha talked me through two key aspects of this blended manager training: making training available via multiple modalities, and focusing on pre-work and post-work within this program.
"We started out by launching a 'leaders as trainers' series, as well as an external speaker series to really inspire our managers," says Samantha. "We also launched a digital playlist to ensure learning was on-demand 24/7. We're currently in the midst of rolling out a 'manager power hour' program, and working on developing a manager orientation."
As Samantha points out, this focus on multiple modalities was a deliberate way to make manager training more engaging. "We wanted to have resources using multiple modalities. A lot of the time, managers are asked to participate in training, and then what happens? Nothing. We're focused on moving beyond that and making manager training engaging at every level."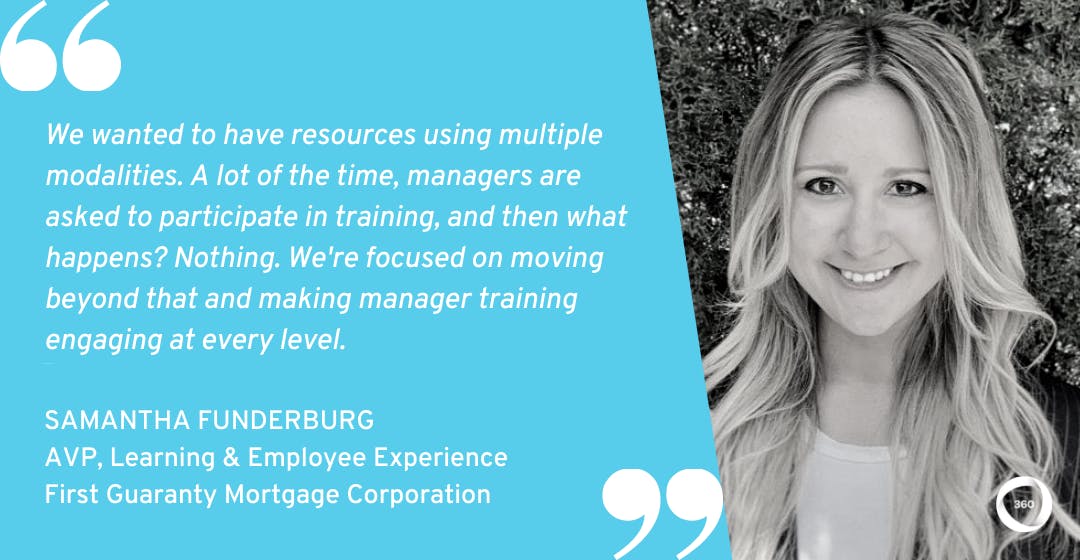 On top of this, Samantha is also focused on building Collaborative Learning into First Guaranty Mortgage's manager training. "Focusing on the manager power hour virtual training sessions, these are for managers and AVP-level people leaders who want practice, easy-to-apply resources that will help them lead their teams with confidence." 
"This manager power hour is a bi-monthly series that includes pre-work, guest speakers, and post-work. We're turning this into a real Collaborative Learning environment." 
In addition to her focus on engaging manager training, Samantha and her team are enhancing this training with pre-work and post-work. "We know manager training doesn't happen in just one hour." 
"We wanted to marry that pre-work and post-work activity into our program. With this program, we're covering traditional topics, but we also partner with a vendor for a fresh approach."
"The program is really driven by activity and discussion. We drove a higher level of virtual engagement by utilizing some different technologies such as breakout rooms in Microsoft Teams for small-group work, as well as polling software to keep our fingers on the pulse. It really helps to keep things engaging and exciting for our learners."
So, what impact is this approach making at First Guaranty Mortgage so far?
Related: 5 Secrets to Keep Your Teams Engaged in the World of Hybrid Work