Next up, Kirk finds and identifies the right communication style for each SME. 
"Some of the SMEs require us to be their coach," Kirk explains, "always pumping them up and giving them solid feedback along the way. Others need more of a cheerleader or best friend that's always there for them and patting them on the back and getting them excited about what's next. And others need more of a professor-student relationship."
"You have to build the rapport with the subject-matter expert in a way that you're going to get the best out of them, and that works for both internals and externals," he says.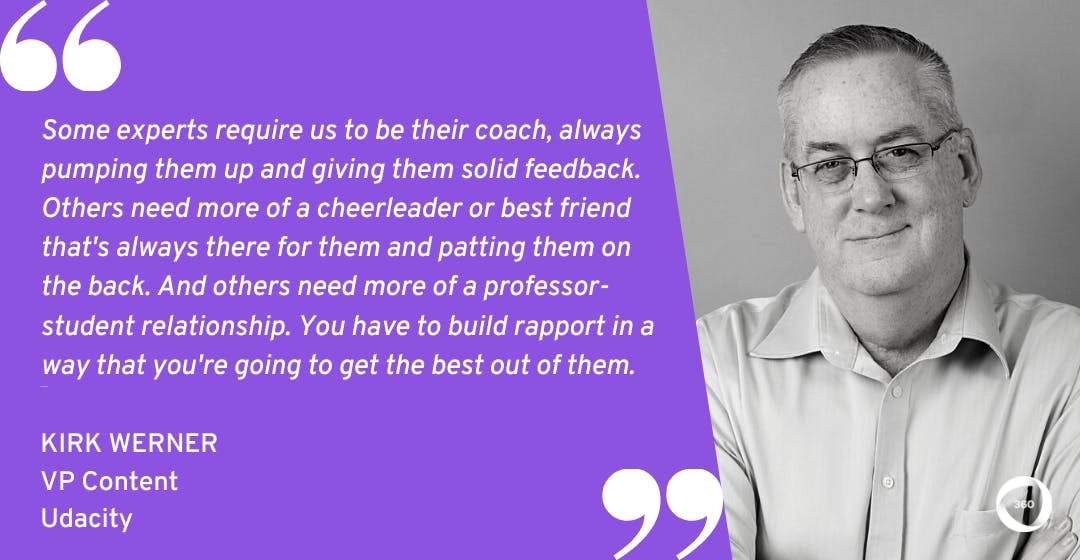 The difference for internal SMEs, in Kirk's experience, is that you know them a lot better and so you might know what motivates them in a different way. "You can actually connect with internal experts in a deeper environment, versus the external experts who you might only be working with for a few hours as you extract the information."
As Kirk explains, some SME relationships last the entirety of the program you're building, while others are more transitory, and may only involve a single hour-long interview to capture their expertise. 
"But all of them require an instructional designer," says Kirk. "Anyone helping to build learning content needs to think about questions like: What's the communication style? What's the different hat I need to wear for each different conversation and be able to quickly switch from one to the other?"
Related: 5 Ways to Improve Your Company's Internal Communications