Step 3: Define the CLO governance model
You'll need to establish a solid structure of governance for overseeing and supporting the CLO position. A strong governance model makes sure that you have access to important business executives and that you maintain alignment with the company objectives.

Your governance model acts as a mechanism to:
keep your roadmap up to date
evaluate and validate budget decisions
ensure that business and learning strategies stay aligned
monitor project completion
create advocates for L&D inside the business team
The exact structure of governance will vary based on your org chart, but the general roles remain the same. Here's an example of a CLO governance model that can be adapted to companies of all sizes.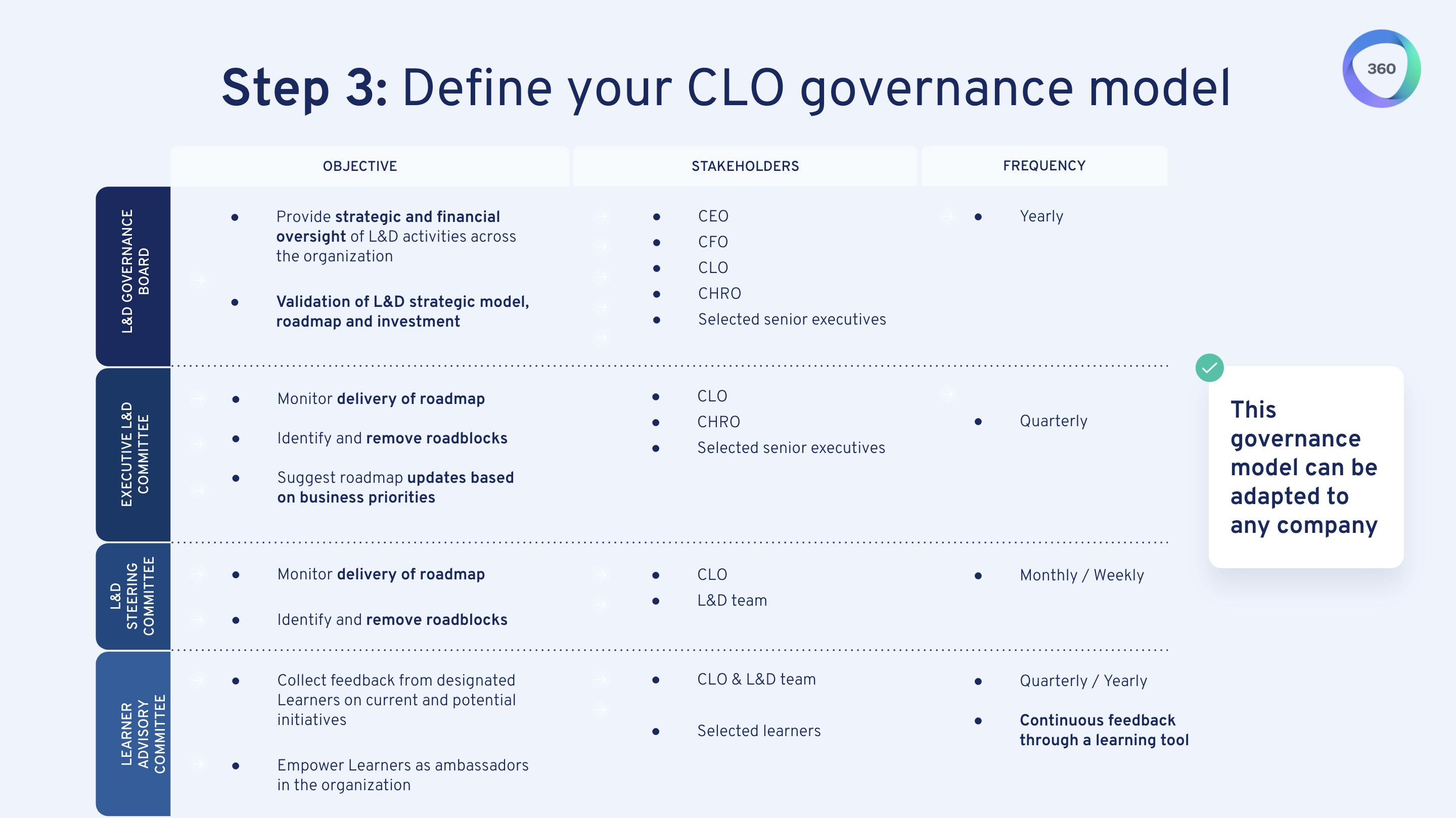 This model is split into four components:
L&D Governance Board. Provides strategic oversight and validates the CLO's roadmap and choices. This board would include senior executives and the CEO.
Executive L&D Committee. Monitors the roadmap's progress, helps remove roadblocks to completion, and suggests adjustments to keep the roadmap aligned with business priorities.
L&D Steering Committee. Select members of the L&D team who frequently meet to monitor the roadmap and identify and remove potential blockers.
Learner Advisory Committee. A select group of non-L&D employees who provide feedback on current and future learning initiatives and act as ambassadors for their teams.
You can adapt this model to fit your organization, but the key is to have individuals from all levels of the company invested in the progress and performance of L&D.
Step 4: Build a CLO organization that is both hybrid and agile
The CLO organization, or the L&D organization, must be carefully organized to ensure everyone is working to ensure the roadmap rolls out according to plan.

Creating a useful organization is no easy task. The ideal CLO organization is a paradox. It needs to be agile enough to pivot to meet challenges and new training needs that arise but also specialized enough to stay on track for meeting corporate objectives.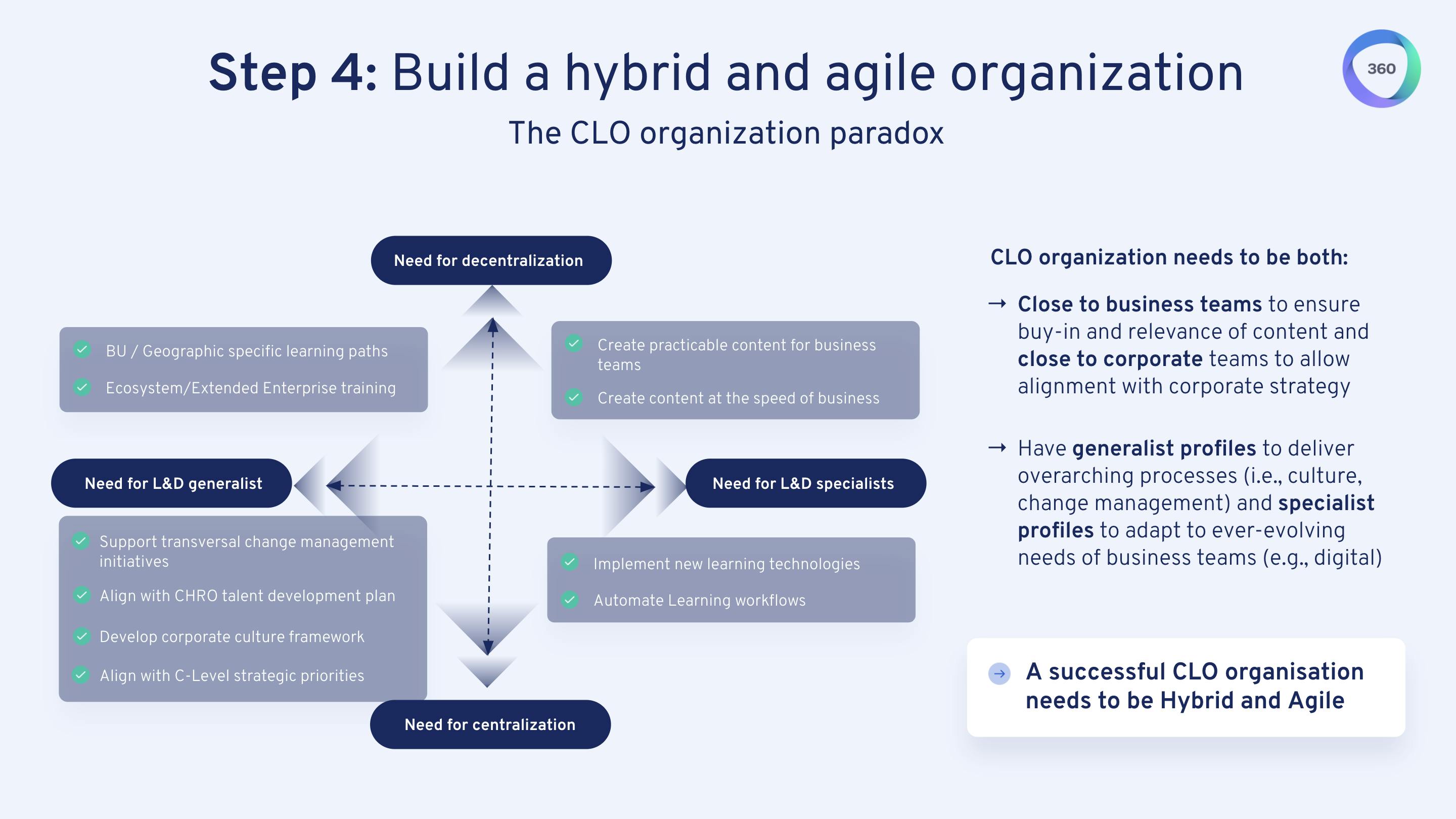 While your organization may look different depending on the size and structure of the company, ideally, it should consist of three core teams. Each team aligns with one of the key strategic pillars.
1. Learning Architecture Team
The learning architecture team is a centralized team that manages the learning framework and strategy—their work ties directly to Pillar 1: building and reinforcing company culture.

The learning architecture team's primary responsibilities are content strategy, mandatory training, and compliance programs and to structure the larger cultural learning framework.
2. Business Enablement Team
The business enablement team's purpose is to empower business experts to share their knowledge throughout the organization. Their work ties directly to Pillar 2: enabling business performance.

The business enablement team works with the business team to identify learning needs and create training programs surrounding sales enablement, business onboarding, and external training.
3. Learning Operations Team
The learning operations team is charged with improving the productivity of the entire learning team. Their mission ties directly to Pillar 3: continuously improving L&D productivity.

The learning operations team works to automate administrative workflows, upgrade the learning tool stack, and digitize previously in-person training.