For Loc and his team, great customer education resources are the key to making sure Bluescape partners are selling and implementing the company's solutions.
"We offer a huge spectrum of customer education content for our partners to consume, depending on the users they're serving. You could go and take the certification course on how to use the Bluescape web app, or how to train others to use this app. On the opposite side of the spectrum, you could dive into content that's highly technical." 
"For example, this could be setting up a new instance of Bluescape within an entirely different cloud infrastructure. This would be more relevant for our traditional partners who build and help to stand up new instances, and partners who are simply serving as consultants who want to introduce virtual work to their own customers." 
As Loc explains, he and his team needed to iterate over time to offer this learning content. "The amount of content we needed to produce was monumental, and it's taken us quite a bit of time to cover all our bases. What we like to do is serve the content to the folks who are actually going to be consuming it, get their feedback, and go back and iterate a couple more times." 
"This process of building customer education content through peer feedback can be quite time-consuming, and quite resource-intensive, but it's really our bread and butter. It's how we make our content as useful and as comprehensive as possible for the end user."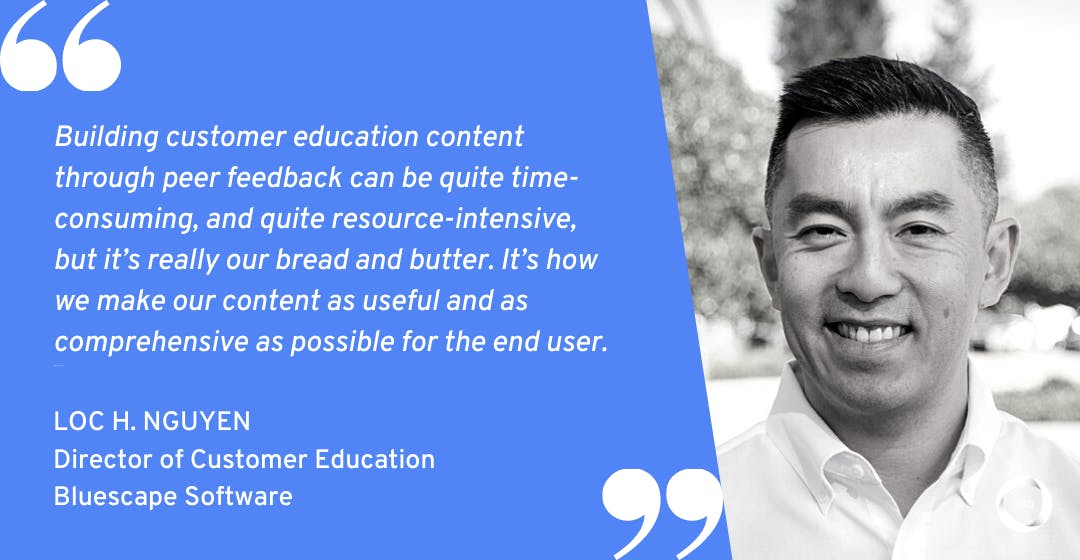 For Loc and his team, Bluescape's partner enablement strategy has led to a big impact for business development.
Related: How We Use Peer Learning to Keep Our Company's Competitive Edge