With the L&D team's priority set, it was time for them to bring learning together through their academic medicine and community partnership teams.
As she explains, Hillary launched her strategy by consulting extensively with her stakeholders.
First, when Hillary began her role, she started with a listening tour and engaged with the people within the organization. 
"Who are the people?" she asks. "Where do they sit, and what do they do? I was just asking questions. It wasn't a question of coming up with a plan initially, it was just to understand where we are today from the perspectives of the people who are key stakeholders."
This listening tour helped Hillary to develop a deeper sense of the learning challenges involved with Penn State Health's organizational transformation, and more specifically, how to address these challenges with the right mix of new hire learning.
With the listening tour completed, Hillary was able to identify priority learning areas and develop a foundational theme around them.
"So, I went with 'the entry' as my theme," Hillary explains. "How are we bringing people into the organization? What is their experience with new hires? And how are we connecting our new hires around clinical rotations? How are we welcoming them into our system?"
"All of those organizational experience-based activities give us a good solid foundation around the things we are able to do to help people make the right start within our organization. Why do they want to come work for us?"
Related: The 360Learning Onboarding Playbook
Subsequently, these exercises placed Hillary in a great position to decide which learning competencies matter most, and design learning programs that correspond to these priorities.
"What are the activities happening at the hospital? And beyond that, what really matters to us as a system of healthcare providers? Answering these questions involves some more fundamental questions: What's our learning culture? Which competencies matter the most, and how does that translate into a learning program for our new hires?"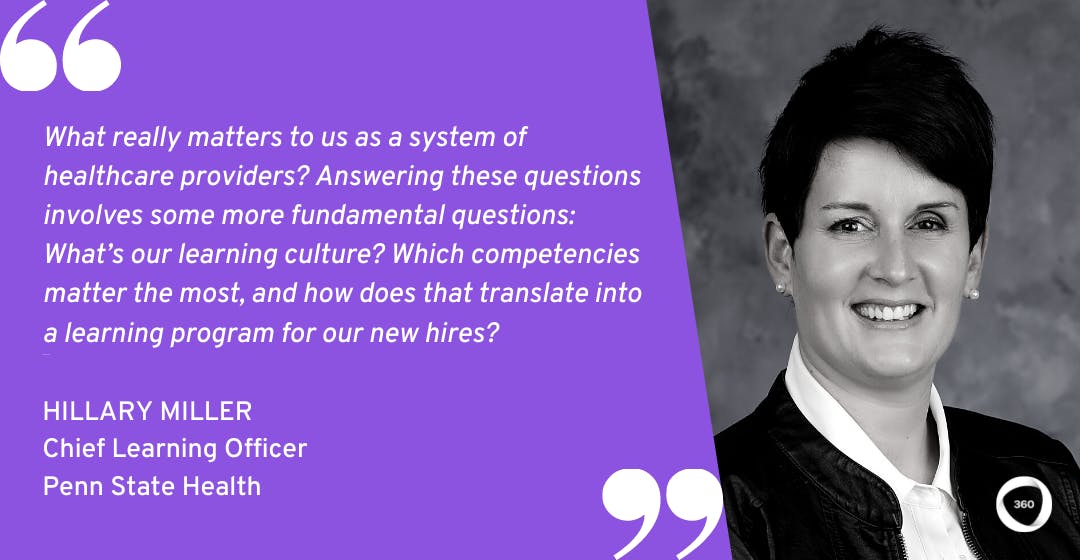 Finally, as Hillary explains, they identified two different audiences in the theme of new hire experience: new hires and new leaders.
"We're catering to different learning needs," she says. "For example, we have new people coming into the organization as individual contributors, but we also have new leaders coming on board as well. We need to help them understand how to lead, and what's happening within the wider organization."
"So these experience-based entry programs set the stage for other learning and development activities that we're going to offer in the future."
Penn State Health's experienced-based strategy for new hire learning emphasizes how collaborative learning can be a big asset to all healthcare organizations. By creating learning programs tailored to the specific needs of new hires and new leaders, Hillary and her team can engage new hires with the learning they really need to be welcomed into Penn State Health's growing network of healthcare organizations.
Related: Leaders Are Learners, Too: 5 Ways L&D Teams Can Support Leadership Development