Our conversation began with Melissa telling me about how visual collaboration platform Miro approaches learning experience design. Given the company has just raised $400 million in new funding–bringing its total valuation to an incredible $17.5 billion–this will be a crucial area of focus for Miro in the future.
"I lead a team of learning experience designers," says Melissa. "What we do is think about instructional design, understanding how adults learn, and how to enable and empower them to build skills and apply the skills that they learn."
"But it is also a mix of the user experience design and seeing how our customers use our products. This focus on customer education is a crucial part of how we improve our products, because it tells us what they need to be able to do their job or build a particular skill."
Melissa explained that her team leads the Miro Academy, which is where their customers can access a range of asynchronous courses to build their Miro skills. For Melissa, the Miro Academy is a key tool in addressing the company's biggest training challenge.
"Our biggest challenge is with the pace of product training in general," she says. "It's very fast-paced, because products are constantly changing. This makes it tough to keep up with those changes and build for future scalability."
So, what's Melissa's solution to the challenge of customer education with a fast-changing product? As she explains, it's all about digital credentialing.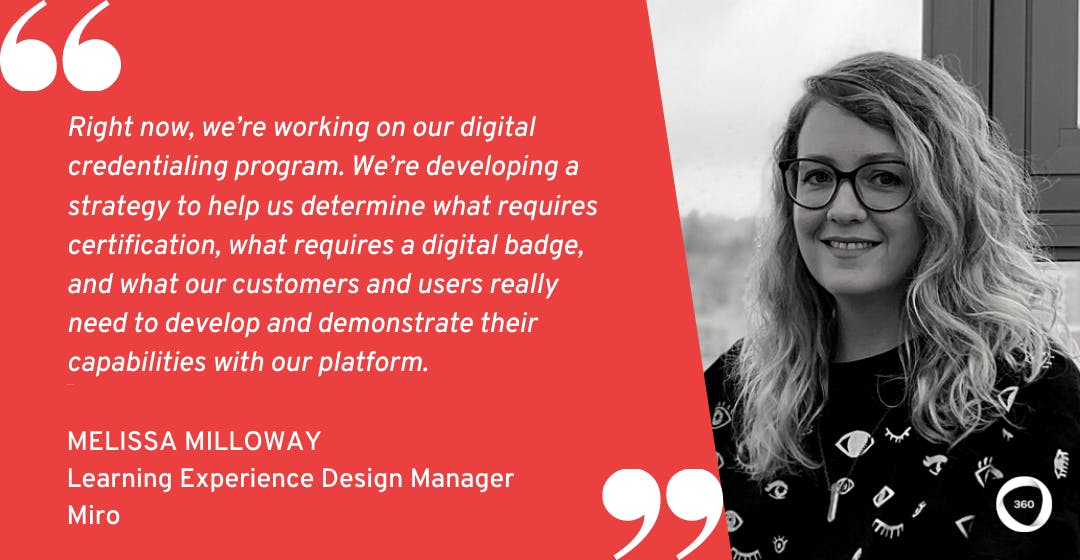 "Right now, we're working on our digital credentialing program. We're developing a strategy to help us determine what requires certification, what requires a digital badge, and what our customers and users really need to develop and demonstrate their capabilities with our platform."
Next up, Melissa talked me through her two-step digital credentialing program structure.
Juggling a few growth challenges of your own? Sounds like you need some expert tips from the likes of Amazon, WhatsApp, and Klaviyo on How L&D Can Help Your Company Scale.