1. Making the shift to remote consultations with value-based care
Looking to deliver the value-based care patients need in the healthcare industry, Christopher Lind, VP and Chief Learning Officer at ChenMed, explains his approach to shifting to a remote consultation context through great L&D.
"I'm always bringing a performance lens to those business conversations, such as how we can shift to virtual or remote patient care," says Christopher. "What is the component that people play, and what kind of behaviors could we tweak, change or add that are going to help us get there?"
A lot of times, these kinds of conversations are only focused on the metrics or financial numbers of the organization. But as Christopher explains, L&D teams have a key role to play in this shift to remote consultations.
"Value-based care is about getting in front of issues before they happen, and preventing the need to bill for services further down the line," he says. "To me, the role we play is coming in and saying, okay, what are people doing, or what should they be doing? How are we going to contribute to driving the right metrics or numbers?"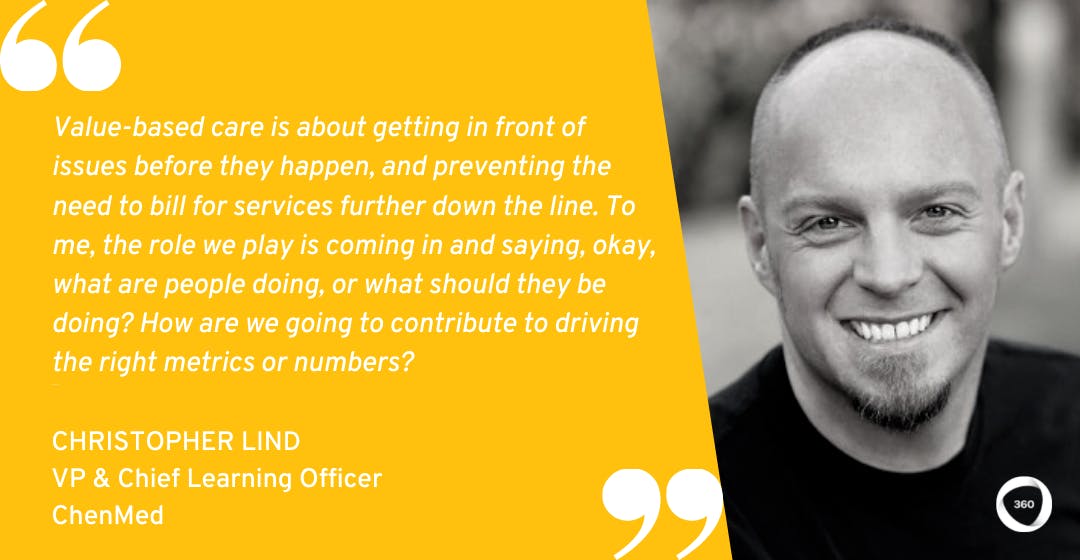 For Christopher, the approach makes it easier to identify the particular problem his team has set out to solve, and to show exactly how they're measuring their success. "Everyone appreciates that perspective of us helping them translate the behaviors we're talking about into a people challenge, and finding ways to solve these challenges."
Keen to explore more of Christopher's methodology? Read all about ChenMed's three-Step approach to delivering value-based care.