Kass started our conversation by telling me all about Apex's incredible growth journey–and what that means for L&D. 
"Apex Fintech Solutions, or AFS, is really in an exciting growth phase," she says. "We're going through a lot of change and transformation right now, and we've acquired a couple of different companies. We're really focusing on ensuring our new and existing employees feel supported and continue to have the right opportunities for growth and development in this exciting time."
"With Apex growing so much, our executives recognized the importance of having a standalone L&D department come in and support everyone throughout this change and transformation."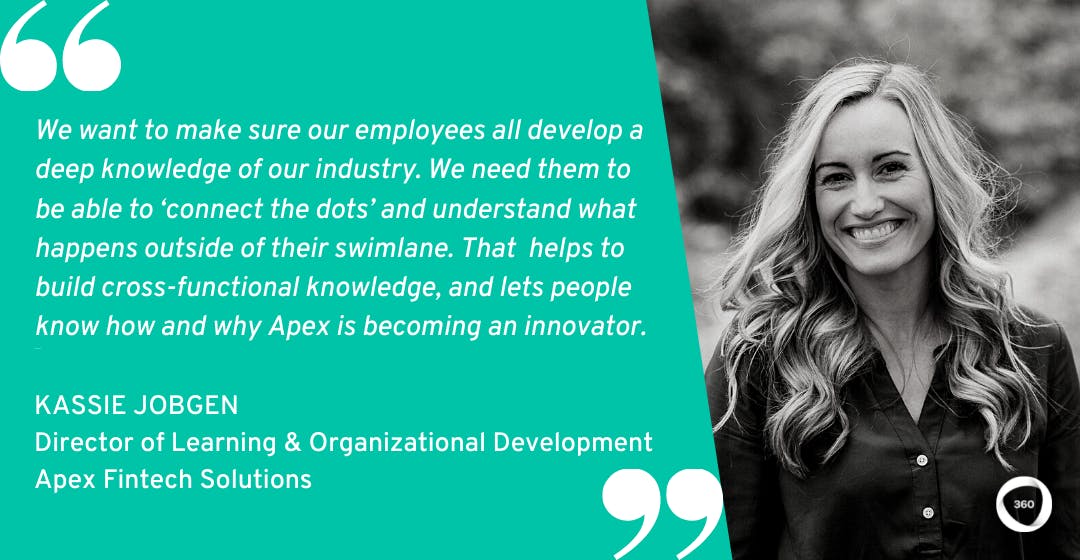 So, what was Kass hoping to achieve with this L&D support? As she explains, the most important thing was to build cross-functional knowledge to help support company growth.
"We really want to make sure our new and existing employees all develop a deep knowledge of our industry and business. We need them to be able to 'connect the dots' and understand what happens outside of their swimlane. That really helps to build cross-functional knowledge, and lets people know how and why Apex is becoming an innovator in the industry." 
But how exactly is Kass creating these learning opportunities? She broke it all down with her three-step playbook.
Need a few more CLO Connect expert insights? Find out How to Become the L&D Leader You've Always Wanted to Be.