One of the main observed impacts of Joe's deep dive investigation approach has been the ability to free up SMEs time, giving them a chance to do more of what their role entails.
"I can speak on behalf of our SMEs that what they love to do more than anything is research. They love to learn more about their field, conduct their own investigations, write proposals, and attend conferences."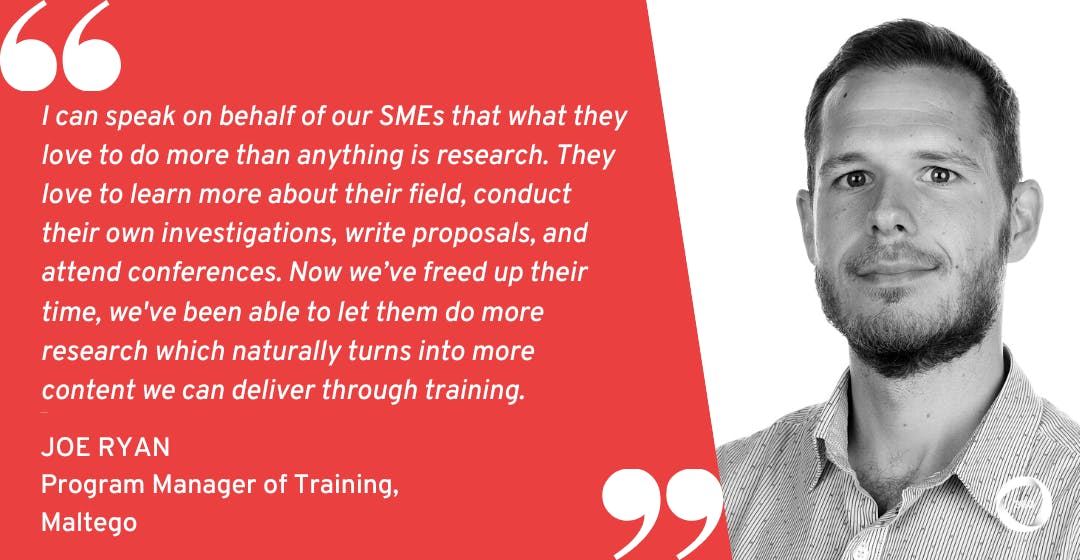 "Now we've freed up their time, we've been able to let them do more research. The best part is that in return, that research often turns into more content that we can deliver through training."
By standardizing the training process, Joe and the team have taken their L&D practice away from a reactive form of training to a more proactive one. They get to research what they're interested in and what is relevant, new, and exciting in their field.
"Their research naturally becomes training content for us. So, it's a win-win for our training team, the SMEs, and the customers."
"We have been able to deliver more training to more customers because we don't need as much preparation time. We don't need to dedicate as many resources to each individual training."
For example, Joe explains that he is not a cybersecurity expert, but with the standardized material, it is easier for him as a trainer to learn and understand the material and present it to a customer instead of all that information being locked away with one cybersecurity SME.
Related: Udacity's 4 Steps for Creating Memorable Learning Experiences with Subject-Matter Experts