We've talked about the right way to do a training needs analysis. It should be a collaborative, bottom-up effort. 
With 360Learning for Enterprise, your teams can declare, upvote, and comment on team learning needs. You can then rank these priorities by business impact, and measure progress in addressing each business need. 
This way, you don't have to spend weeks or months doing an annual training needs assessment. Instead, you can let your employees declare and prioritize your learning projects based on their business needs.
This collaborative process also tells people where to find the right information to suit their learning needs and priorities. By coming together to focus on shared learning needs, your teams can also uncover learning resources they didn't even know about.
Once you've developed a shared, needs-based strategy, you can start matching experts to suit different learning needs.
#2: Matching experts to needs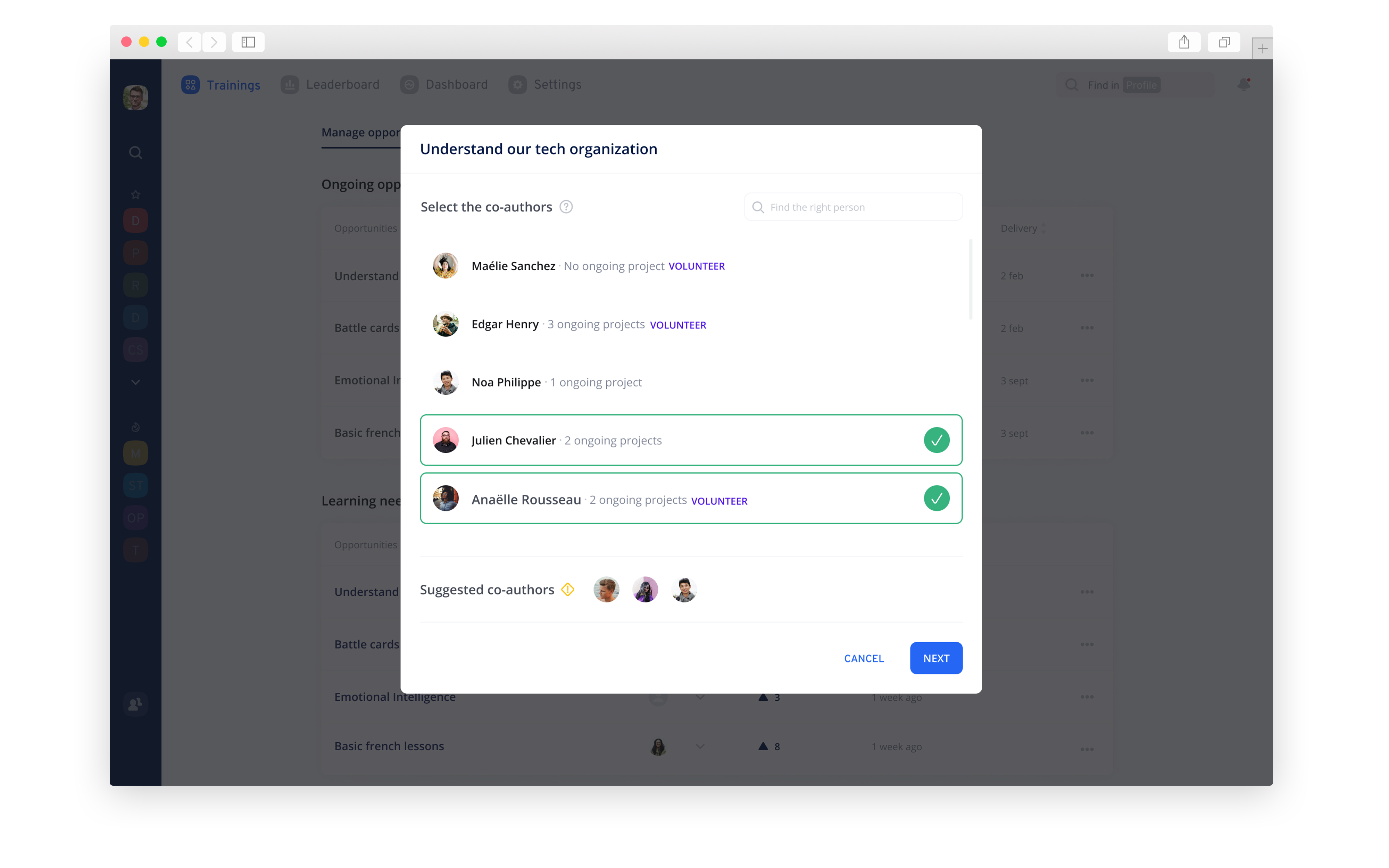 The biggest bottleneck to collective learning in business is usually in the matching stage. You might know that the expertise or skills you need to draw from exists somewhere in the office, but you don't know how to find them.
This is a real shame, as it can be a barrier to individual and team learning. Most of the time, you waste valuable time and monetary resources to re-create courses with external trainers that are less knowledgeable about how your company works and what it needs to succeed. Even worse, it's a missed opportunity to foster meaningful connections between your team members.
With 360Learning for Enterprise, you can assign experts and managers to each project based on the relevance of their experience. This helps give everyone clarity on what to expect from the learning process, and helps to unlock the true potential of your teams.
And once you've got your in-house experts matched with your learning needs, 360Learning for Enterprise helps to coach you through course delivery.
#3: Coaching teams through course delivery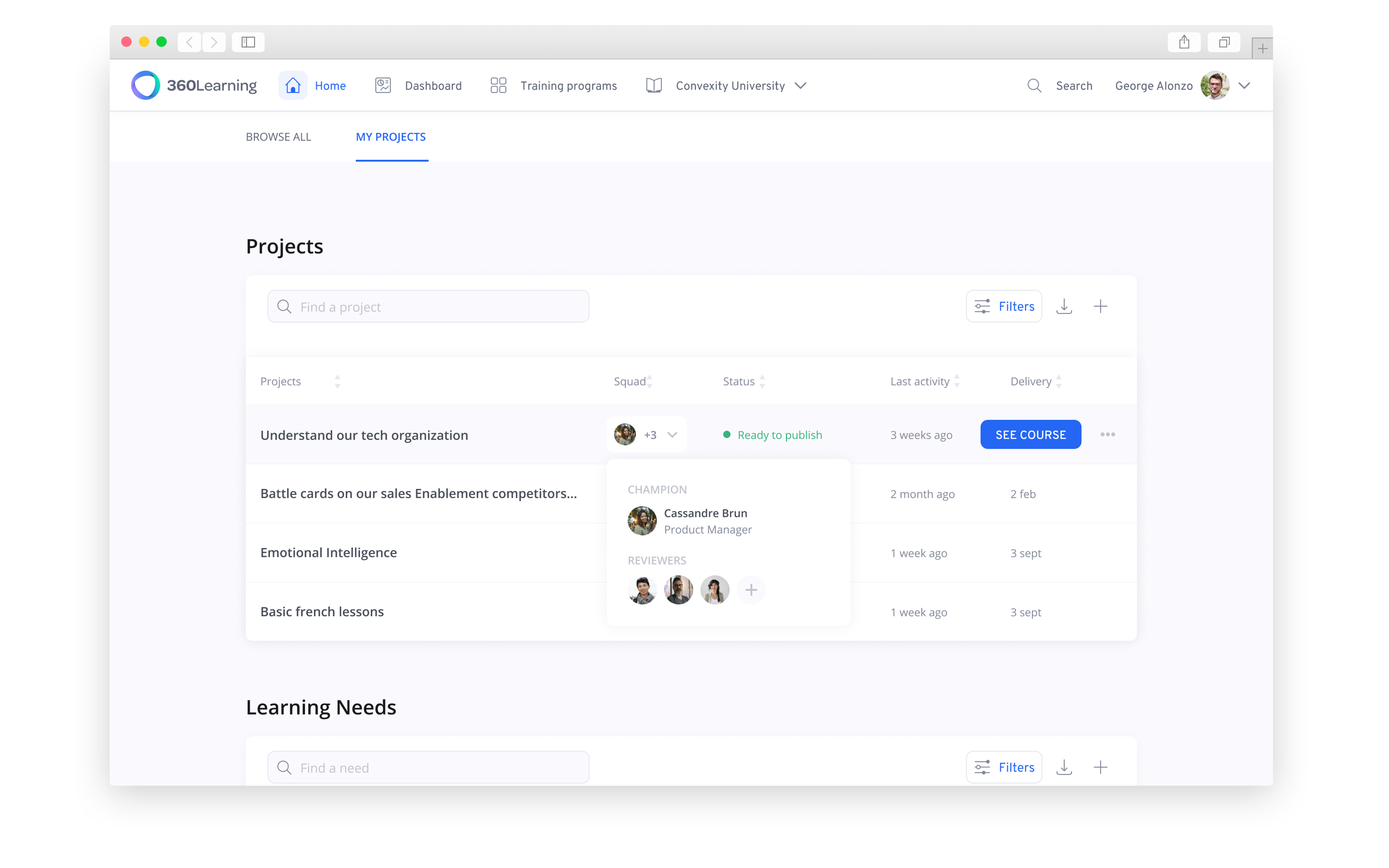 Your internal experts may not have prior experience teaching or sharing knowledge. And that's where you and other experienced folks can come in. 
360Learning for Enterprise lets you invite leaders and team members to review courses under development, offer their reactions, and provide feedback to highlight areas for improvement. This way, your learning material benefits from the deep expertise of collective input.
With this coaching and iterative process, you can launch the course only when you're ready, and you'll end up with the best possible learning experience for your teams.
This feedback loop helps to improve course design and delivery and makes L&D a process of continuous improvement and iteration. This ensures that your training materials don't stay static - instead, they get better with each engagement.
Finally, 360Learning for Enterprise also gives you a way to recognize and reward your experts.
#4: Rewarding experts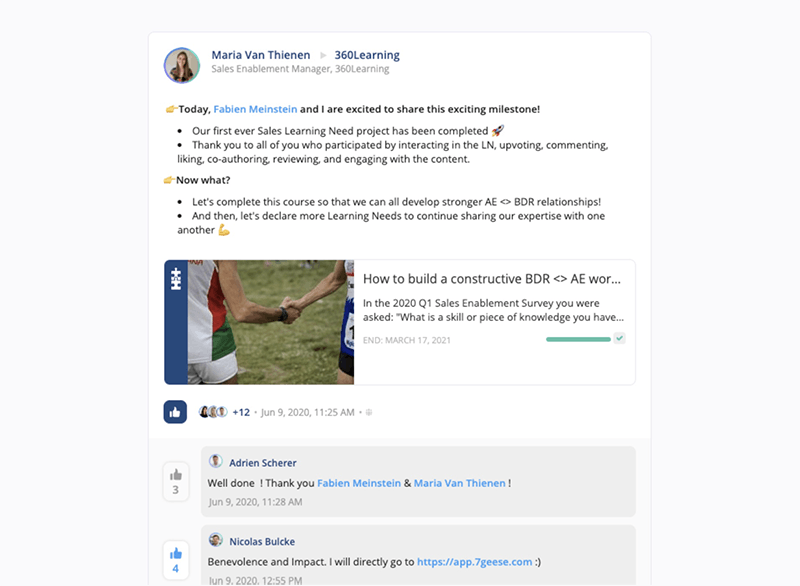 In every business, people love to participate in collective learning. It's a great way to share knowledge, and it's also a great way to build connections between individuals and teams.
This collective learning isn't just good for the teams receiving the expertise and knowledge - it also helps your subject-matter experts to stay sharp and current. 
With 360Learning for Enterprise, you can monitor course performance and learner feedback, and give teams and experts the recognition they deserve for their time, knowledge, and effort. 
These rewards help people to feel valued, and incentivize them to continue to share their valuable insights and inputs in the future.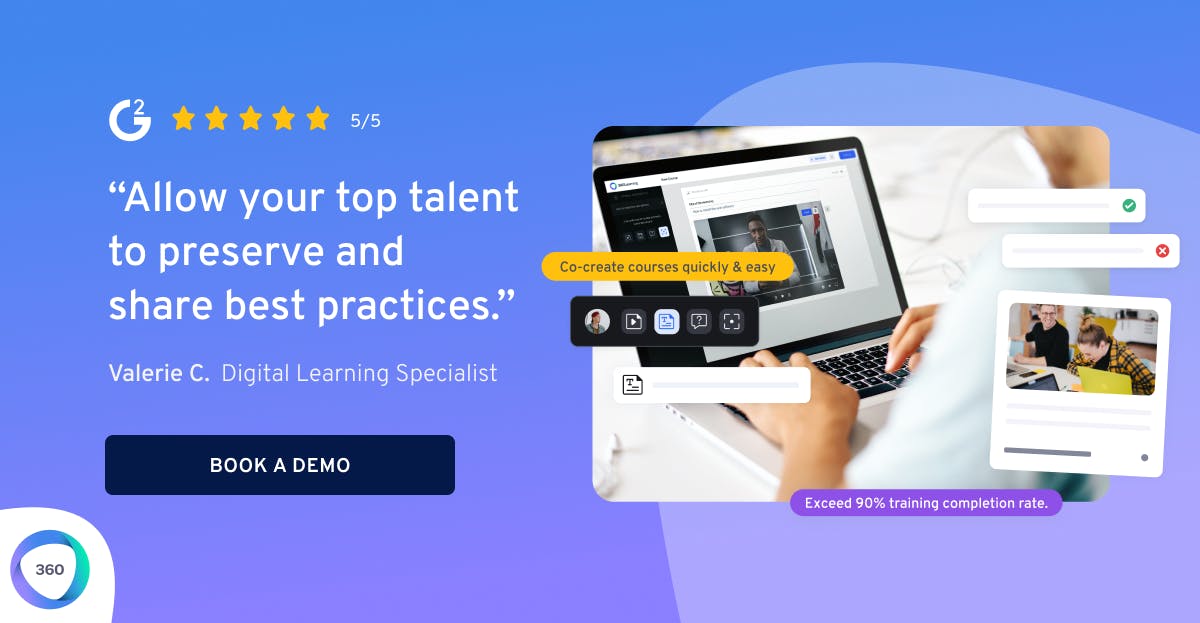 Don't be a Toby: Reinvent your role with 360Learning for Enterprise
The best company L&D strategies are exciting, dynamic, and nimble. They're trusting and collaborative, and they give teams the chance to define their own priorities and find the resources they need to grow. Basically, they're everything Toby Flenderson isn't. 
We know there are a lot of companies out there who want to overcome their inner Toby and deliver the kind of learning experiences that motivate and connect their teams. That's why we're so excited to launch 360Learning for Enterprise.
We're launching 360Learning for Enterprise on Product Hunt today, so go and support us there!
While you're at it, we also have a live product demo coming up. If you'd like to see how we can help you ship more impactful courses quicker, join us on 7 July.
I've worked hard with our product and design teams to get this launch out. So I'd really love to hear your thoughts in the comments below!