Content creation
Vyond
Add animated training videos and content into your courses
Get a demo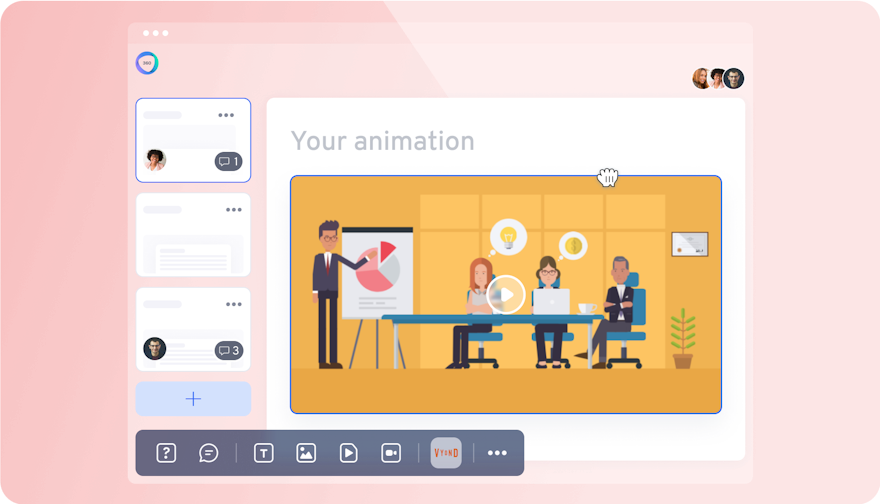 Increase learning engagement
Create custom course content in-house
Measure the impact of your resources
Ensure up-to-date content
Overview
Vyond allows people of all skill levels in all industries and job roles to create dynamic and powerful media. Build character-driven stories or compelling data visualizations that engage audiences and deliver results. With the 360Learning for Vyond integration, authors can effortlessly create videos that engage learners through storytelling.
Increase learning engagement 
Storytelling is a powerful tool to engage, motivate, and even inspire learners. Videos created in Vyond demand attention with compelling and entertaining animation.
Create custom course content in-house
Vyond Studio empowers anybody on your team to create training content themselves. By keeping your content creation in-house, you save money and time. You can also create stronger, more relevant videos by bringing subject-matter experts into the creative process.
Measure the impact of your resources
Your team spends valuable time creating content and resources. When you have learners access resources through 360Learning, you'll be able to measure the impact over time. 
Ensure up-to-date content
Easily edit your videos in Vyond Studio to continuously fine-tune, improve, and update your content. Any updates you make to source content in Vyond is automatically reflected in any course where the material is embedded.