HCM integrations
SAP SuccessFactors
Pair HR workflows in SAP SuccessFactors with a learning catalog built by your subject-matter experts
Get a demo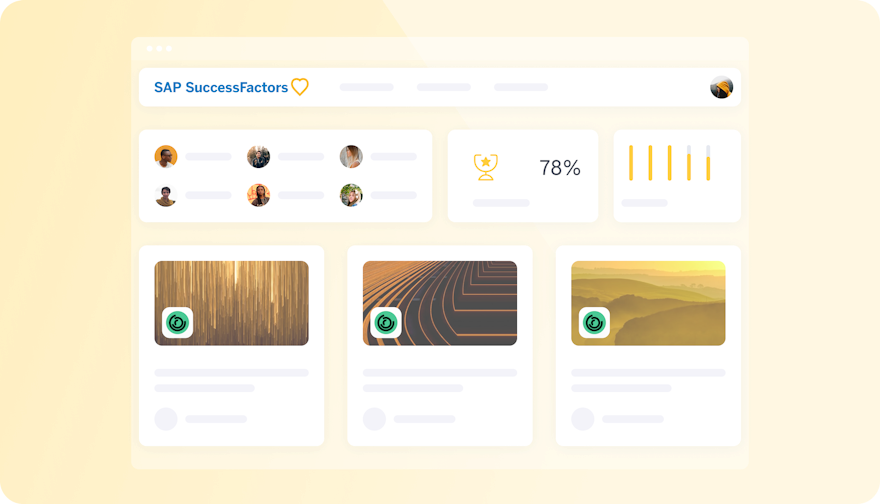 Expand your learning catalog
Seamless access for learners
Automate HR and learning workflows
Understand the impact of learning on your HR strategy
Flexible implementation to fit your business
Overview
SAP SuccessFactors elevates people experiences through a market-leading cloud HCM software. When you integrate SuccessFactors and 360Learning, you can leverage all the power of SuccessFactors' HR workflows while building an ever-expanding learning catalog built by the subject-matter experts who know your business best.
Expand your learning catalog
Empower subject-matter experts to create courses using 360Learning's authoring tool and seamlessly add them to your existing SuccessFactors Learning catalog.
Seamless access for learners
Whether it's a digital training built in 360Learning, registration for an in-person training, or a blended learning program, enable learners to access it all from their SuccessFactors Learning portal.
Automate HR and learning workflows
New team members, roles, and relocations are a cause for celebration, not dread. Sync essential employee information daily to keep 360Learning up-to-date with your people data.
Understand the impact of learning on your HR strategy
Automatically import learning statistics from 360Learning into SAP SuccessFactors so you can understand the impact of training on your HR strategy.
Flexible implementation to fit your business
No two organizations are the same. Our SAP SuccessFactors integration is flexible to fit your HR infrastructure without requiring any custom development or IT setup, with support for labels and custom fields.