Content creation
Create professional and fully customized videos your learners will love
Get a demo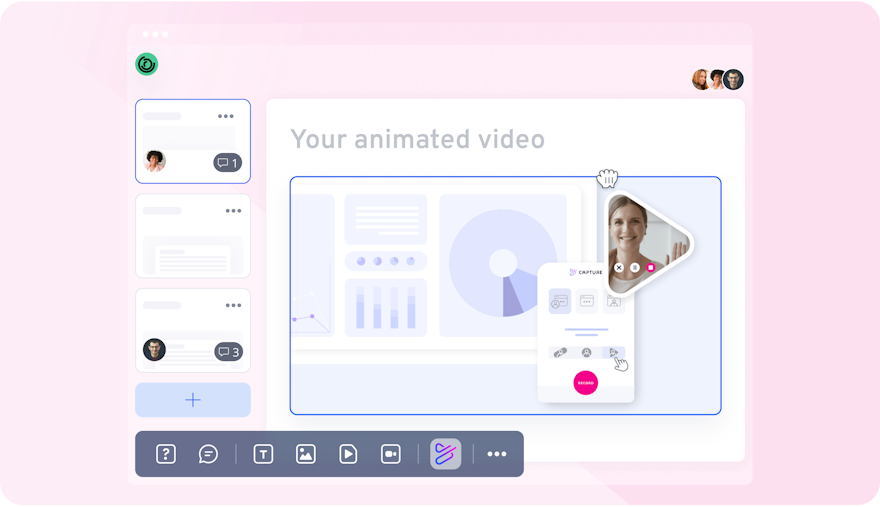 Easily create custom course content in-house
Increase learning engagement
Ensure up-to-date content
Overview
Captivate learners by effortlessly creating high-impact custom videos, presentations, and animations that elevate your courses. Powtoon allows anyone to create professional quality video content within their easy-to-use platform. With their rich library of scenes, music, images, video footage, animated characters, and more, even those with no prior experience can become a creator. The 360Learning and Powtoon integration enables course creators to seamlessly integrate their custom videos into their 360Learning courses.
Easily create custom content in-house
Powtoon makes it easy for anyone to create high-quality training content, even if they have no prior experience. Subject-matter experts can create their own videos and deploy them into their 360Learning courses, ensuring that the content is always the most relevant and coming straight from the source. Keeping production in house also saves you time and money.
Increase learning engagement
Nothing inspires and captivates learners like great storytelling, and video is one of the most powerful tools to tell a great story. Powtoon's videos not only look great, they have the power to entertain, inspire, and engage viewers at every stage of their learning journey.
Ensure up-to-date content
Your business moves quickly, and Powtoon makes it easy to make updates to your videos at any time. Easily make edits to your video in the Powtoon platform, and the new version will automatically update everywhere where the video is embedded in your 360Learning courses.